10 Dishes from Cleveland Restaurants to Blow Your Paycheck On
Photo via Red the Steakhouse, Facebook
Aged USDA Prime 12-ounce Filet Mignon - $66.90
Well worth the price tag of $66,90, the aged USDA prime 12-ounce filet mignon at Red the Steakhouse in downtown Cleveland will put all other fillets to shame.
Photo via Adega, Facebook
El Marisco Paella (For Two) - $48
The brand new Metropolitan at the 9 is one of the swankiest and priciest places in downtown Cleveland. But as the saying goes, "you get what you pay for!" and their fine dining restaurant, Adega, has a decadent paella dish for two on their menu that's worth the pretty penny. Priced at $48, the dish is swimming with shrimp, mussels, and scallops. House-made chorizo is also added with some saffron bell pepper rice.
Photo via Lago, Facebook
The Gandofini Burger - $46
When you pay $46 dollars for "The Gandolfini " burger at Lago one would except the best, and you will not be disappointed. A 10 oz. custom blend burger of sirloin and brisket is topped with foie gras mousse, fresh lobster, Taleggio cheese and house cured prosciutto. It's served with truffle chips and a white chocolate truffle milkshake.
Photo via Facebook
100 percent Japanese Wagyu Beef - $25 an ounce
Not many restaurants in the country serve true Japanese 100% Wagyu beef from Kagoshima, Japan. If you have the dough, you must try this steak. The rare beef is served at the always elegant Ken Stewart's East Bank for $25 an ounce (3-ounce minimum).
Photo via Dante, Facebook
38-ounce Beef Porterhouse for two - $89
Billed as the "38-ounce Beef Porterhouse for Two," this $89 dollar dish is worth every penny. The bone-in steak is perfectly cooked and served with two chef prepared sides.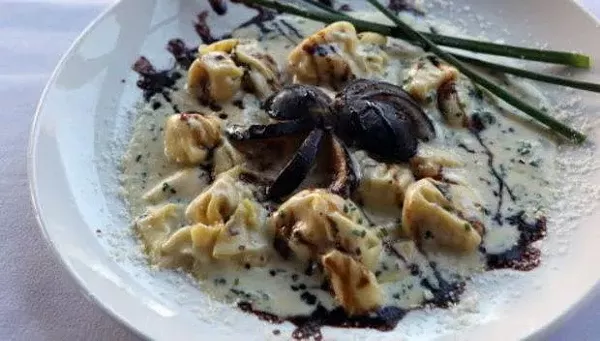 Photo via Luca, Facebook
Sacchetti al Tartufo Bianco - $28
One might not expect to pay $28 for a bowl of pasta and sauce, but when you add truffles it's totally worth it. Luca's sacchetti al tartufo bianco starts with white truffle and ricotta stuffed sacchetti and is topped with a tartufata cream sauce and an aged fig balsamic.
Photo via TripAdvisor
Long Bone Veal Chop - $46.95
Johnny's Bar on Fulton is a Cleveland institution along with being one of the few places that prepares veal the right way. So, the long bone veal chop priced at $46.95 is a great investment. The veal is perfectly pounded, breaded and baked, then topped with tomato coulis, arugula, and balsamic vinaigrette.
Photo via Yelp, Kody K.
Mega Raw Bar - $125
Seafood lovers with some coin to spare, rejoice! Blue Pointe Grill's Mega Raw Bar is just plain awesome. Think a mountain of deliciousness including two Maine lobsters, an abundance of Blue Point oysters, shrimp cocktail, Jonah crab claws, lobster and shrimp salad, smoked mussels, and chilled king crab.
Photo via Parallax
Surf and Turf Combo Sushi Roll - $29
The quaint Tremont haunt offers up one of the most delicous sushi rolls around - the Surf and Turf Combo. The eight-piece roll is the perfect combination of a steak and a lobster roll. For sushi lovers, there are no words!
Photo via Edwins, Facebook
Caneton de Rouen a la Presse - $125
If you are looking to burn $125, then give Edwin's a call two days in advance and get ready to enjoy their Caneton de Rouen a la Presse. Simply translated - pressed duck with blood sauce prepared tableside.