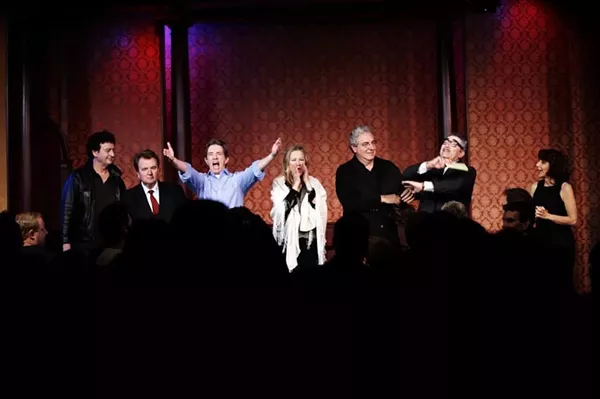 Photo via Facebook
The folks at Second City, the Chicago-based improvisational sketch-comedy troupe, titled their latest show Happily Ever Laughter. Ain't that cute? Second City's alums are all over TV these days: Stephen Colbert, Steve Carell, Tina Fey, Keegan-Michael Key, etc. The premise for this show is that you'll get to see tomorrow's big-time comedy celebrities today, when they're still young and cuddly and what-have-you. But Second City is bona fide comedy entertainment regardless of who's on stage. These teams are fantastic and worth every penny. A performance takes place tonight at the Hard Rock Rocksino's Club Velvet. Shows are scheduled through tomorrow, and tickets cost $22.50 to $27.50. (Sam Allard)
Photo via IMDB
The man that every woman used to love and the woman that every man used to fawn over co-star in Alfred Hitchcock's To Catch a Thief at the Cinematheque tonight at 9:40 and tomorrow at 5 p.m. Cary Grant and Grace Kelly, folks — that's who I'm talking about, the celebrities whose looks and personas many of us have been unconsciously emulating for years. Do yourself a favor and check them out in this romantic thriller about an ex-jewel thief (Grant) accused of robbing American tourists on the French Riviera. That's right, the succulent French Riviera. Grant and Kelly aren't the only gorgeous sights to behold in this 1955 must-see. Tickets are $9. (Allard)
Photo via Facebook
Later tonight, The Werks will jam on the Beachland Ballroom stage, and turn the whole house into a psychedelic rock party. Bring your dancing shoes, but also get ready to tune in to a new form of electronic music. The Werks are excited to return to Ohio, and can't wait for the show at Beachland. Tickets are 17 bucks, and they'll be playing tonight with Broccoli Samurai at 9 p.m. (Nickoloff)
Photo via Facebook
Dubbed Run or Dye, this popular race features five dyeing stations along the route of the 5K that winds through downtown Cleveland. At each stop, runners get blasted by a cornstarch dye (it's all eco friendly and plant based) so they end up becoming a veritable canvas by the end of the race. Registration costs $57 per person (discounts are available for teams) and the money goes toward Susan G. Komen Northeast Ohio, a breast health resource. Find more information on the race's website. The race starts at 9 a.m. (Niesel)
Photo via Facebook
You'll laugh your pants right off your butt if you attend tonight's improv comedy show at the Beck Center for the Arts in Lakewood. Something Dada, Cleveland's premier improv troupe, has been off for a month or so, but they're back in action tonight for an exclusive April engagement. For only $12, you'll see many of the games you love from Whose Line Is It Anyway, plus many bits you've never heard of. It's fast paced, in your face, and based entirely on audience suggestion. Improv is so in right now, right? And there's really no other place to see it in town. (If you've got friends or family in town this weekend, Something Dada will be a blast for everyone). Guts begin busting at 8 p.m. (Allard)
Photo via Facebook
Would you believe it if I told you that tickets start at only $10 to see the Lake Erie Monsters, Cleveland's minor-league hockey team? Ten bones, ladies and germs. And why wouldn't you take the fam or your little cousin or something on tonight of all nights? The Monsters are playing the Grand Rapids Griffins — who? — and if the low ticket price doesn't lure you, know that the Q will be flush with Fatheads giveaways (the stickers, not the beer). Plus, it's nearing the end of the season, so tonight will also be a "fan salute" night. Expect gratitude and proffered handshakes from staffers and announcers of all sorts. Puck drops at 7 p.m. at Quicken Loans Arena.
Photo via Facebook
An old-school country guy who's been kicking around for about a decade, Jamey Johnson raised eyebrows with 2008's That Lonesome Song, an introspective album that came off as country music's answer to Springsteen's stark Nebraska. The album even commences with a skit in which a jailor sets Johnson free and tells him to stay out of trouble. Johnson originally self-released the disc in 2007 before Mercury Nashville took notice and then reissued it, and with the push of a major label it would eventually go platinum. The songs on his 2010 follow-up, The Guitar Song, weren't as deeply moving but they did confirm That Lonesome Song wasn't just a fluke. On 2012's Living for a Song, Johnson pays tribute to the late country singer and songwriter Hank Cochran, and he gets a little help from friends such as Alison Krauss, Merle Haggard and Vince Gill in the process. (Niesel)
Photo via Facebook
Ohio's been asserting itself as a prominent player in rap. Alongside artists like P. Blackk, Blueprint and Chip the Ripper gaining notoriety in the national rap community, Stalley firmly places himself in the mix. Collaborations with legends like Rick Ross, Kendrick Lamar, and Pharrell boosted his career; all the while he hasn't forgotten his Midwest roots. Tonight's show at the Grog is one of many stops on his No Place Like Home Tour, a tour solely comprised of Ohio appearances. His latest record, Honest Cowboy, features swanky and soulful beats beneath his sharp-tongued lyrics. Channeling Super Fly-era urban funk, "NineteenEighty7" kicks it with syncopated riffs featuring additional rhymes by Schoolboy Q. Ohio love aside, Stalley's providing a unique voice in hip-hop, mixing the poetic hip-hop nature with a harder edge. (Stoops)
Photo via Wikipedia
On last year's The Chronicles of Marnia, noise-loving singer-guitarist Marnie Stern has created her most accessible, least noisy album. In the past, she's piled layer upon layer of guitars onto her albums, but this time around, she shows some restraint. Though more accessible, the songs on the new album still adhere to the noise template. The jittery opening track "Year of the Glad" sounds like The Cocteau Twins on speed and tunes such as "Still Moving" and "Hell Yes" feature intricate guitar workouts. (Niesel)
Photo via Facebook
What was it like to be a dinosaur? Find out through virtual technology in this innovative exhibition! Take the controls in a state-of-the-art simulator to experience life as a Tyrannosaurus rex or Triceratops. This interactive exhibition fuses fossil displays with computer simulation to let visitors experience how these dinosaurs survived in their prehistoric world.