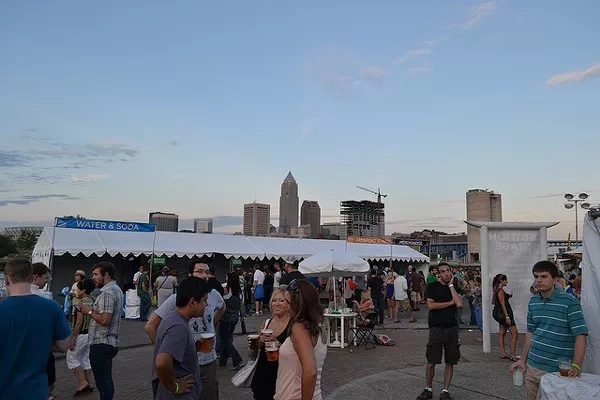 Photo via Flickr Creative Commons
The Burning River Fest pokes fun at one of Cleveland's not-so-proud moments while conveying the importance of preserving Northeast Ohio's freshwater sources. Created by the aptly named Burning River Foundation, the fest takes place on Whiskey Island. Chow down on local eats while listening to live music and educating yourself on how to respect Mother Nature, courtesy of visiting environmental groups. The festivities start at 6 p.m. and tickets are $12 a day; if you bike to the fest, however, your ticket becomes $8. The fun continues through Saturday. (Cortni Dietz)
Photo via Facebook, Elevation
The new U2 album scheduled to come out this year has been delayed as the band took time away from focusing on the full-length to release the singles "Ordinary Love" and "Invisible." So without a tour on the horizon, what better way to get your U2 fix than by checking out Elevation, the excellent U2 tribute act that plays tonight at Rockin' on the River. In the past decade, the Canadian act has played across the world. The group can play about 100 U2 songs and its knowledge of the band's catalog even goes back to early albums such as Boy and October.The Juke Hounds open at 5 p.m. Admission is free. (Niesel)
Photo via Wikimedia Commons
A five-time Grammy winner who was inducted into the Rock and Roll Hall of Fame and Museum in 2000, singer-songwriter James Taylor is a regular at Blossom. The guy hasn't released a studio album since 2008, the year he put out Covers, an album that found him revisiting songs by like-minded singer-songwriters such as Jimmy Webb, Leonard Cohen and Smokey Robinson. For the current tour, he's been playing two sets. Expect to hear songs such as the tender ballad "Sweet Baby James" and seasonal favorite "Mexico." He's also been covering tunes by Carole King and the Drifters. Expect a big Baby Boomer crowd for this one. (Niesel) $25-$99.50
Photo via Winking Lizard, Facebook
Turns out Winking Lizard has more than just a world tour of beers. Tonight, they present their 11th Annual Shot in the Dark race (and party!) on Huron Avenue downtown. The flagship race is a four-miler -- running in the evening is way more tolerable than the morning or afternoon, this late in July -- but there's also a family walk/run, a team event and a 4 mile run. Stay afterwards for live music from Festivus, food and a rocking street party. Registration on the day of the race is $40, but if you register online now, you'll save $5. Plenty of time for beer after you cross the finish line. (Allard) hermescleveland.com.
Photo via Wikimedia Commons
This afternoon and evening, Councilman Zack Reed presents the 11th Annual "Family Unity in the Park" concert and fireworks at Luke Easter Park (the largest urban park in the state of Ohio). Reed was delighted this year to lure the Rock Hall inductees The O'Jays as the headliners. Reed says he's expecting anywhere from 20,000 to 25,000 attendees and that this annual party is easily one of his residents' favorite events. More than just food and entertainment, there's practical value as well: the Mount Pleasant Community Zone is hosting mobile clinics for free health screenings for blood pressure, diabetes and more. Hell, there's even voter registration booths. Live music begins at noon and the party won't stop until 9:30 p.m. (Allard) thefamilyunityinthepark.com.
Photo via Cleveland Scene Archives
The annual Madison Arts District Artwalk grows every year, this summer is no exception. This collection of artists and independent businesses congregate together to hawk their wares and celebrate the unique artsy vibe that's been growing in Lakewood over the years. There'll be photography studios, crafts, bridal boutiques, ceramics and even pet stores offering something for Fido. Aside from the art, there will be food trucks parked throughout with pedicabs cycling around to give you a lift. This is all happening between Morrison and McKinley Avenues (plus Mahall's further down the street— you get free bowling today only with a $20 receipt from any of the M.A.D. vendors). The event runs from 1 p.m. to 6 p.m. (Trenholme)
Photo via Cleveland Scene Archives
Shot as if it were a documentary set in Mumbai, writer-director Ritesh Batra's new film The Lunchbox, a hit in India where it was released last year, starts slow. But like the slow-developing romance at the heart of the film, it picks up to become a very elegant tale about unrequited love. The film follows Saajan (Irfan Khan), a factory worker who's held the same claims department job for 35 years. An introvert who goes about his work with a quiet diligence, he doesn't take kindly to the appearance of the well-intentioned but pesky Shaikh (Nawazuddin Siddiqui), the man he's supposed to be train to be his replacement. But that's just one of several changes that take place in Saajan's life, disrupting the routine to which the man is wedded. The film screens tonight at 6:45 at the Cleveland Institute of Art Cinematheque. Tickets are $9. (Niesel)
Photo via Facebook, Ryan Dalton
It's been a long, slow climb to the middle for Cleveland comic Ryan Dalton. The guy started performing standup in 1998 and has some minor success. He's regularly on the Bob and Tom Radio Show and has appeared on Comedy Central's Live at Gotham. He also makes the rounds at the comedy festival circuit. Currently in the midst of a short Midwest tour, he performs tonight at 7 at Hilarities. Much like Seinfeld, Dalton jokes about life's absurdities. It's a testament to the strength of his material that he doesn't need to rely heavily on obscenities in order to be funny and he'll joke about things like what a mistake it is to tell a woman she has a gray hair. Tickets are $18. (Niesel)
Photo via Facebook, Oneida
It's been over two years since Oneida has released anything, and even then it was a pretty big deviation from a traditional album. At only two tracks and 40 minutes long, A List of the Burning Mountains is a winding series of drum and guitar sequences that flow together in a meandering path with some sound effects and psychedelic rock thrown in. In fact, that's kind of how their sound has evolved over the years. Not that that's a bad thing — it's actually pretty good listen if you like things in the Krautrock genre. Who knows what will turn up at tonight's Beachland Ballroom show, but it promises to be an interesting ride if their latest sound is any indicator. (Trenholme) $10 ADV, $12 DOS. The fun begins at 8:30 p.m.
Photo via Cleveland Scene Archives
Probably the best way to kick-start the week is by shaking your ass uncontrollably at Shake It Down, B-Side's bitchin' Sunday night electronic shows. DJs Eso and Corey Grand join forces to spin anything and everything: Funk, soul, hip-hop, trap, drum and bass, and all sorts of similarly ill shit. Grand's cred speaks for itself: "Sucka Free Since '88." And that same sentiment goes for the Sunday-night throwdown as a whole. Work your way across Coventry all weekend and wrap up the party at B-Side. The DJs start spinning at 10 p.m. (Eric Sandy)
Photo via Flickr Creative Commons