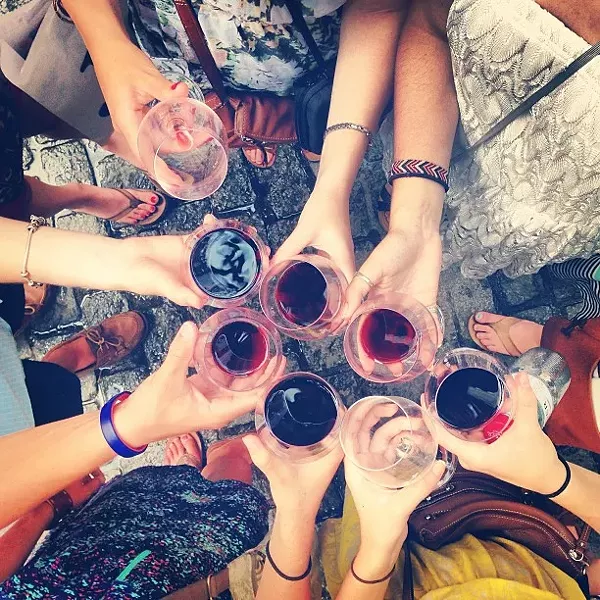 Photo Courtesy of Instagram User bbaugher11
It's time again for the Crocker Park Wine Festival, which takes place today at 4 p.m. and tomorrow at 2 p.m. You can sample more than 150 unique wines and choose from select craft beers. Live music and food vendors will be on hand as well. Tickets are $22 in advance and $27 at the door. They can be purchased at crockerparkwinefestival.com. Cheers.(Beudert)
Photo Courtesy of Instagram User danmorganphoto
The second Friday of the month means only one thing: the Tremont Art Walk. Starting at 6 p.m., stroll through the charming streets of Tremont and visit the many galleries, restaurants, and bars showcasing local and regional works of art. Enjoy food and drink specials at various establishments and hear from the artists themselves as they talk about their work. (Beudert)
Photo Courtesy of the Cleveland Scene Archives
Announcing itself like an honest herd of buffalo hoofing it 'round the mountain, Tedeschi Trucks Band's latest album dives back into the waters of tradition and spirits its members know so well. Album opener and title track "Made Up Mind" has the band restored to the wonder of the first album, though there's a reinvigorated comfort and confidence to the music this time. Hear this song and more at their not-to-be-missed live performance on Friday the 13th at 7 p.m. at Jacobs Pavilion at Nautica. Tickets are between $34 and $89. (Sandy)
Photo Courtesy of Instagram User kelssturm
Get ready for an all day wine and beer event for a good cause. Starting at 9am today, you can embark on the 2013 Red, White, and Some Brews Tour hosted by Angels on the Avenue. Benefiting the St. Augustine Health Ministries, this $60 per person event starts at the Holiday Inn on West 150th street in Cleveland. A chauffer driven coach will whisk you to various stops including South River, Debonne, Ferrante Winery, Deep Leap Winery, and Grand River wineries. Tickets can be purchased by emailing jdailey@ppg.com or logging onto staugustinemanor.org.
Photo Courtesy of Wikimedia Commons
Have you ever wanted to get up close and personal with a fuzzy, cuddly skunk? Now's your chance! On Saturday, September 14th from 10am - 5pm, North Ridgeville's South Central Park will host it's annual Skunk Fest for skunk lovers and skunk owners alike. The Fest includes educational programs, raffles, music, food, entertainment and (of course) hundreds of furry skunks! The event is free, but donations are appreciated.
Photo Courtesy of Instagram User rickreising
This fall, the grounds of Hale Farm & Village open up for a new event, the Gardenside Dinner at Hale Inn. (An inclement weather location is available on the property). On Saturday, September 14, pre-registered guests will enjoy a dinner created with local ingredients. A living history museum of the Western Reserve Historical Society, Hale Farm & Village offers a blissful, natural scenic location for the event including local entertainment throughout the evening. Tickets for WRHS members are $30 each and for non-members, $40 each. Children are $15 per ticket. The event starts at 6 p.m.
Photo Courtesy of Dessa, Facebook
A true wordsmith in the old-fashioned sense of the word, Dessa has built her band like she's built her audience — slowly but surely. Her music benefits from the foundation of language skills that she developed early in her life. As a result, she comes off as something like an urban Ani DiFranco. Her lyrics about self-empowerment get a good boost from the talented jazz and R&B players in her band. She made her full-length debut with 2010's A Badly Broken Code, an autobiographical album of rag-tag hip-hop on which she alternates between spoken word diatribes and heady raps. Because she so completely rearranged the songs from the album when she played them live, she decided to re-record some of them for her terrific follow-up album, 2011's Castor, the Twin. Expect to hear these songs along with tunes from her new album, Parts of Speech. She takes the stage at 8:30 pm at the Beachland Tavern. Tickets are 14 bucks.(Niesel)
Photo Courtesy of Mahall's 20 Lanes, Website
The Cleveland Print Room is a non-profit art space/gallery that hosts photographic exhibits and offers free programs and classes for aspiring photographers. To help raise funds to cover expenses, CPR will host a pancake breakfast this morning at the hipster concert club/bowling alley Mahall's 20 Lanes in Lakewood. The event, which begins at 11 a.m. and runs until 2 p.m. will include a silent auction and raffle as well. Oberlin DJs Thomas and Tania will spin groovy tunes and the $10 ticket gets you pancakes, bacon and juice (the bowling costs extra). (Niesel)
Photo Courtesy of Sigur Ros, Website
Because the guys in this Icelandic band sing in their own made-up language, it's impossible to know just what they're trying to say. But the songs on their new album, Kveikur, succeed simply because of their textures. Opening number "Brennisteinn" features strange scratching noises and heavy percussion; it sounds like the kind of song you'd hear at a noble warrior's funeral. The group is reportedly touring with an 11-piece band and has revamped the visuals, the last leg of a long world tour that started last year. Should be a stunning show. Tickets are $27.50-$49.50 and the show starts at 8 pm at Jacobs Pavilion at Nautica.(Niesel)
Photo Courtesy of Ya Lo Tengo, Facebook
Yo La Tengo's Fade is, in many ways, a tidy distillation of the anthemic albums that came before it. From this current vantage point, it still ranks among the best albums of 2013. And the band's January appearance in Cleveland showcased two sets of emotional rock 'n' roll - the first half covering much of the quieter Fade material (plus the slow version of "Big Day Coming"), the back end exploding in feedback-drenched fury. Miraculously, "Ohm" showed up in both sets that night. The stage has always been a second home to Yo La Tengo, who experiment with their songs long past the studio sessions. "The songs kind of start to grow with us. Lengths will change; arrangements will change. ...We're all about growth," bassist James McNew told Scene earlier this year. Tickets are $20 and the show starts at 8:30 pm. (Sandy)
Photo Courtesy of Instagram User bbaugher11