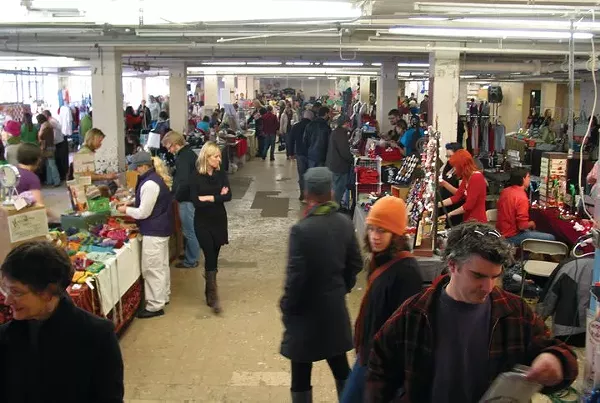 Photo via Cleveland Scene Archives
This year marks the 10th anniversary of the Cleveland Bazaar, formerly Bizarre Bazaar. Stop by 78th Street Studios to celebrate with their Holiday Show, featuring over 140 local vendors specializing in art, crafts, design, clothing, food and more. You can also grab some special 10th anniversary-themed merch. A number of 78th Street Studios' galleries, artist studios and other tenants will be open as well. The Cleveland Bazaar is free and open to the public on Saturday, Dec. 13, from 10 a.m. to 9 p.m., and Sunday, Dec. 14, from 10 a.m. until 6 p.m. (Usmani)
Photo via Instagram, tiffany_yau
If you're not particularly keen on holiday shopping (gentlemen, we're nodding at you), then maybe a sip and shop event is more up your alley. From 5 to 11 p.m. on Friday, Dec. 12, get your holly jollies on at the Tremont Brewhaha Holiday PopUp Shop & Party. The event will feature more than 25 artisans and farmers market vendors, as well as live musical performance all night long. The festivities kick off at the Annunciation Greek Orthodox Church Grand Ball Room on West 14th Street, but free trolly rides to and from other Tremont hotspots will be available all night.
Photo via Instagram
December's Tremont Art Walk is highlighted by DayGlo 3, the third annual exhibition sponsored by Cleveland's own DayGlo Corporation, at Doubting Thomas Gallery. For three years, DayGlo has provided free paint to each participating artist. For this unique exhibition, the gallery is lit in ultraviolet (black) light. This year, organizers have added jurors to award prizes at the opening. Stop by between 6 to 10 p.m. tonight for the most psychedelic show of the season. (Usmani) tremontartwalk.com.
Photo via Doug Brown, SCENE
Thousands of Santas will potentially be on hand today for the fourth annual Santa Shuffle Bar Crawl and 1 Mile Fun Run that takes place at the Tremont Taphouse. As you might suspect, it is as much a party as it is an athletic event. The bar crawl takes place from 2 to 4 p.m. and the 1 Mile Fun run kicks off at 4 p.m. A post-race party rages until 10 p.m. Your $30 registration includes bib number, a Santa hat, a race T-shirt, entrance to the post-party tent, a wristband for the free trolley to participating bars and discounted specials. (Niesel)
Photo via Wikimedia Commons
Coventry Road in Cleveland Heights features a terrific assortment of retail shops and restaurants. Today from 11 a.m. until 11 p.m., the various establishments there will participate in Coventry Village Holiday Festival, an event that features a showing of National Lampoon's Christmas Vacation at the Centrum as well as photos with Santa. There's also an ugly sweater bar crawl and karaoke and caroling. The event is free, and Cleveland Heights is offering free parking too. (Niesel)
Photo via IMDB
As part of Cleveland Cinemas Holiday movie programming, enjoy some of your favorite Christmas flicks at theaters all over the region today. Local favorite A Christmas Story will play at the Cedar Lee at 11 a.m. and at the Capitol Theatre at 1 p.m. The Will Ferrell feel-good comedy Elf will play at Shaker Square and at Chagrin Cinemas at 11 a.m. Unbelievably, tickets to both these films are only $1. One dollar! Bring the whole fam for the price of a small popcorn! Guests are also encouraged to bring non-perishable food items, which will be donated to the Cleveland Food Bank. (Sam Allard)
Photo via Cleveland Scene Archives
More than 30 vendors will be on hand today at the Beachland Ballroom for the club's Rock 'n' Roll Flea Market, which arrives just in time for holiday shopping. Vendors will be selling vinyl records, CDs, cool crafts and vintage wares of all kinds. The event takes place from noon to 5 p.m. and admission is free. (Niesel)
Photo via Cleveland Scene Archives
In what could be the biggest game of the year, the Cleveland Browns take on the Bengals at 1 p.m. at First Energy Stadium. Mike Pettine played Johnny Manziel against the Bills to spark the offense and spell Brian Hoyer after hurling five interceptions in two games, and the head coach has decided to give Johnny Football another go as the starting QB in today's game. Before an important matchup with the Colts last week, the Browns were tied with the Steelers and the Ravens in the contentious AFC North. A victory over AJ Green and the Bengals today could have serious playoff implications. Ironic that the one year the Browns are playing at playoff level is the same year that everyone in the division is. Josh Gordon, who's looked tremendous in his first three games back, could play a serious role this afternoon. Bring your hats and gloves if you're tailgating in the Muni Lot. Tickets start at $25. (Allard)
Photo via Geauga Humane Society's Rescue Village (Facebook)
This open house-style event is an eagerly awaited party and art show, with a portion of all art sales benefiting Geauga Humane Society's Rescue Village. The event will feature an art sale, artists raffle, adoptable animals, wine/mimosa, and more. The fun begins Friday, Dec. 12 and continues all weekend long.
Photo via Lindsey, Instagram
Opening today and running through Apr. 26, the Cleveland Museum of Art's latest exhibition, Constructed Identities, primarily uses pieces from its own collection to examine photography's ability to create identity — both real and fictional. Highlights include Andy Warhol's "Little Red Notebook" with polaroids of Mick Jagger being Mick Jagger, and Patrick Nagatani's 50-part visual chronicle of Zen monk Ryoichi's archeological expeditions leading to the discovery of time travel. Wait, what? Come to the CMA to see for yourself. (Usmani) 11150 East Blvd., 216-421-7350, clevelandart.org.
Photo via Cleveland Scene Archives