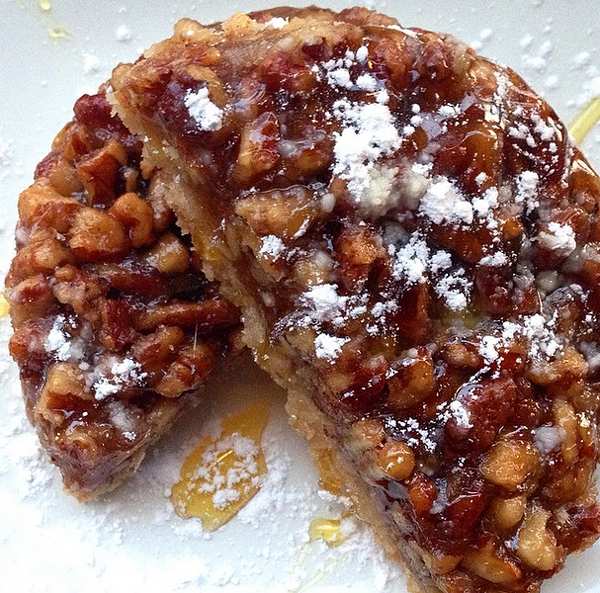 Photo via Deagan's, Instagram
Deagan's (which rhymes with vegans!) has been catering to vegans each and every Wednesday night with a full menu of items, including delectable desserts. The upside down peanut butter tower is to die for, as are their pies.
Photo via Mustard Seed, Instagram
This grocery store in Solon and Akron has a wide variety of vegan treats, including cakes, cookies, dessert breads and chocolates. Their desserts are crucial when heading to a dinner party with a vegan who will be left out if you don't stop in and grab something delicious.
Photo via Mitchell's, Instagram
The patron saint of Cleveland ice cream also happens to make some of the best vegan ice cream around. They typically have a couple vegan flavors on hand so you can enjoy a scoop with your non-vegan friends.
Photo via Cleveland Vegan, Facebook
The Cleveland Vegan desserts can be found in coffee shops and grocery stores across Cleveland and also in their new brick and mortar establishment in Lakewood. Cookies, brownies, cakes and more are all made with the freshest ingredients. Recently, they even had vegan donuts for weekend brunch!
Photo via Floressa Cafe, Facebook
Floressa Cafe is an online, allergy-friendly bakery that specializes in vegan, gluten free and classic baked goods. You have to try their vegan apple galette.
Photo via No Whey Chocolates, Facebook
No Whey specializes in little vegan delights you'd typically find in a box of holiday chocolates. While most vegans can't partake in the deluge of chocolate sent around this holiday season, No Whey deliciously fills the void. The shop in Lyndhurst also features treats from other bakeries around town.
Photo via Nature's Bin, Instagram
Consistently the go-to spot for vegan desserts in Cleveland, Nature's Bin offers a wide variety of treats, from cinnamon buns to cheesecakes and cookies. It's hard to pick a favorite, so just try 'em all.
Photo via Poison Berry, Instagram
Poison Berry pops up at local farmers markets and in select stores like No Whey Chocolates. They have amazing cupcakes, whoopie pies and other hard to find vegan treats.
Photo via Mason's Creamery, Instagram
A ever-rotating variety of vegan ice creams and sorbets, the owners are happy to take requests and dish out samples. They use the freshest ingredients possible and have that homemade touch.
Photo via Vegan Sweet Tooth, Instagram
A little all-vegan bakery in the center of Eton, Vegan Sweet Tooth has a display case full of vegan delicacies. They will also custom-make extravagant cakes you'd never believe were plant-based. Show up to your next work meeting with a box of these breakfast pastries and muffins and your co-workers will never know what they're eating is vegan.
Photo via the Root Cafe, Instagram
The Root has a big display of vegan desserts and they often cater to the raw, gluten free and oil free crowds. While not everything is vegan, the signs are clearly labeled so you know what you're getting.
Photo via alissawhitegluz, Instagram
This Public Square café has a rotating selection of cupcakes, cookies and cakes, as well as city-famous peanut butter chocolate bars. Grab some to go or treat yourself after a satisfying vegan meal.
Photo via Plant Kingdom Bakery, Facebook
If you're a vegan and don't know Jeremy then you clearly never leave the house. This dude is everywhere serving up his vegan treats and hemp products. You can't go wrong with a "Goo Ball" or any of his delicious nutty, seedy bars.
Photo via Metro Croissants, Facebook
The vegan breakfast pasty can be elusive but Metro Croissants delivers them all over town at farmers markets and in coffee shops. While not all of the buttery treats are vegan, you'd be hard pressed to notice a difference in taste and quality in the plant based versions.
Photo via Earth Bistro Cafe, Facebook
When Earth Bistro popped up on the scene, all we heard about was their vegan chocolate peanut butter cake. And it lives up to the hype! Be sure to try some of their vegan creations next time you stop in.
Photo via Tremont Scoops, Instagram
Where else can you get a fully vegan sundae with all the fixings? Scoops has you covered with everything from vegan ice cream all the way to vegan whipped cream with a cherry on top. Don't forget to try their vegan ice cream sandwiches.
Photo via Deagan's, Instagram