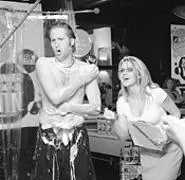 Lathering up for Old Spice at the Blue Moose Saloon.
THURS 5/15
There'll be cameras and showers at the Blue Moose tonight, where Old Spice is filming guys belting out "Take Me Out to the Ball Game" for commercials slated to air during televised major league baseball games this summer. The suds start splashing at 6 p.m. at the Blue Moose Saloon & Patio (5513 Pearl Road in Parma). Visit www.oldspice.com for more info. -- Michael Gallucci
Horsing Around
Lorain's Palace plays the ponies.
SAT 5/17
The Palace Civic Center in Lorain is betting on a budgeting trifecta with Night at the Races, a fund-raiser of videotaped contests that are flashed on a jumbo screen. The featured races, culled from tracks around the country, arrive from a company in Florida, sealed to ensure that no one knows the winning horses before the event begins. Before each race, gamblers at the Palace plunk down "funny money" at the betting window and, if their horse wins, cash in for more fake bills. (That's right -- the Palace is the only real winner here.)
Proceeds from the event help the Palace lure entertainers to town. "We have a lot of big names this year," John Handyside says. "Roy Clark. [The] Glenn Miller [Orchestra]. Ruth Buzzi. It costs money to bring these entertainers in." Night at the Races starts at 7 p.m. Saturday at the Palace Civic Center, 617 Broadway in Lorain. Tickets are $10; call 440-245-2323. -- Cris Glaser
Neigh Sayers
5/17 -- 5/18
At 25 inches tall, Sweetie is the smallest registered miniature horse in the world. Don't blink or you'll miss her at HorseFest, a primer on horse breeding, training, and grooming that takes place at 9 a.m. Saturday and Sunday at Lake Farmpark, 8800 Chardon Road in Kirtland. Tickets are $6; call 440-256-2122. -- Cris Glaser