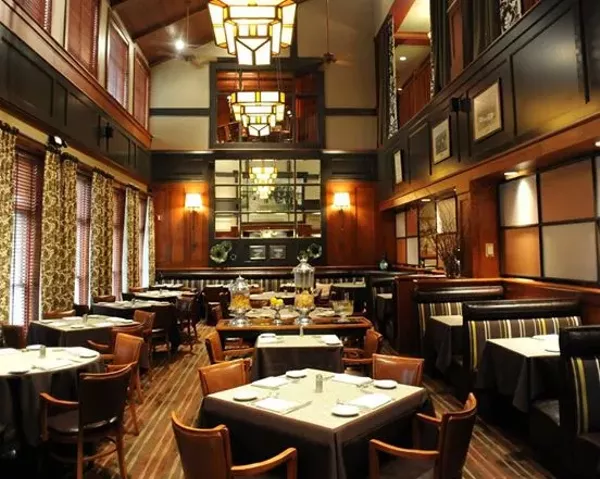 Originally a tavern dating back to the 1830's, the building was purchased and operated as Zimmerman's Tavern by Sophie Sarnacki. That was until 1945, when Sarnacki (who had a bad reputation) was shot and killed inside the tavern. To this day, the ghost of Sophie is still spotted by employees and glasses and dishes mysteriously break. Stop in at 8001 Rockside Rd.
This 19th century Victorian home-turned inn is said to be haunted by a ghost of a servant girl. Guests at the famous Medina B&B claim to hear voices and music playing, in particular the piano in the parlor. Spend the night at 504 W. Liberty St.
The site of Cleveland's first hotel back in 1815, the Renaissance hotel and restaurant are super haunted. The fourth floor in particular is a place even the staff won't go alone. Stop in at 24 Public Square.
Doors locking on their own. Strange smells of cigar smoke. Phantom phone calls. These are just a few of the experiences people have had at the Vintage House Cafe in Avon. There's no clear culprit as the building dates back to the 40's and has housed many possible afterlife suspects. Get your scare on at 35800 Detroit Rd.
This former hotel turned infamous brothel dates back to 1838 and is home to at least two ghosts. The first is an apparition of a little boy and the second a man in a black suit and hat. Slamming doors and bar glasses flying through the air are just some of the super natural occurrences of this establishment. See for yourself at 3690 Broadview Rd., 330.659.0610.
Johnny Mango is not only famous for its Taco Tuesday, but also for the ghosts that haunt its four walls. And they are not nice ghosts. At least three hostile entities haunt this restaurant. Get spooked at 3120 Bridge Ave., 216.575.1919.
First the Spanish Tavern, then Marco Polo's, and now the site of the successful Burntwood Tavern, this place can be down right spooky. Legend has it, the original owner of this historic building has not left, and over the years staff have reported hearing their names called out and being touched on the shoulders by someone... or something. Go experience it for yourself at 8188 Brecksville Rd.
Constructed in 1850 as the Peninsula Inn, this famed haunt was a beloved nightclub before it was transformed into the Winking Lizard in 1992. There have been dozens of reports of strange occurrences around the bar area and many believe that a flapper girl from the 20s is still hanging around. Go see for yourself at 1615 Main St.
Built as a stagecoach in 1858, this place is the real deal of haunting. At least two people have died here, and apparently never left. One ghost is Ann, who died in 1895 trying to save the building from burning down. The second ghost is that of a Frank Curtis, who hung himself on Christmas Eve 1922. Stop in at 538 W. Liberty St.