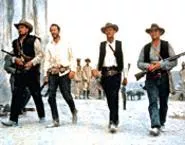 The Wild Bunch: Four outlaws you still don't want a piece of.
Sam Peckinpah's Legendary Westerns Collection (Warner Bros.)
At a mere $42 through most websites, this four-film boxed set ranks among the best ever compiled; not only does it contain the restored version of one of the greatest movies of all time (
The Wild Bunch
), but also three other brilliant westerns (
The Ballad of Cable Hogue
,
Ride the High Country
, and
Pat Garrett and Billy the Kid
). There's nary a drop of convention in the movies of Sam Peckinpah, who left behind a filmography that bears the spark of the adventurous, the dangerous. The man made movies very much like himself -- movies that felt as though they were always about to implode or simply keel over from too much drink and disappointment.
The Wild Bunch
redefined cinema violence, but the other three are singular and no less remarkable. There are also numerous fresh documentaries and commentaries -- enough to last you all week, or till film school starts.
-- Robert Wilonsky
Dirty Deeds (Freestyle Releasing)
When a Diet Ferris Bueller performs his high school's dreaded "Ten Deeds" to impress a brainy cutie, one might reasonably ask: Will these two work it out? Will lessons be learned? And what inanimate object will be humped? (It's a loaf of bread. You're welcome.) In the lead roles, Gilmore Girls' Milo Ventimiglia is serviceably hunky, and Mean Girls' Lacey Chabert is cute as a Chinese baby. But the flick is such a recognizable mix of other comedies -- most regrettably, Weekend at Bernie's -- that this feels mostly like a mash-up. Bonus points for one of the oddest special features in recent memory: video of retired major leaguer (and executive producer) Todd Zeile hanging out with his baseball buddies. -- Jordan Harper
Viva La Bam: Complete Seasons 4&5 Uncensored (Paramount)
Remember that episode of Jackass where they beat a dead horse? Second-string ass Bam Margera certainly does, 'cause he's still whalin' the tar out of it. Seasons four and five of this spin-off reveal how a series that was once unpredictably hilarious has been rendered a scripted masquerade. The pseudo-reality-show antics -- a "spontaneous" trip to Europe, a "sudden" decision to get jobs -- are so obviously fake that it's unclear what the creators are even going for. (Postmodern commentary on reality television? Ugh.) The bonus disc shows some of the nut-cracking, barn-burning fun of earlier seasons. And the entertaining Cribs clip at Margera's mansion hints at why the show is sputtering: You cannot own a Lamborghini and be rebellious. -- Harper
Geldof in Africa (BBC/Warner)
The Geldof in question is Sir Bob -- or Saint Bob, as he's sneeringly referred to by naysayers who insist the former Boomtown Rat's work to end poverty and famine in Africa is an act of self-aggrandizement that's done little real good for anyone but Geldof. But only the callous or cynical could damn his efforts; the man's sincere, which goes a long way. Perhaps it goes too far on this six-part, made-for-BBC doc, which follows Geldof through wondrous wastelands and blighted urban centers, with every imaginable stop in between. He's the tour guide who won't shut up, whose tone suggests guilt and conflict even when he's treading through beautiful places populated by happy faces. Ultimately, it's an infomercial for Africa; perhaps one can take the Geldof tour, staying away from war-torn Congo or Somalia. And then you can buy the DVD. And book. And soundtrack. Wait . . . Who's getting the proceeds again? -- Wilonsky