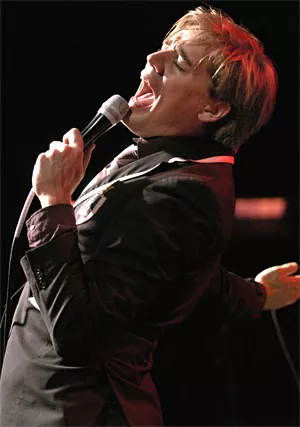 The Hives buzzed into the Agora on March 2.
On Saturday, March 8, Ohio Sky and Red Giant will play a concert at the Peabody's complex (2083 East 21st Street). The gig will double as an introduction to LaMafia Records, a new artist-development company run by Chimaira bassist Jim LaMarca, former Mushroomhead manager Trent Weller, and producer Ben Schigel (Ringworm, Drowning Pool). Despite the title, it's not exactly a record company. Rather, it's a full-service shop that'll help Cleveland acts grow in the city and beyond Ohio.
"If we have to put out a record, we'll put out a record," says LaMarca. "If we have to manage a band, we'll manage it. If we have to book a tour, we'll book a tour. My goal is taking the bands that I'm working with, making them happy they're in the music business, and getting them to succeed."
LaMarca has been working with Cleveland rappers Ray Bones and A-One, providing beats and career advice. He says that friends who are in bands constantly complain about Cleveland promoters and managers. The steady griping persuaded him to try his hand in this venture.
The company will be an alternative to pay-to-play promoters, says LaMarca. The team plans to actively shape bands — from song structures to live performances. Management will act as its own promotion, A&R, and street teams when on the road.
The March 8 show will take place in Peabody's three rooms: Red Giant will headline the Pirate's Cove. There's a hip-hop showcase in Rockstar Cleveland. And Ohio Sky, 2nd Half, and others will play Peabody's main stage. LaMarca says the company has a VIP section for visiting label execs.
Red Giant frontman Alex Perekrest has known LaMarca since high school. That's one of the reasons the local vets decided to give the LaMafia team a shot.
Plus, "He's a cool guy," says Perekrest. "And anything he's interested in for us, we're interested in. Their accomplishments speak for themselves. They back up what they say. Joe Schmoe down the street hasn't toured the world. They definitely offer something that hasn't been in place in Cleveland."
• The Beachland (15711 Waterloo Road) will host a memorial for recently deceased Pere Ubu guitarist Jim Jones on Sunday, March 9. The event starts at 5 p.m. and will feature recordings of Jones' music. Organizers Kathy and John Thompson have posted pictures at www.rubyworld.com/jimjonespix.
• The Whiskey Daredevils are already putting together their fourth album. The Cleveland cow-punk band has recorded tracks at Detroit's White Room studios with John Smerek, who's worked with Bob Seger, Kid Rock, and the Breeders.
• Rollins Band alum and Ween producer Andrew Weiss is mixing the debut album from Sollubi, a psychedelic sludge band featuring Fistula mainman Corey Bing and Necrodamus guitarist Scott Stearns on bass. No release date is set, but songs are posted at www.myspace.com/sollubi.
• Richard Patrick has reconvened Filter. A new album, Anthems for the Damned, is set for a May 13 release. According to the band's MySpace page, Josh Abraham (Slayer, Velvet Revolver) produced, and the record features contributions from Perfect Circle drummer Josh Freese, ex-Limp Bizkit guitarist Wes Borland, and former Marilyn Manson guitarist John 5. Patrick hasn't announced a touring lineup or label yet. Visit www.myspace.com/filter1 for a soaring new track, "Soldiers of Misfortune."
• Ripper Watch: Tim "Ripper" Owens has signed on with guitar hero Yngwie Malmsteen to record a new album and to tour. Read more at C-Notes.