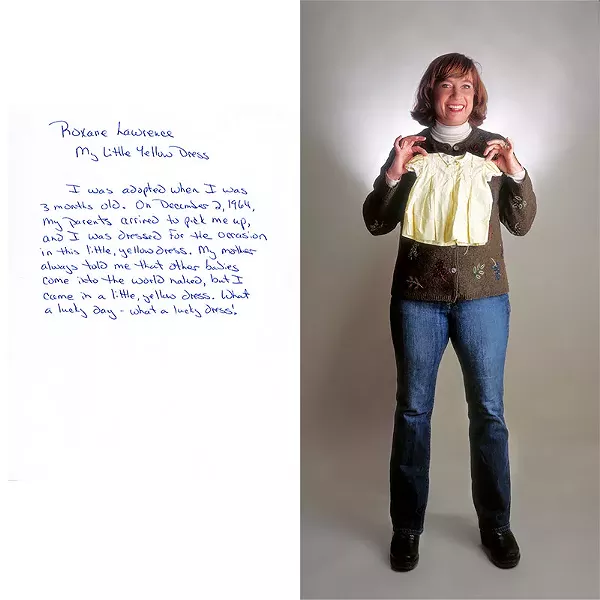 A: Really it was two things: we moved a few years ago and were forced to deal with the accumulation of many, many years worth of stuff in our home. And two, a friend of mine had a camera that was really important to her, and she asked me, "Do you have anything that's really important to you?" My answer was no. But then I thought about how physical, material things can represent important people, moments, and ideas in your life. I began to photograph people with their important possessions and the stories that emerged were so compelling that they overwhelmed many of the original ideas I had for this piece.
A: It ranged from friends, and friends and family of friends, to people who just showed up on the signup sheet. I also posted ads on Craigslist.
A: I wouldn't allow people to bring in living things. A pet or another human kind of defeat the purpose of the project. I discouraged things like computers. The model is something that has special meaning for you, that you've had a long time, would not replace if you lost it. A laptop kind of fails that third test.
A: This was an effort on my part to take myself out of their stories as much as possible. The paper was laid out at an angle to allow either portrait or landscape orientation. Some people brought in their statements already written. Others wrote them after I had taken their photos. The only thing I didn't allow them to do was type.
A: There's some kind of correlation: people look like their handwriting, kind of like some people look like their dogs. There are specific subjects who appeared angular or flowy- their handwriting, too, would look angular or flowy down the page. It gets at the heart of what I was trying to do: let people interpret themselves rather than let me interpret them. There's something fun about people's presentations. As a visual person, I found it kind of delightful.
A: This was the first project I did where every subject I did had to produce a picture. I got email addresses for everyone and sent them their photos. But a number of them never got back to me so there's the possibility that people who participated didn't get to see anything.
A: There were a lot of them. There were two that are really pretty special for me. One is a fellow by the name of Trevis, who brought in his inmate card from prison and his library card. He wrote a poem as his written statement, a poem about identity. I think we all struggle with identity. This whole idea of identity- how we identify ourselves, how others identify us, it's all very compelling.
A: Robbii- that's two 'B's," two 'I's,"- he was the other one. He had his father's teeth that he kept as his desk. He didn't talk much to his dad when he was around. To me that's such a great story because we all regret not having talked to our parents, grandparents, family when we could. Even beyond that we are inundated with noise in our society. It's really hard to stop and listen to other people's stories. And it's hard to judge which ones really have meaning. Both Robbii and Trevis have a lot of meaning for me.
A: 172 images from eight locations: Cleveland, Beachwood, Columbus, Long Island, Atlanta, Houston, and Los Angeles.
A: The selection process really starts with the stories, and not with the photographs. This is in complete violation of every canon of photographic practice, which is that you only pick your best photographs. For me, it was all about the stories and the presentation: sometimes how people looked, sometimes what people wrote, sometimes how people's writing looked. What comes out at the end are a handful of stories that I think are important enough to be shared.
A: Yes. There are stories that older people can tell that younger people simply cannot. There was this one 89-year-old who brought in a stuffed dog, and she was apologizing for the dog's appearance. The dog, of course, looked perfect. The point is, there's a message from this older woman that says to all of us, there are things we've been apologizing for our entire lives, that really no one cares about. A 30-year-old might not understand that yet.
A: 93 — four. The four-year-old brought in a bell.
A: Initially I was sneaking into department stores and photographing stuff, like the perfume departments, with a little digital camera. I had this idea that I would somehow collage these consumer ideas of what things are for with the personal ideas of what these things are for. But during the process of the project, the [personal] stories began to be much more important than any sort of half-baked criticism of consumer culture.
A: Getting past my own needs, and breaking the rule of picking out your best pictures- that was difficult to give up. There were other rules that I broke about portraiture, not just rules, but good rules. I was forced to let go of myself in ways that weren't comfortable. But that's part of the journey in any project. You create a set of ideas going in, but you end up editing them as you go along.
A: Yes, it was completed at the beginning of 2012. There's actually been a huge thing that's happened: Some of the subjects have remained connected. People who were complete strangers going in, have remained connected over time because of Facebook and all that. You could argue about the depth of a Facebook friend, but on New Year's Eve one of the fellows that participated [in the project] posted this wonderful thing on my Facebook wall about meeting me. It was embarrassing, and yet it was touching. In ways I've never anticipated, I'm getting paid back by this project. In a world were people fly by each other at break neck speed, that's been a really unexpected result.
A: Not really. There was really only family that I didn't feel good about. I felt that they were there to get free pictures as opposed to showing something about themselves.
A: I used large format film, so each photo had to be scanned, cleaned up, and prepared on the computer. Every image took me a few hours. It was a bit overwhelming knowing that some of the images were going nowhere or would only end up as a thumbnail in the back of my book. It kind of shut me down for a few months.
A: I think there are different kinds of maturities of interpretations of my project. Everyone's first reaction- before even seeing it- is What Would I pick? What's My Precious Object? What I find with people who have actually spent the time going through it is that they pick out stories that are meaningful to them. Suddenly, it's not about them and their objects any more. It's about other people's stories.
A: It will be in Las Vegas in January and in Indianapolis in June.