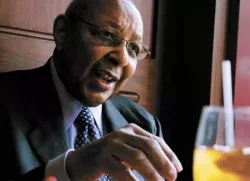 From Cleveland, Louis Stokes and his little brother blazed the trail that Barack Obama followed to the White House. As Stokes prepared to travel to Washington D.C. for this historic inauguration, he spoke to Scene about how this moment came to be and what Obama's victory means for our town.
As told to James Renner.

As a young boy, I delivered the Cleveland News. I had occasion to do a lot of reading. Particularly, I enjoyed reading the black newspapers. The Chicago Defender, the Call and Post. I read about lynching of black people in the South. I read about a number of black boys from Scottsboro, Alabama, who were sort of like hobos, and in the course of one of their days riding the trains, they were accused by two white women of having raped them. The boys denied it. When word got out that these black boys were accused of raping two white women, there were attempts to get into the jail to lynch them. There was a white lawyer from New York who went down to represent them. As a young boy, I realized how great it would be for a black lawyer to be able to have the stature to go down there and represent them. At that time, you thought that this is gonna be going on forever, because this is the state of America.

I also had to face the fact that I was being brought up in a household where my mother was a domestic worker. Which means she went out to suburban homes where she scrubbed their floors, she took care of their children, she cooked their meals, she washed their clothes, washed their windows, did all of the service types of things. She only made $8 a day plus car fare. Some days she had to remain on the job all week and just come home on Friday night. And so she also went on welfare. She got $35 a month on welfare. And then to make ends meet, she moved into public housing to get the benefit of public housing at a rate that was affordable under her circumstances. And so I thought I could never be a lawyer.

I LEARNED INDUSTRY from my mother. She taught me to always go to work on time. In fact, she said any time you have an appointment, show up early — it's not good enough to show up on time. She taught me to be honest, to apply yourself to what you do. At 12 years old, I was a paperboy. Today I am 83 years old and hopefully next month, I will reach my 84th birthday. I have never been without a job since I was 12. I have never been unemployed. People ask me why I'm still working. I explain that I really love work. People say, well, don't you have hobbies? I say, no, I don't. That has been habitual for me. I do think I'll slow down. I think I'm entitled to that.

My mother said to us all the time, 'Get something in your head. Get something in your head so you don't have to work with your hands like I worked with my hands. Be somebody.'

Carl wanted to be a politician. I didn't. I wanted to be in that courtroom everyday. I became rather prominent as a young lawyer, and people looked at me as a young man who had an outstanding career ahead of him. But I had no political ambitions whatsoever. My only political involvement before I was a congressman was helping out my brother.

After the 1965 election, where [Carl] lost by 1,700 votes, we knew then that we could win. In 1965, Carl's running was very much looked at in the black community in the way Obama running was looked at by the black community: 'OK, he's running and we need this symbolically, but you know he's not going to be able to win.' So people took it for granted and people didn't get as involved as they did in 1967. And that meant Carl really lost by a lot less than that because of the people who did not vote. So we knew we could take it in '67.

While Carl was still in the legislature, the 21st congressional district was redrawn. It had been gerrymandered. By gerrymandering, you dilute the district by diluting its full strength. This was primarily a black congressional district. But they redrew it so it was no longer a black district. That was done purposely in order to keep Carl from running for Congress. Carl asked the NAACP to file a lawsuit on his behalf. They agreed to do so. It just so happened that I was NAACP legal redress chairman. It took about three years to get to the Supreme Court. The United States Supreme Court ruled in our favor. When the lines were redrawn, the district came out 65 percent black, 35 percent white. It meant that Carl could then run for Congress. But fate had taken his life in a different route. He'd since gone from being in the state legislature to being the mayor of Cleveland. So I go to him and said, 'Well, the Supreme Court ruled today that we won your case. You can go to Congress.' He said, 'I don't want to run for Congress. I'm the mayor of Cleveland.' And indeed, in the same way Barack Obama is on the front cover of all these national magazines, Carl was on the cover of Time, Newsweek, and he was internationally recognized as the first black mayor of a major American city.

I was with Dr. King the night Carl won the election to become the mayor of Cleveland. It was about two or three in the morning before Carl knew officially that he had won. Word spread from the headquarters outside, and people were literally dancing in the streets. The whole scene was one of great jubilation and pride. And Carl asked me if I would remain inside the headquarters with Dr. King while everyone else went downstairs. He and I basically sat and talked. We talked about what Carl's election meant for America. This pioneering breakthrough was something that was needed and necessary for our long struggle. Dr. King said that along with this political breakthrough, we must now turn our sights from the political opportunities to business opportunities. He said no ethnic group had ever been able to break into the halls of power without both political and economic power.

Carl's election was the first time anywhere in the nation that we had seen coalition politics. Cleveland then was not black. Cleveland today is 52 percent black. In 1965 when he first ran, and in 1967 when he won, Cleveland was 37 percent black. Obviously, black people could not have elected him mayor of Cleveland. Carl saw that he had to put together a base of African Americans and Hispanics and whites of good will and others to form a coalition that would give him at least 15 percent of the white vote to go with the black vote. Cleveland was afforded a challenge, just like our nation has just been afforded a challenge, in that black Americans are only 15 percent of the nation, and so black people could not have elected Obama as president of the United States and so Obama had to do what Carl did. Secondly, it showed others how to get elected by white people. He had to be able to appeal to white people the same way he would appeal to black people, as a candidate — not just a black candidate, but a candidate who happens to be black. Which is the same way Obama ran.

One of the things that both my brother Carl and I did through the civil rights movement is we would talk to young black kids who wanted to be militant, who wanted to talk about the fact that we had to take to the streets, that we had to be revolutionary. We explained to them that the only way to change the system — and we agreed that the system worked against us, we agreed that blacks and whites were not afforded equal opportunities — but the way to change the system was to work from inside the system. There's no way to win that fight [against the system]. You'll just end up being dead. But if you work the system, you have a chance of changing the system.

The first bill I sponsored in Congress, I cosponsored it with John Conyers of Michigan. That was the Martin Luther King Day legislation. That was in January 1969. It was the first bill I sponsored. It took us 15 years to pass that bill. Finally, after 15 years, we were able to pass that tumultuous legislation that changed the country. It set aside a day of celebration and recognition for an African American, something that had never been done before in this country and has never been done since. We got it done. It wasn't easy.

As I said in my farewell speech on the floor of Congress, there are days when I sit in this chamber and I pinch myself. And I ask myself, 'Are you really here? Are you really sitting in a seat on the floor of the United States Congress?' And then I realize that I wasn't supposed to be here and that I beat the system and that is why I'm here.

At the services for Stephanie Tubbs Jones, as I got up to speak, I said, 'I'd be remiss were I not to do or say this, Senator Obama.' I said, 'I have to stop and thank you. I'm 83 years old. I want to thank you for giving me the opportunity to see something I thought I would never see in my lifetime, and that was the election of an African American as the nominee for the office of president of the United States.' Well, the auditorium went wild with applause. Everybody rose to their feet, and I turned around and Obama got up and walked toward me and we hugged each other, and as we were breaking away, he said, 'I'm here because of you and your brother.' And I said 'Thank you.' Now, that's something that will live in my heart for the rest of my life. To feel that Carl and I were in some measure a part of the many accomplishments of black Americans over these years that led to the culmination of the election of a black president in this country is something that is almost [too] incredible to believe.

Obama epitomizes to me everything that I believed in. Over the years I would speak on college campuses and the majority of those kids would be white students. Many times they would say to me, 'Mr. Stokes, do you believe this country will ever elect a black president?' It was a tough question, because how could I, being in the United States Congress, the first black ever elected to Congress from Ohio — still the only black male ever elected to congress from Ohio — how could I say no? So I would say to them, yes, I think some day this country will live up to its true creed and that it will elect a qualified black American as president of this country. At the same time I didn't believe I would see it in my lifetime. It's just awesome.

It's like anything else. Politics is tough. It's a rough game. And there are a lot of challenges. If you look at Obama today, no president in the history of this country has inherited the kind of problems that he's inheriting. Two wars. The Middle East situation will come heavily before him. An economy that is totally in the dumps as we've never seen it since the Great Depression. And then homelessness and joblessness and foreclosures and all these things occurring at one time. But if you look at him, he's undertaking it as though this is a part of the job that he asked to do and he's going to utilize every force within him to try to respond to these challenges. And so you do it the same way.

I was the chairman of the House Select Committee on Assassinations. We concluded in the case of President Kennedy that Lee Harvey Oswald was the shooter, the person who fired the rifle from the window of the book depository. But we also found, due to evidence that was presented at the last moment, that there was in fact another shooter and that the shot came from the area of the grassy knoll. The bullet, we were told, did not hit the president, but there was a fourth shot fired. Based on that, we concluded that there was a probability of a conspiracy. We couldn't name the person or persons involved in the conspiracy, but we did categorize those groups from which a coconspirator could have come.

In the case of Dr. King, we held that James Earl Ray did, in fact, fire the rifle that killed Dr. King. The one rumor we came closest to believing was the one in Memphis, where an FBI informant had informed his agent that he had been offered $50,000 to kill Dr. King. The agent wrote the info down, but he misfiled it. Our investigators found the file, found the informant. He verified that he had been offered the $50,000. We then investigated further and found that a white lawyer and a white businessman were involved, but both were since deceased. But we did have the informant come to Washington and testify. And so, based on this, they concluded that there was also a probability of a conspiracy. We said, no, the FBI were not involved, but they did a poor job of investigating.

I'm an old trial lawyer and I believe fervently in that Constitution. I love that Constitution. The Constitution makes it clear that people are innocent in this country until proven guilty beyond a reasonable doubt. That's fundamental in this country. And so I do not prejudge people based upon allegation or anything, in particular in this alleged corruption case here in Cuyahoga, where we don't even have any indictments against these people.

Unfortunately, corruption is a part of political office in America. I'm afraid it will always be a part of politics.