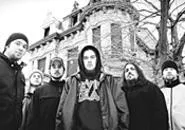 Chimaira keeps things cold and bleak on its first DVD release.
"You can boo if you want,"
Chimaira
frontman Mark Hunter announces as the lights go down in the VIP room of the Odeon, his features illuminated only by the glow of blue lava lamps behind the bar. It's a fittingly self-deprecating introduction to the premiere of his band's first DVD,
The Dehumanizing Process
, which is defined largely by humility and heartache.
Many bands that have gone from recording in a garage to selling out large halls in Europe would be inclined to celebrate a hard-won success. But Chimaira does the opposite on Process, focusing more on the rejection, personality conflicts, and disappointment that define any good band, and less on the partying with celebrities and girls gone wild.
Sure, there are the requisite shots of stripper-esque chicks flashing the camera, the band signing boobs, and bathroom hijinks (don't ask). But mainly, the film is about six dudes from Strongsville forcing their way into a crowded metal scene when even the man who signed them didn't give them much credit. "When I go out and listen to their old stuff, I think to myself, 'What the fuck did I see in those guys?'" says Monte Conner, head of the band's label, Roadrunner Records, at the beginning of the DVD. "The old stuff, putting it politely, is shit."
Though Chimaira's Roadrunner debut, Pass out of Existence, sold 60,000 copies worldwide, it was just barely enough to maintain the label's interest. The new DVD, in stores October 26, is mostly a document of the band's struggles to win an audience without losing itself.
"Two years ago we were approached by a good friend of ours named Tom Bell who wanted to make a movie about us, and we kind of laughed at the idea, because two years ago we were basically kind of just down in the dumps, thinking we were going to get dropped from our record label," Hunter tells the room, which is filled with 20 contest winners, as well as the band's girlfriends and associates, on a recent Saturday afternoon. "All we wanted to do was just write music and play. We told him he could follow us around, and things obviously got a lot better for us. The past two years have been amazing. I think this is a pretty accurate interpretation of who we are as individuals and as a band."
It's also very evocative of Cleveland, opening with black-and-white shots of the industrial flats on a bleak winter day. It helps establish the film's humble tone, a warts-and-all aesthetic that's palpable throughout. We see Hunter throwing up from nerves before a big show at the Odeon, the group debating whether to include an obvious radio single ("Stays the Same") on the album, and struggling to come to terms with the changes that come with inking a deal to a sizable label like Roadrunner.
"When you sign a record deal, the fun gets stripped away," Hunter says early on. "You start analyzing your music in a different way, you don't listen to it for the enjoyment of listening to it, you don't play for the enjoyment of playing. They'll call you up and say, 'Hey, did you hear this new record? Maybe you should write something like this.' Well, we're not that fucking band. This is who we are, this is what we're going to be, and if you don't like it, fuck yourself."
And that stubbornness helps them break through. They eschew their label's advice and leave any obvious hits off their record. They tour and tour and tour for close to two years, even though it leads to the departure of drummer Andols Herrick and eventually his replacement, Swede Richard Evensand (who, we learn, left the band for more than just visa reasons, which was the party line initially). The footage ends around the time of the band's biggest Cleveland gig yet at Tower City, in April on the Jägermeister Tour, where it played a triumphant set in front of a sold-out crowd.
"They're hardworking, middle-class kids from Cleveland who don't expect things handed to them," says band manager Scott Koenig at the end of the film. "They really fucking work, harder than most. Nothing is going to stop them. Nothing."