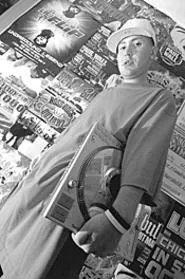 DJ Kut Nyce: The go-to dude for chopped and screwed.
Kut Nyce's latest mixtape begins with a common complaint: "I don't know if I just got a bum copy, but it definitely shouldn't sound like this," an irritated caller gripes on the chopped and screwed DJ's voicemail. "Every song is all in slow motion. I mean, tell me it ain't all supposed to be slow motion and shit."
Lounging in his St. Clair Avenue apartment -- its walls covered with Stat Quo and Ying Yang Twins posters -- Kut Nyce grins as he recalls the message.
"That was a real call," he says bemusedly. "I put my voicemail out there, and just let people call and leave messages. It's just funny. People don't understand what they're getting into with chopped and screwed."
Upon hearing the sluggish, Southern-born hip-hop for the first time, it's easy to assume your boombox's batteries are dying. The speed of a given rap track is slowed down by 20 percent, resulting in druggy, hypnotic vocals and a loping beat. It's music that makes you feel perpetually stoned, and therein lies its appeal.
The sound was born in Houston in the early '90s by the late DJ Screw, for whom the music is named. In those days, Screw and many of his Houston contemporaries were fond of spiking their drinks with codeine-laced prescription cough syrup, a combination known as "drank." As a result, they created music that mimicked drank's disorienting effects. (Another Houston DJ, Michael Watts, developed the chopped part of the sound by playing the same track simultaneously on two turntables and rapidly cutting back and forth between the two, giving the music a stuttering effect.)
In recent years, the sound has slowly begun to make an impact on the mainstream, with Houston luminaries like Mike Jones and Lil Flip going platinum, and big-name artists like David Banner releasing chopped and screwed remixes of their albums.
In Cleveland, Kut Nyce has become the leading practitioner of the chopped and screwed sound. He's a three-time regional champ at the Kool Mixx DJ battles, and his apartment is decorated with giant, three-foot-long cardboard checks that he's received from winning various DJ competitions. Since he started releasing mixtapes in '99, he's dropped over two dozen discs and moved tens of thousands of units. His latest mixtape features such big names as Mike Jones, Lil Flip, T.I., and the 3-6 Mafia, and he's begun to field offers from major labels to chop and screw albums for their artists.
"He is as good as they come," says Tony "X" Franklin, a Cleveland hip-hop promoter who also heads up the mixtape and promotions division at Asylum Records in New York City. "I watched this cat grow, I watched him study, and I watched him become a student of this version of hip-hop. He is the absolute best chopped and screwed DJ in the game."
What distinguishes Kut Nyce from his peers is how active he is on the turntables. His dexterous, high-energy scratching enlivens the languorous chopped and screwed sound, and gives his mixtapes a distinct edge. But drank doesn't play a role in his music.
"When DJ Screw originally slowed it down, it did come off the codeine they were drinking, but now, that really has nothing to do with it," Nyce says. "Around here, we don't drink that, and Cleveland is a chopped and screwed city."
A full-time student at Cleveland State, where he's pursuing a communications degree, Nyce has built a burgeoning business in his living room, which doubles as the headquarters for his Wasteland Entertainment label. The twentysomething Akron native produces and mixes his discs on a computer that sits next to four turntables in a corner of the room. A vocal booth is housed in a small, stuffy room down the hall.
Nyce puts out a new disc every month and a half, and has used the internet to build up a distribution network of indie record stores from Cleveland to Houston. A young white guy, he makes a killing in suburbs like Willoughby and Mentor, often selling CDs right out on the street. It's far from glamorous, but Nyce seems intent on keeping his business plan as down-and-dirty as the music he makes.
"I can't lie, we still sell out of the trunk," Nyce chuckles. "Even in Cleveland, I get laughed out of some stores. They say, 'No one ever came in here asking for you.''' He shrugs his shoulders. "Okay. It's cool. I'm not going to stop."