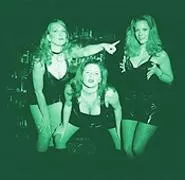 Julita Danielewicz (left), Alicia Rodis, and Tricia Bestic keep heart rates high
Beck Center may be the most conflicted theater complex in Northeast Ohio. It seems to want to please everyone, from diehard silver-haired reactionaries to avant-garde alternative lifestyle advocates.
When uninspired, its theatrical enterprises have the blandness of nursing home entertainment. At other times, ambition overextends its grasp, resulting in so-called musical epics that are the equivalent of a sixth-grade class tooting a Bach Brandenburg Concerto on kazoos.
Through fortuitous circumstances, the industrious board has now come upon an ideal vehicle. Lacking the airless pretensions that blight most new musicals, it is fresh and audacious enough to amuse all but the most confirmed prunes in the audience and colorful enough to light up Lakewood like a neon funhouse. This is a show that fits the minute studio theater with the ease of a perfectly fitting jockstrap.
Eating Raoul, almost a decade old, has been up to now strictly a bicoastal musical, with its considerable charms hidden in the shadow of its cinematic source. All those aficionados who have developed jungle rot from overexposure to Little Shop of Horrors will find this frisky toy of a show an ideal new plaything as it spins its way to the community theater circuit. Its limited demands and feigned bawdiness should find many happy theaters courting it.
In the same playful spirit as its plant-eating sister musical, Eating Raoul is a quick-witted reinvention of a quirky black comedy. Anyone back in 1983 who fancied himself a maven of art-house camp will recall the titters as the bodies mounted up in Paul Bartel's screwball take on swinging and homicide in the L.A. suburbs.
Paul and Mary Bland (yes, these names are to be taken as serious allegory) live in a state of childlike innocence in a world of debauched swingers. They come to an epiphany and decide the only way to free the world of perverts -- and at the same time acquire the needed finances for their dreamed-of country inn -- is for her to become a dominatrix while hubby wields a homicidal frying pan on the lustful noggins of her customers.
The photoplay was a triumph of artificiality, loaded with bloodless killings, sexless lust, and painless betrayals inflicted on life-size 2-D cartoon characters. This work, built on a pedestal of artifice, was ripe for that extra layer of stylization supplied in musical theater.
The resulting mini-musical, with a book by its original star and director Bartel (who sadly shuffled off this mortal coil two weeks ago), music by Jed Feuer, and lyrics by Boyd Graham, preserves and enhances the insouciant naughtiness of the original. The show's fleet 90 minutes bring to mind one of those swirling Hawaiian pupu platters, loaded with a smorgasbord of tasty tidbits. Among the treats are a touch of Sondheim's urban paranoia from Company ("Here we are in Lala Land"); Little Shop of Horrors's parade of yesterday's fashion atrocities -- sports jackets so bright they hurt the eyes; wistful ballads drenched in pop references ("We'll have neighbors like Fred and Ethel, Nelson and Eddy, Sodom and Gomorrah"); hip-swinging Presley rock and roll from Bye, Bye, Birdie; and, from Forbidden Broadway, a platoon of quick-change spoofers doing Mad magazine send-ups of late-'60s L.A. pleasure-seekers.
Needed to keep this firecracker popping is a cast of energized extroverts who wouldn't blush to do a dominatrix Tupperware party on Public Square. Director Scott Spence, who has, at long last, acquired comic aplomb and style, has managed to recruit just such a cast.
Each performer is afforded a glorious opportunity in the spotlight to balance an absurdist tightrope. Wendell McDowell scores a career-making cameo as one of Mary's sex clients clad in a Ginger Rogers ball gown and wig, forcing our heroine (in identical getup) to a devious form of bondage ballroom tap. When two other men pop out of the closet in tuxedos, holding life-size rubber sex dolls, there ensues a production number that could only be called unforgettable.
As the eponymous seducer, Gustavo E. Urdaneta sprays synthetic Latin machismo with fervent ardor. He pulls off a death-defying comic stunt, doing Desi Arnaz on steroids in a leopard jumpsuit. It's a wonder John Waters doesn't whisk him off to Baltimore to star in one of his masterpieces of bad taste.
Sandra Emerick as Mary, the nurse turned dominatrix, takes her cue from Chita Rivera's epic brazenness. In the course of one evening, she performs two miracles: imbuing with genuine passion "One Last Bop," a torch song that ponders the dilemma of whether she should brain husband or lover with frying a pan, and keeping her eyes open with 50-pound false eyelashes.
David Robeano, in the Bartel role of hubby, manages to speak and boldly sing in the manner of Porky Pig and, at the same time, activate the audience's tear ducts for his cuckold state. His whole performance seems to emanate from his bow tie.
If one wants to chart the course of American free-thinkers, one need only consider Beck Center's simultaneously running shows. In You Can't Take It With You, the Vanderhoffs express their madcap eccentricity by not holding down 9-to-5 jobs. In Eating Raoul, the Blands express their delightful wackiness by fatally conking sex offenders and literally performing the title action on the impetuous Raoul.