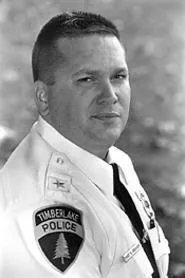 Chief Graham's full-time status will be tested when new council members are sworn in.
Steve Graham might actually enjoy the second-guessing a President endures. It would be tamer than the criticism he faces as Timberlake's first full-time police chief.
Graham's presence has sparked public outcry, petition drives, and the first lawsuit against the village in its 54-year history. Despite calls for his ouster, the affable 36-year-old chief laughs off accusations that he's turned the tiny town of 775 residents into his personal police state.
"People -- most people -- wave with five fingers here," he says, smiling beneath a standard-issue cop crew cut. Behind his desk hangs a black-and-white photograph of an electric chair overlaid with the words "Justice: Regular or Extra Crispy?"
"You don't usually get all five fingers when you're in a police car."
Timberlake lies 20 miles east of downtown Cleveland, a dollop of land plopped between Lake Erie and Eastlake. Turning into the village from Lake Shore Boulevard places visitors in a hushed, almost dreamlike world where hobbits would feel at home.
Some 300 houses, most of them modest, dot the village's three square miles. The area's fierce winter storms give the town its nickname: Timburrrlake. But the gales of November came early this year, in the form of angry residents blustering about Mayor Sam Santangelo Jr.'s promotion of Graham to police chief in May.
The Timberlake Village Council approved Graham's contract at an emergency meeting on May 21. A procedural glitch forced council to later hold public readings on the ordinance to hire him, and the meetings devolved into verbal lynchings.
About 200 residents jammed the Village Hall in June -- the biggest turnout in anyone's memory -- demanding to know why the town suddenly needed a full-time chief and how it could afford one.
They also questioned the choice of Graham, who was fired from the Mentor force last year for intimidating a bar owner and acting to publicly embarrass Chief Richard Amiott, among other charges. (Graham says Amiott retaliated against him and two other fired officers for their police union activity; the three men are suing the city.)
The uproar had little impact on council members, who upheld their earlier vote. Residents branded their officials liars and sellouts. "It was brutal," Santangelo says. "Those people were heartless."
The mayor says he hired Graham -- the village's first full-time employee -- to anchor a department of part-timers. He also regards the town's mutual-aid agreement with the Eastlake police force as perilously insufficient.
"It's like counting on your neighbor to watch your house," Santangelo says. "Well, what if the neighbor has to go away on his own emergency? We've been the only department in Lake County without a full-time chief. I'm striving for the best police coverage we can get."
Critics describe the mayor's logic as a solution in search of a problem -- and Graham as a police chief in search of a crime wave.
Timberlake resident Walt Harris says the town's typical monthly police log looks like this: "Three speeding tickets, one loose dog, one burglary, one domestic dispute, and we're all wondering who the red bicycle belongs to."
Somewhat more happens than that, he admits, "But you still can't justify a full-time police chief with what goes on here."
Harris asserts that the $43,700 Graham makes in salary, benefits, and expenses -- well more than double what previous chiefs earned -- will squeeze the village's $300,000 annual budget. This summer, the longtime resident helped collect 165 signatures for a ballot initiative to cut the chief's job back to part-time.
When the petition effort failed, he organized a political action committee to back a slate of four council candidates who ran on a cost-cutting platform. The four -- incumbent Karen Smith and challengers Jeff Kolasinski, Jim Swarz, and Dick Tuskas -- swept to victory November 6, giving belt-tightening forces a majority on the six-member council. They will seek to make Graham part-time after their January swearing in.
Graham maintains he's too busy to much heed the political climate. He inherited a department that, he says, too often gave only warnings to parking violators or speeders if they were residents. Officers never issued citations to dog owners, no matter how often their pets strayed from home. Domestic disputes went unrecorded if the couple assured an officer that they would quiet down.
Now, he says, "Every call, we treat like a homicide." He takes pride in teaching his officers -- many of them fresh from police academies -- the finer points of filing incident reports and obtaining witness statements. Officers wrote up 105 reports all of last year; they've already filed 160 since he took over in May.
Graham has beefed up traffic patrols and orchestrated sweeps of Timberlake's private beach to clamp down on underage drinking. The day after the September 11 terrorist attacks, he put the department on 24-hour alert.
In a note to residents, he explained, "As a member of the FBI Terrorism Working Group in Cleveland, [I] have been advised that the high concentration of Arab Americans in Cleveland could prompt terrorist activity locally."
The overheated rhetoric and by-the-book policing has disgruntled residents grousing that, where the town needed Andy Griffith, it got Norman Schwarzkopf. There's a sense, Swarz says, that Timberlake has lost its genial informality, one of the essential perks of small-town living.
During his summer campaign for council, Swarz approached a couple as they stood in their driveway alongside a moving truck. "Don't bother with us," he says they told him. "We're leaving. We don't like what's been going on with the police here."
Other residents blame Graham for the village's newfound reputation as a speed trap. In September, the department handed out 45 speeding tickets, most of them along Lake Shore Boulevard. It's a jarring change for a town that "used to be run like a country club fueled on beer," says Tuskas, the village's former mayor.
"Now people are worried if they roll through a stop sign, they'll be zinged."
Graham's vigilant approach has stirred controversy within the police force as well. Before he became chief, officers used the department computer to download pornography, and some may have been having sex on duty, he says.
When he took over, Graham sought to straighten out the department's laid-back attitude. In the ensuing weeks, 10 of 13 officers left the force. One officer, James Griffiths, claims he was wrongly placed on administrative leave by Graham and is suing the village.
The screen saver that scrolls across the department computer now declares "EXECUTIVE USE ONLY." Graham attributes the departure of veteran officers -- he since has restocked the force with a combination of paid part-timers and auxiliary officers who earn $1 a year -- to the "normal attrition" any new boss induces.
"All I told [former officers] was, 'I know you think everything I say is bullshit and I'm an asshole. Just don't say it in front of a resident,'" he says.
Even with the various public-relations thunderclaps, Graham's supporters remain adamant about the need for a full-time chief. Outgoing Council President Debbie Brass-Gibson, whose backing of him cost her in a bid for reelection last week, insists the police budget will not increase despite his salary. She faults village politics for the anti-Graham upheaval.
"There's been a vendetta against him," she says. "These are people who have never sat down and talked to Chief Graham, who don't know what his capabilities are."
Forty-year resident Olga Spahar, reacting to recent reports of a house break-in and a car theft, says, "I like that there's more of a [police] presence. Maybe some people say we don't need it, but I think it keeps us safer."
Santangelo agrees. While he concedes "there was no outcry" to hire a full-time chief, he intends to fight any attempt to again make the position part-time. The mayor also plans to propose that the village next hire a full-time officer. He can guess how critics will react.
"God forbid," he says. "When they hear that, they'll want to hang me."