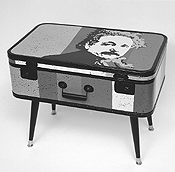 Form and function, courtesy of pop artist Paul E.
If you think Cleveland Indian Omar Vizquel has elevated dives, catches, and double plays to an art form, you should see what he can do to a canvas. Visitors of the upcoming Agnon Art Show will see the slick fielder's trademark grace and style as applied to three oil paintings displayed with the works of nearly 200 other local, regional, and international artisans.
The Agnon Art Show, now in its 26th year, is the primary annual fund-raiser of the Agnon School, a private Jewish day school in Beachwood. Buyers can spend anywhere from $20 to $5,000 on a purchase -- with a large selection available for less than $200 -- in order to build their own art collections while helping the school provide scholarships, equipment, and field trips for its students.
Acquiring pieces to best meet that end, Agnon Art Show coordinator Sherwin Moss heard about Vizquel's paintings through a former Agnon School parent and went to see them before deciding to include them in the show. Moss describes one of Vizquel's paintings as abstract, another as figurative abstract, and the third as a more realistic party scene. And just in case you could forget the artist's day job, there will be a framed baseball hat and signed shirt nearby. "It's nice that he attacks a very difficult medium, since he is a professional baseball player," says Moss, who adds that Vizquel would not have been included in the show because of his public status alone.
While Vizquel may be the most recognizable name to most Clevelanders, the exhibit showcases artists from all over the world. Visitors can see works from Germany, Israel, Russia, and Finland -- as well as from Cleveland, St. Louis, and other areas of the U.S. Likewise, the items themselves are widely varied: Oil paintings, watercolors, ceramics, and jewels are among the many art forms displayed at the show. Karen Lazar, Agnon's director of development, estimates 1,000 to 2,000 people will be in attendance to view the collection and possibly assist the school in continuing its growth and improvement.
Since 1969, Agnon has gone from twelve students, in its first year of operation, to around 400 today. Visitors can attend with the intention of supporting the school, adding to their art collections, or simply glimpsing another side of a local celebrity. Bring an open mind and a budget -- foam fingers are optional.
-- Tara Phillips