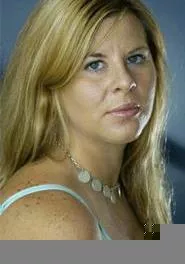 Molly Fiedler didn't get paid. Now she's getting even.
Molly Fiedler, a sun-streaked brunette with a Valley-girl lilt, has a gift for mooching free stuff. That's why the bubbly 28-year-old headed to the Cleveland Rib Fest on May 27, the one day it cost nothing to get in.
Fiedler collected complimentary items and wooed cooks into giving her free food. "Can I get just a couple more?" she would ask, her well-rehearsed naïveté making it hard for them to say no.
Then a man beckoned from The Plain Dealer subscription booth. "Just $3.99 for all seven days," he told her.
Fiedler couldn't afford it. She'd just quit her job and had no money for the June rent.
As she's prone to do, she quickly rattled off her life story. Born a good Christian in Marietta. Educated at the University of Akron. Two months pregnant by a clingy musician boyfriend.
The middle-aged booth attendant introduced himself as Charles Tuttle, an independent contractor for The PD, and offered his sympathy. He said he could have Fiedler selling subscriptions the next day -- $100, cash.
Perfect, she thought.
She spent the next day watching Rick Springfield, flirting for free ribs, and selling The PD. It was the ideal fast-cash gig.
But when the day was over, Tuttle said he couldn't pay her till the orders went through. He handed her $20 to get by.
Fiedler worked the rest of the festival, but never saw a dime. "I was already thinking, like, even if I don't get paid, what the hell? It was fun, you know."
The following week, Tuttle called to see whether she'd work another event. He'd pay her $10 for every subscription sold. He'd also pay her for the Rib Fest and give her a ride.
But that's when things got weird, says Fiedler.
In the car, he asked if he could be at the hospital when the baby arrived. She claims he then offered to take nude pictures of her. "I was like, 'Cool, whatever.' Like, I just blew it off, thinking 'Just pay me, motherfucker,'" she says.
But Tuttle only became more aggressive. He mentioned that he had a lot of porn on his computer, Fiedler claims. Then he asked if her nipples were getting darker as a result of the pregnancy. "I love it when pregnant women's nipples get dark," she remembers him saying.
Fiedler was grossed out, but she didn't make a scene -- she wanted to get paid. She worked an event at Penton Media and started thinking about a new job.
The following day, she worked Tuttle's booth at Tower City. This time, she made sure her boyfriend gave her a ride. But a few hours after her shift, Tuttle called. He wanted to know who the "thug" was that had picked her up from work, she claims. He wasn't pleased that the guy was black. "He was like, 'You know, Molly, black guys don't eat pussy,'" Fiedler says. "And then he was like, 'You don't have to leave work early for a booty call. I'll pay your bills, and you don't have to fuck me.' At that point, I was just sick."
Over the following week, Tuttle offered more work, but she refused, demanding her money instead. He always had an excuse, she says. "He said I needed to prove that I was responsible. Then he said my orders still needed to go through."
In mid-June, Fielder threatened to tell The PD of his sexual advances if she didn't get paid. He responded by calling her a whore and a slut, she claims, and said he'd only pay her if she came back to work.
Fed up, Fiedler filed a sexual harassment complaint with the Ohio Civil Rights Commission.
She faxed a copy to The Plain Dealer, but the paper greeted it with little more than a shrug. Manager Josie Passafiume simply said she'd passed it on to Tuttle, according to a message she left on Fiedler's cell phone. Since he was an independent contractor, Passafiume said, there was little she could do.
"I was pissed," Fiedler says. "I couldn't believe they just gave him that. All my information was on it!"
According to Fiedler, the Civil Rights Commission wasn't pleased by The Plain Dealer's aloofness either, and added the company to the complaint. The matter is under investigation, but the commission should have little trouble finding employees willing to testify against Tuttle.
Former workers say he often hit on female employees. "I've been working with him for three years, and he's an asshole," says one woman, who doesn't want her name printed for fear of retribution. "He's out to pick up women constantly."
Margarita Perez was one. "He would try to ask me out, and he brought me flowers and lunch to my other job, but I told him I had a boyfriend," she says. "We're cool like that, but Molly felt weird. She said he wanted to take naked pictures of her."
Tuttle categorically denies the allegations, calling Fiedler a liar. "I've never sexually harassed anyone," he says.
Others say it was common for Tuttle to stiff them on pay as well. Jack Arnold never saw his money. "I was told I'd get paid 50 bucks cash for my first day, but never got paid," he says. "He gets these people to sell papers for him, keeps their commission, boogies with it, and waits for the next group of suckers."
Rudolf von Staufen tells a similar story. He says Tuttle never paid him or a co-worker for many of the subscription orders they filled together. "He preys on people who can't defend themselves," says von Staufen.
Tuttle, meanwhile, says he always pays employees -- if the subscribers pay. "If subscribers don't pay their orders, I don't have money to pay my people."
Yet he refused to show Scene proof that he paid workers. "I don't feel comfortable opening my books to just anyone."
Instead, he accuses former workers of being crazy, describing Fiedler as "out there" and von Staufen as "a wacko." "These are street people," he says. "You should see the people I have to deal with."
The Plain Dealer seems equally dismissive of the complaints. "Mr. Tuttle is an independent contractor, and I know nothing about his business," says Fred Pressler, a circulation manager. "He runs his own show. It's none of my business."
In the meantime, Fiedler hopes her complaint will force the paper to cut its ties with Tuttle. She's also still hoping to get her cash. "I just want the money owed me -- and for people to know that this guy is a disgusting pig."