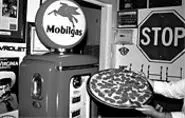 Fuel up: Pizza is one of the many great options on the Gasoline Alley menu.
There are two miles, and many decades, separating the noise, neon, and plastic of the Montrose shopping district from the sleepy little hamlet of Ghent. Up in Montrose, bumper-to-bumper traffic inches past acres of shopping malls, parking lots, and fast-food restaurants; the midday air vibrates with engine exhaust and the noises of commerce; and the only greenery to be found is on the omnipresent traffic lights. But down here, on the banks of Yellow Creek, it's a more gracious world entirely. In this affluent little valley, 15 miles northwest of downtown Akron, tidy Greek Revival farmhouses are embraced by white picket fences, butterflies drift down from the surrounding hillsides to flit among the dogwoods and lilacs, and a dusty, long-haired cat surveys her domain from a sunbeam on a flagstone walk.
Yet even in this idyllic setting, the trappings of the 21st century impinge: A freeway entrance lurks just a few hundred feet up the road; a service station sits in marked contrast to a wooded hillside. And in the gravel parking lot at Gasoline Alley, Jags, Porsches, and the occasional decked-out Harley have replaced '50s-era jalopies and touring cars.
In its former life, this neat red-brick roadhouse, with its corrugated steel roof, clapboard trim, and window boxes blooming with primroses, was a gas station -- a fact attested to by the scars left in the front lot, where pumps and service islands once stood. Today, rather than disguising the structure's heritage, owners Al and Susan Kerkian celebrate it, filling the modest space -- the eight-table dining room to the left, the granite-topped bar to the right -- with automotive memorabilia and artifacts. You've got your vintage gas pumps, your oversized Shell sign, and your collage of expired license plates. At the bar, the foot rail is crafted from camshafts, welded together into one long unit and mounted onto the metal bar front. Antique bicycles, go-carts, and, inexplicably, a pair of boxing gloves, dangle from the ceiling. Even the logo-embossed paper napkins, with the unmistakable heft and weight of mechanics' shop wipes, extend the auto theme.
Despite the notably upscale vehicles in the parking lot, Gasoline Alley attracts a diverse crowd hungry for casual eats. Sure, there are the silver-haired, blazer-garbed "ladies who lunch," temporarily abandoning their watercress-and-cream-cheese tea sandwiches, one supposes, for pastrami on pumpernickel with cole slaw on the side. And after work, the bar is predictably jammed with white-collar types unwinding over tall draft beers, fiery shrimp-studded Bloody Marys, and Grey Goose martinis (don't forget the hand-stuffed blue-cheese olives, if you please). But also among them are muscular laborers, young couples, and families with kids. No one seems to mind waiting in line for a chance to partake in the big portions, good quality, and reasonable prices that make the Alley a low-key destination in this often keyed-up world.
Besides, if the enormous menu (374 square inches of options, crammed onto both sides of a single long, laminated page, with hardly a centimeter gone to waste) doesn't quite have everything, it certainly has something for everyone. There are, for instance, 57 different sandwiches alone, ranging from the more-or-less virtuous turkey salad on a poppy-seed roll to the aptly named Portobello Fat Boy, wherein a juicy, freshly ground Black Angus patty is buried beneath grilled onions, sliced mushrooms, and a river of melted Havarti, for a creation so large and impressively greasy that it can be tackled only with a knife, a fork, and an armload of napkins. There are the various pizza pies, with thin, crisp-edged, cornmeal-dusted crusts so laden with cheese, herbs, oils, sauces, and fresh meats and vegetables that slices must be eaten New York-style, folded in half and shoved into the mouth before they collapse beneath their own weight. And there are salads, practically piled up to the ceiling, with olives and onions, anchovies and egg, bacon and cheese, croutons and ham. Chili, brought in from Whitey's roadhouse, one town over. Corn chowder. Vegetarian black-bean burgers. Omelets and hash. Sautéed mussels and cherrystone clams. Fish 'n' chips. Pasta. And homemade cakes and pies.
Often, such a wildly varied menu is a sign that the kitchen has bitten off more than it can chew, but that's not the case at Gasoline Alley. It took us three visits to even begin to sample a representative portion of the dishes, but in that time, we encountered nothing that was less than acceptable and many that were downright delicious. A tall Reuben, for instance, was first-rate, with about three inches of exceptionally tender corned beef, aromatic with cloves and spices. A Florentine pizza, with leaves of fresh, steamed spinach, fresh (not canned) mushrooms, ham, crisp red onion, Swiss cheese, and a rich homemade white sauce, was a knockout. Nontraditional corned beef "hash" -- big cubes of fried potato commingled with shredded meat -- topped with two fried eggs and served with toast and a medley of fresh fruit, was good tasting and satisfying. And Pasta con Vodka, an overflowing bowl of firm penne slathered in a rich, savory tomato-and-cream sauce spiked with garlic, basil, Romano, prosciutto, and vodka, was so good that we devoured it faster than you can say, "Fill 'er up." Served with a stack of warm garlic toast and a tossed salad -- so large that even three of us couldn't quite put it away -- the $8.95 meal was an excellent value.
Other tasty tidbits included freshly cut french fries served with malt vinegar; big, crisp onion rings with a surprisingly delicate breading; and that peculiar Summit County obsession, kraut balls -- a deep-fried blend of sauerkraut, corned beef, and spices made from a 50-year-old recipe that Al Kerkian finagled from the now-defunct New Era bar in downtown Akron.
But we will probably skip desserts on subsequent visits: Neither the carrot cake, the Key lime cheesecake, nor the chocolate-cherry cake that we sampled was anything special.
Despite the casual atmosphere, plenty of attention has been paid to the niceties. Tumblers for water and soda are real glass. Colorful china plates, bowls, and oversized coffee mugs are cheerful and substantial. Flatware, if not top of the line, is at least sturdy, shiny, and clean. Several types of sandwiches are served in big, rustic baskets made of natural materials, not flimsy plastic. Peppermint patties, one for each diner, arrive with the check. And those shop-wipe napkins, while not exactly baby-soft, are at least absorbent and nearly indestructible.
Service was consistently competent and prompt, but never chummy. While we suspect the Alley has plenty of regulars, this doesn't seem to be a place where diners are fawned upon or where favorites are played. It's an egalitarian attitude that we like in a casual neighborhood spot, probably essential to staff sanity in such a constantly busy setting. Still, we couldn't help but try to kick-start a conversation with our business-first waitress. "Ghent is such a peaceful little burg," we offered. "It's hard to believe that Montrose is right up the hill from here."
She paused just long enough to crinkle her nose in disgust. "And as long as it stays up there," she grumbled, "it's all right by me."