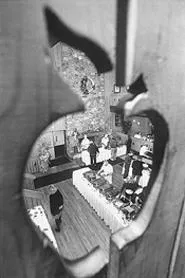 Mapleside Farms: Big on apples.
The gourmet in you will surely scoff. But the baby in you may coo in delight at some of the sweet and simple foods served at the Apple Farm Restaurant in Brunswick.
The folksy dining hall is a 1984 addition to Bill and Jane Eyssen's down-home apple empire, Mapleside Farms. Although the enterprise began modestly enough in the 1920s as a roadside outlet for the farm's apples and cider, the business has grown immensely. Today Mapleside Farms, with its scenic orchards, the Apple House and Cider Bar, a bakery, ice cream parlor, pretty little gift store, and the restaurant, is one of Medina County's major tourist destinations, and a trip to the farm on a bracing fall day is a seasonally sweet obligation for many families.
Picking out pumpkins, choosing bags of rosy apples, and strolling along the rolling orchard paths does indeed work up an appetite, as attested to by the hordes of day-trippers who mob the restaurant during the harvest season. Reservations are not accepted for lunch, and the wait for a table can be lengthy, especially on weekends and school holidays. Reservations are accepted for dinner, but even with reservations, we waited about 15 minutes for a table for four on a Friday night.
The snug, barn-like restaurant is inviting, with walls of rough-sawed siding hung with quilts and farm implements. A massive, two-story fieldstone fireplace dominates the ground level; two upper-level dining rooms, with views of the orchards and the valley beyond, are reached by stairs or a ramp. Come evening, the wood-grained laminate tables are topped with white paper placemats, although cloth napkins are provided, and the bright overhead lighting is tempered by candles settled into seasonal silk-flower arrangements. Real butter, in plastic packets, sits in bowls; half-and-half, in plastic tubs, waits in others. (The set-up is pretty much the same at lunch, although without the candles and with paper napkins taking the place of cloth.)
While the lunch menu features homey options like pot roast, liver and onions, and chicken pot pie, the dinner menu goes a bit more upscale (although not always successfully) with pesto-grilled rainbow trout, pork medallions with apple whiskey and cream, and stuffed chicken breast among the choices. In addition, Chef Christopher Angelo has included a selection of salads, sandwiches, and the ubiquitous chicken strips on both menus -- sure signs that this is a spot that caters to families.
But apples -- and the dishes made from them -- are the restaurant's real signature. For starters, let your inner child forsake that nasty, grown-up coffee and order instead a big mug of wonderfully sweet cider, which the friendly waitress will bring to you either warm or cold. Then order up a basket of giant apple fritters, drifted with powdered sugar and full of chunks of fruit. As a salad? Forget the rabbit food, and indulge instead in a bowl of fresh, chunky applesauce or a classic Waldorf salad. (If your inner mommy begins to grumble about all the sugar at this point, just remind her that it's apples, for goodness sake. She wants you to eat your fruit, doesn't she?) And finally, in your breadbasket, you can decide between a forgettable hard roll or a warm, chewy, pecan-topped sticky bun . . . Is there any question which one your inner child will choose?
However, sweet self-indulgence aside, it takes more than Miss Fructose and her jolly cousin Sucrose to make a proper dish. While Mapleside Farms' amber cider may well be the gold standard against which other ciders are measured, not all the apple dishes we have tried were well-prepared. For instance, those massive fritters -- a delicate, cinnamon-spiced batter embracing bite-sized pieces of apples -- had apparently been deep-fried at too low a temperature and were distressingly oil-logged, leaving a small lake of grease on the napkin that lined their basket. ("Wring out that napkin," sniffed a dining companion, "and you'll have enough oil to fry up another batch.")
We sampled the Waldorf salad -- chopped apples and walnuts, with raisins and bits of celery, bound together with a mayonnaise dressing -- on two occasions. On the first try, during a Friday night dinner, the apples were crisp, and the dressing was mild, light-textured, and creamy, making for what was a nearly perfect version of this old-time treat. But the next try, at a weekday lunch, found us faced with soggy apples and a dressing that was almost sticky, leading us to think that the dish had seen far too much of the inside of a cooler before being served.
As for entrées, portions are large, both at lunch and dinner, and flavors, other than saltiness, are subdued.
For dinner, we chose four items -- chicken, ribs, pork, and rainbow trout -- touted as Mapleside specialties. But despite their sophisticated-sounding descriptions, none of them were unqualified successes.
A half-slab of St. Louis-style pork ribs was tender and got a shot of flavor from a sweet-and-peppery homemade apple-butter barbecue sauce. However, while we liked the taste, the greasy bones were far too fatty, leaving us pining for something we could really sink our teeth into.
The solution wasn't found in a ten-ounce boneless trout filet, which was long and whisper-thin. We expected that the promised pesto marinade would lend the fish a robust, garlicky punch; but beyond a pleasant smokiness from the grill, the trout was nearly flavorless.
Pork Medallions With Apples also sounded better than it tasted. While the description called for "thin slices" of pork loin sautéed with apples and finished with a sauce of fresh cream and apple whiskey, what we got was three thick medallions of pork (almost like boneless loin chops) accompanied by perhaps five bits of cooked apple and coated with a salty but otherwise bland white gravy. A thick, baked chicken breast was probably the best of the lot, tender and moist with a stuffing of thinly sliced apples, smoked cheese, and Canadian bacon, and a drizzle of yellow sauce on top.
We sampled nearly all the starchy sides, from a very salty white- and wild-rice blend, with specks of vegetables and herbs, to the equally salty but meltingly tender roasted red-skinned potatoes. An enormous baked potato might have been good, but it was so cool when it arrived that butter would not melt in it. Whipped-to-within-an-inch-of-their-lives potatoes were exceedingly smooth and frothy, making them an almost perfect nursery food, although fairly uninteresting by grown-up standards.
The meals' one truly distressing feature was the vegetable of the day: criminally overcooked green beans with the slippery texture of something from a can. Despite their name, the beans varied in color from green to brown to a sorry gray, and they were hardly worth eating, let alone analyzing.
Lunch entrées, however, were less ambitious and a good deal more satisfying. While our pot roast -- chunks of tender beef, a few sliced carrots, and some specks of onion in a thin but flavorful gravy -- was really more like stew, we loved its robust flavor and comforting texture. And a serving of Chicken Maryland -- another big, boneless breast, this time coated in coarse crumbs, fried, then topped with two short strips of crisp bacon and a lemony yellow sauce -- was perfectly done and not a bit greasy. The same smooth mashed potatoes and overprocessed beans sided the dishes, but at least this time the beans were a bright, uniform shade of green.
It's a wonder that the Apple Farm Restaurant sells any desserts at all, as fatigued as one's sweet tooth is apt to be by meal's end. Perhaps that's why the desserts we've sampled have seemed unimpressive. A pastry-wrapped apple dumpling had been reheated in the microwave but was still cold inside its doughy wrapper. A slice of Caramel Apple Pie suffered both from its damp, bread-like crust and from its wet, sugary filling, which was light on apples but heavy on the goo. A featured dessert -- Chocolate Raspberry Roulade from a commercial bakery -- was better: a slice of delicate, mousse-like chocolate cake, sided with a scoop of vanilla ice cream, and drizzled with a brisk and refreshing raspberry sauce. Still, it seemed anticlimactic after all the other sweets that came before.
By meal's end, we were rubbing our sleepy eyes and hoping for a spot to sleep off our blood-sugar slump. Had we found one, we suspect we might have enjoyed childish dreams about mugs of warm cider, baskets of gooey sticky buns, bowls of sweet applesauce and fresh Waldorf salad, and platters full of comfortingly smooth mashed potatoes. But alas, we are grown-ups, with big-people's responsibilities and tastes. Thus, we bravely jumped into the minivan and drove home through the hills and valleys of the heartland.
Our next meal, we promised ourselves, would be a palate-cleansing anchovy-and-jalapeno pizza and a six-pack of beer. Now that's some good eatin'.
Elaine T. Cicora can be reached at ecicora@clevescene.com.