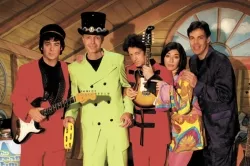 When civic leaders talk about the benefits of trade shows in Cleveland, it's usually in terms of jobs created and money spent in the local economy. That dollars-and-common-sense story could certainly be told about the International Performing Arts for Youth Showcase, the performing-arts shopping spree for people who book shows for kids. For the second time in three years, PlayhouseSquare is hosting the annual convention, which brings 140-some booking agents from the U.S., Canada and eight other countries, all looking to hire bands, theater and dance companies, storytellers, puppeteers and poets to enrich the lives of their student and family audiences.
But there's another benefit: The best way to shop for such things is to see them in action. So, in addition to booths where presenters rub elbows with agents and performers, 14 spotlight performance slots give companies an opportunity to show their stuff onstage. It's a terrific marketing opportunity for performers - so much so that they don't get paid for their performances, not even travel expenses. Showing up in Cleveland is an investment in their careers.
In addition to playing hostess-in-chief, PlayhouseSquare director of arts education Colleen Porter chairs the selection committee, which must choose which of the more than 130 applicants gets those spotlight opportunities. "Our responsibility is to have a good balance of disciplines, and also make sure it's a good representation of the field - for large venues, smaller venues and all age groups," she says.
So the word "eclectic" applies. Among the daytime performers during the four-day affair are the Puppet State Theatre Company from Scotland, which will present its adaptation of Jean Giono's beloved 1953 story of environmental recovery, The Man Who Planted Trees. There's also Spare Parts Puppet Theatre's adaptation of Shaun Tan's internationally acclaimed book The Arrival. The French-Canadian dance company Cas Public performs The Ugly Ducklings' Dancing Cabaret, a mix of song, music, dance, theater and video. A company called Slingsby uses shadow theater to tell The Tragical Life of Cheeseboy, whose home planet has been reduced to a bubbling fondue. Porter and her staff have invited area schools to attend the daytime performances free of charge. But there are evening performances too, and those tickets are also free. Here's a brief look at what's scheduled for the evening performance slots. Remember to bring the kids.
Rennie Harris PuremovementÊÊÊ Ages 8 & upÊ 8 p.m., Wednesday, January 21
A dance company from Philadelphia, Rennie Harris Puremovement has worked with hip-hop artists to present what Porter calls "a very fresh interpretation of modern dance and African-American heritage." Founded in 1992, the company is dedicated to organized hip-hop dance theater, presenting hip-hop not as the often violent culture heard on commercial radio, but as a positive form of expression. Porter says the most important thing for engaging kids in live performance is that they be able to identify with what's going onstage. And of course, kids can move and therefore, she says, they can relate to it completely.
History of the WordÊÊÊ Ages 11-17Ê 8 p.m.,Thursday, January 22
Tara Schoen Fishman conceived History of the Word as a spoken-word theater piece in 2004 and worked with what she called an "underground agent," scouting open mics and subways to find young people who could spit rhymes and tell a story. A school administrator years ago, Fishman used that experience to build a show around issues that relate to teens: body image, civil rights and even racial identity as it relates to how each of us fits into the culture of our country. In one vignette, a Middle-Eastern boy who joined the Army as a way to go to college finds himself headed off to fight the war in Iraq. While they're in town, the cast of History of the Word will work with students in PlayhouseSquare's youth poetry-slam program, Slam U.
Dream Jam BandÊÊÊ Ages 2-10 8:30 p.m., Friday, January 23
Porter describes Dream Jam Band as "super-psychedelic,"and "like B52s meet I don't know what." But singer Francine Wheeler says that's just because of the bright clothes the band wears onstage; they're really just a straight-up rock show targeted at kids. They have a song that warns people against jumping to conclusions. Another is about brushing your teeth. "We are an eclectic band," she says. "We're big fans of the Beatles. We do one Woody Guthrie song. We have a song some people say sounds like the Grateful Dead and one to Mozart [his Eine Kleine Nachtmusik] with words about a bike. We have another totally rocking-out song called 'Nicky Nicky Knock Knock.'" She says her own kids, ages 5 and 2 - who, incidentally, could be heard in the background during a phone interview - serve as inspiration.
Inlet Dance Theatre Ages 5-18Ê 7 p.m., Saturday, January 24
One of the benefits of hosting the showcase is that PlayhouseSquare gets to choose a replacement if any of the performers cancels. So when a European dance company was unable to get funding, Porter says she was happy to invite Cleveland's own Inlet Dance Theatre to perform. "PlayhouseSquare has had a long relationship with Inlet, which has been working hard the last couple years to be tour-ready, so this will be a great opportunity for them to show their work around the country," Porter says. "One of the delightful things about hosting the showcase is that we can help our own companies. We're excited to provide the opportunity."
For tickets, go to the PlayhouseSquare ticket office at 1519 Euclid Ave. or go to playhousesquare.org/artseducation.