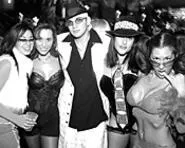 I don't know what you heard about me, but the P.I.M.P.s will be at Friday's Pimps-n-Hos' Costume Ball.
FRI 3/25
A couple of years ago, even Demetrius Bradley was overwhelmed by the more than 1,500 costumed sugar daddies and hookers competing at the inaugural Pimps-n-Hos' Costume Ball. "I had heard this was popular in places like Las Vegas," says Bradley, the ball's promoter. "We were really in awe that it could be done in Cleveland."
With DJ Meech at the turntables, go-go dancers work a VIP Room (where proper dance-club attire is required). As a panel of celebrity judges sizes up the crowd, audience applause determines the finalists for the $250 Best Pimp award. "A pimp costume would be like flashy pants, flashy shirt, a top hat, a cane, some bling-bling jewelry, platform boots," says Bradley. "Things of that nature."
Another $250 prize goes to the woman who looks most prepared to work the red-light district. If you don't have a clue, here's Bradley's fashion tip: "You know, like, a Catholic schoolgirl's outfit, real tight tops," offers Bradley. "I've even seen them wear nurses' outfits and police uniforms. Just real sexy." Ballin' happens from 10 p.m. to 2:30 a.m. Friday at Metropolis, 2325 Elm Street. Tickets are $10. Call 216-241-4007 for more info. -- Cris Glaser
Blues in the Key of Sarcasm
Hadden Sayers slings guitar and irony on new album.
SAT 3/26
Here's how nice Hadden Sayers is: He sends thank-you notes to club owners for letting him play at their bars. With cards in tow, Hadden is bringing his guitar to every honky-tonk and barbecue festival from Kansas City to Key West. Sayers' set includes tunes from his fifth CD, 12 Bars and the Naked Truth, which was released last year. But his show also resurrects tracks from his 2001 album, Supersonic, which was recorded in Nashville over a two-year stretch. Sayers admits that the dragged-out studio sessions led to his "sarcastic" lyric writing. Like the tongue-in-cheek "Email Lover," about online romances: "I can tell her everything/Cuz to her I could be anything/But it doesn't matter anyway." "It's something I would never have considered for any of my earlier projects," says Sayers. "But it works here, and I like that." Sayers performs at 9:30 p.m. Saturday, March 26, at Wilbert's, 812 Huron Road. Tickets are $5; call 216-902-4663. -- Cris Glaser
No Scones Allowed
Only booze, and plenty of it, is served at this Tea Time.
SUN 3/27
Tell Brenda Rankin it's Tea Time, and she doesn't think of English parlors filled with white-gloved ladies sipping cups of Earl Grey. Instead, she oohs and aahs as Dina Wolf vigorously shakes a tumbler of vodka, blue curaçao, sour mix, and 7-Up to make an Electric Lemonade. During the week, the azure libation and Long Island Iced Teas run a hefty $6.50 each at the Waterstreet Grill. But on Sundays, their $2.99 price tags are affordable even to grad students like Rankin. "They're a mix of things that never meet," says Wolf. "And people drink them to get smashed." Tea Time is from 4 to 9 p.m. Sunday at the Waterstreet Grill, 1265 West Ninth Street. Admission is free; call 216-619-1600. -- Cris Glaser
Size Matters
3/24-4/8
The Big Picture isn't fooling. Extremely large prints by Roy Lichtenstein, Chuck Close, Jennifer Bartlett, and other artists who believe that big is indeed beautiful make up the exhibition, which chronicles a half-century's worth of innovative, wall-filling works. On view through April 8 at Shaheen Modern and Contemporary Art, 740 West Superior Avenue, Suite 101, the show is open from 11 a.m. to 4 p.m. Tuesday through Friday. Admission is free; call 216-830-8888. -- Michael Gallucci