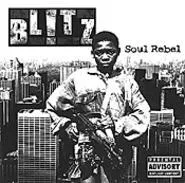 Everybody raps about finances, but few take on the International Monetary Fund. Such big-picture perspective distinguishes the promising Kent MC Blitz.
Born in Ghana, Blitz (aka Samuel Bazawule) immigrated to Brooklyn before enrolling at Kent State. Raised on a continent where political strife is as commonplace as the blazing sun, Blitz embraces hip-hop's revolutionary roots; he samples Jesse Jackson on the intro to Soul Rebel, and references the works of Gil-Scot Heron and Marcus Garvey.
Blitz's flow is all business too. He rhymes in a galvanized voice, his words coming like gunfire. Backed by trumpet, saxophone, and Djembe drum, he mostly targets the excesses of rap. "Buying radio slots to sell your ego/I turn radios off/Help my people," he states, before asking "Money, cash, ho's, and violence/That's all the media projects/Where the fuck's the balance?" If hip-hop's equilibrium hasn't yet been restored, at least its conscience has.