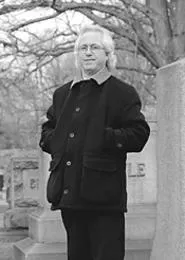 John Stark Bellamy II, your Tragical History Tour guide.
You could spend Sunday afternoon checking out fossils at the Museum of Natural History. Or you could learn all about the wonderful world of polymers at the Great Lakes Science Center. Or you could take a four-and-a-half-hour trolley tour of local sites where a bunch of folks died.
John Stark Bellamy II, author of three books on Cleveland crime, is hosting a Tragical History Tour of Cleveland on Sunday, March 24, that begins at the Western Reserve Historical Society and winds through hot death spots like Ontario Street, where seven people perished in a 1908 fireworks disaster; a quadrant of Public Square where the first local execution took place in 1812; and a site on East 61st Street and Carry Avenue where a gas explosion killed 130 people and wiped out a neighborhood in 1944.
"The crux of the tour is downtown, Tremont, and the Flats," Bellamy says. "And that's more than enough, in terms of historical importance and visual appeal."
He believes our interest in these ghastly goings-on is "a way of immunizing ourselves against inner fears and insecurities. It's the same reason we go to horror movies. We like being scared, and it allows us to vent emotions that otherwise might be hard to deal with."
Bellamy traces his macabre attraction to his youth, when dinner-table talk centered on daily dishes of corpses and carnage. His parents were both writers, and his grandfather was a Plain Dealer editor. "It was perfectly appropriate to discuss torso killings and the latest hammer murder," he explains.
Bellamy's interest in Cleveland's unseemly past has served him well as a history specialist for the Cleveland Public Library. His first three books on the subject -- They Died Crawling, The Maniac in the Bushes, and The Corpse in the Cellar -- relate, in detail, the reasons, methods, and repercussions of a couple of centuries' worth of grisly acts. You'd have a tough time finding somebody in town more learned -- or enthusiastic -- about the city's history of death and disaster.
"It was pretty common, growing up, to have meals interrupted by the scream of fire engines announcing the latest fire," Bellamy says. "The next thing you'd see were the Bellamy boys in hot pursuit on bicycle, traveling in the direction the fire engines were going. Thanks to my older brother, I saw some of the finest area fires of the '50 and '60s."
A fourth book on homegrown homicides and disasters, The Killer in the Attic, is due soon. And as long as there are gruesome deaths in town, Bellamy says, the series -- and the tours -- will continue.
Although he foresees limits. "It's a big city, and there's a tremendous amount of material. But eventually I'll be writing about drive-by shootings and domestic arguments." Scary.