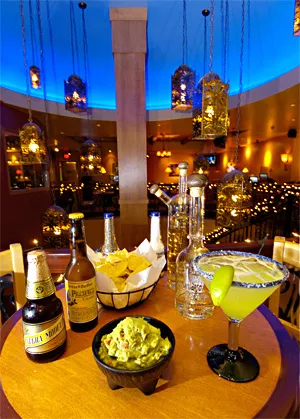 The chips are down and ready to dip in a citrusy guacamole chased by a Mexican cooler.
Compared to the oft-dreary drama of downtown Cleveland, the bustling East Fourth Street district is a pop-up book of pleasures, complete with bowling, billiards, and oceans of beer.
But with the clear exception of Lola, what the street doesn't offer is first-rate food. In fact, much like in a college town, you get the feeling East Fourth's restaurants exist mainly to sop up the booze.
Zócalo, the Mexican-themed bar and grill that opened in early September, is no exception. Following Flannery's and The Corner Alley, the restaurant marks the third East Fourth project for Trifecta Management Group, a California developer that has partnered with Cleveland developer Ari Maron to help breathe life into this tiny downtown hood.
Zócalo's concept is appealing, and the space is a knockout — from the strings of colored lights marking the alleyway entrance to the domed, cobalt-blue ceiling supporting intricate iron lanterns. Outside, a cleverly conceived walk-up window provides speedy carryout during the warmer months. Inside, the barroom's big windows overlook the bustling street scene and open wide onto a seasonal patio. And in the rear, two cozy dining rooms — one on the main floor and one at the bottom of an elegant spiral staircase — offer tables and cushy upholstered booths, as well as a partial view of the downstairs kitchen and the glass-enclosed tortilla-making station.
Admittedly, you can't turn your head without encountering a half-dozen flat-screen TVs, and the soundtrack of holiday pop drivel had us yearning for death — or at least deafness — by Dos Equis. But those sensory assaults were nearly offset by the tasteful southwestern decor, rife with rustic stone, polished wood, and sunset hues.
Besides that Dos Equis (and 10 other south-of-the-border brews), the bar specializes in tequila — nearly 100 brands served straight up, in flights, or as part of 30 or so oversize cocktails. The mixes include the sweet-and-sour Pomegrita ($6.99), with Grand Marnier, pomegranate juice, and lime, and the sweet-and-salty Clasico ($7.99), with triple sec and a salted rim. But when you're hoisting an eight-dollar cocktail, size and sweetness only go so far: I've gotten better buzzes from rearranging my liquor cabinet.
Sadly, the food rarely rises above the drinks.
There are some winners here. Among them, count the gratis basket of corn-tortilla chips — light, warm, and remarkably fresh-tasting. Too bad that the accompanying "mild" salsa was a disappointment, offering nothing more complex than a gush of garlic followed by a slap of jalapeño and chipotle-induced heat. Its companion, a salty bean dip, was hardly more interesting.
Assembled tableside, made-to-order guacamole was a far tastier tidbit, with a just-right interplay of salt, citrus, and spices against buttery-ripe avocado — although for $9.99, the portion seemed stingy. On the other hand, a delicious starter of escabèche Veracruz — a tender, fresh-tasting toss of tiny beer-steamed shrimp, scallops, and calamari in a peppery citrus marinade, topped off with an orange-and-pineapple salsa — was so generous that even two of us could barely polish it off.
In theory, freshly made flour tortillas should have been another plus; in practice, the too-thick flatbreads were doughy and undercooked. Likewise, a slightly longer stay inside the deep fryer might have improved a trio of pork-and-cheese-filled empanadas, which were tasty, but slightly soggy in the crust.
As for seasonings, "salty" and "fiery" seemed to pretty much define the remainder of the kitchen's repertoire. Besides the guac, the escabèche, and the dark, thick, but overly fiery mole sauce, we found little that offered nuance or complexity. This included the dull refried pinto beans, the salty Mexican rice, and the peppery but otherwise boring enchiladas tinga poblano, which featured two soft corn tortillas wrapped around stewed and shredded pork. And while the prices are moderate, with most entrées checking in at less than $14, we would have gladly paid an extra buck or two for a little more beef inside the skimpy carne asada burrito.
Then again, at least those dishes were served warm. In contrast, a duo of chiles rellenos was so chilly, the cheese filling was a solid log.
Surprisingly, one of the best dishes turned out to be dessert — Zócalo's version of sopapillas con miel, a trio of golden, dainty, deep-fried dough balls, drizzled with honey and garnished with a pouf of whipped cream. Other temptations included pumpkin flan, churros (Mexican doughnuts), and dense tres leches cake, soaked in a sweet, milky sauce.
A sweet enough way to sop up the booze, probably. But noteworthy cuisine? Not at all.