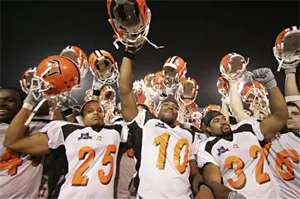 "Come watch us, or we'll have to sell these helmets on eBay!"
Attention Ohio State fans planning a pilgrimage to New Orleans for the BCS Championship Game: There's a team not 120 miles northwest that badly needs your help.
On January 6 — the night before your Buckeyes tangle with Evil LSU — Bowling Green will bask in the glory of its second GMAC Bowl in four years. They'll be taking on mighty Tulsa, which is believed to be a Ukrainian beauty school that apparently has a football team too.
But while the Falcons fear no opponent in cleats, they do fear the financial disaster inherent in minor college-football success.
The last time Bowling Green tasted GMAC victory, only 1,500 Falcon fans bought tickets. That's understandable — do you wanna spend the holidays in Mobile, Alabama? — but it was 6,000 less than the school promised bowl officials. And since the primary purpose of a bowl is to attract visitors, BG had to scrape up almost $300,000 to cover the difference.
This time, the school's offering students a day off from classes. It's also selling Mobile as "the Paris of the South, only with 25-cent Jell-O shots." But having the words "Tulsa" and "Alabama" in the same sentence has put a damper on interest, say travel agents.
So BG is reaching out to Buckeye fans. It's urging them to take a night off from the casinos, cheap liquor, and strippers of New Orleans and roll the camper up I-10 to Mobile, only 120 miles away. After all, they're already spending $1,000 to sit 40 miles from the action in the Superdome. Seeing another game for only $45 — especially when you won't need a telescope — has gotta be a bargain.
Countrywide's Contrition
Countrywide Financial, fondly known in monetary circles as "the Hezbollah of the home-lending trade," has agreed to negotiate a bailout that could help thousands of homeowners avoid foreclosure. The shift by one of the region's largest lenders signals good news for Cleveland, where all property — including Carl Monday's mustache — was expected to be in foreclosure by next Tuesday.
But Countrywide's change of heart appears less born of altruism than its own financial straits. For almost two years the company refused to negotiate with East Side Organizing Project, a nonprofit that works with lenders to save homeowners from foreclosure, says ESOP Director Mark Seifert. But after tons of bad national press — including a CNNMoney.com report that called out Countrywide's reluctance to work with ESOP — someone at corporate HQ must have remarked, "Holy shit! Could this mean I'll have to give up my company Lexus?"
That's when the bank suddenly showed up at ESOP's door.
"It wasn't until we started getting national press — press in general — that we even started getting Countrywide to talk with us," Seifert says. "Before that, we were dealing with very low-level employees."
Last week, ESOP took company officials on the city's famed Boarded-Up Homes Tour, described by Frommer's Guide to Cleveland as a "riveting excursion for humans and bankers alike!" Seifert says the tour was an eye-opener for Countrywide, since executives had never seen homes with such substandard servants' quarters.
Seifert hopes the new relationship will help thousands of families, but he isn't forgetting whom he's dealing with. "This is just the start of negotiating. It took two years just to get them to the table."
White Hat Madness
When the time came for Chariste Roberson to send her granddaughter off to middle school, one thing was clear: "I'd rather lock her in the house than send her to Shuler," she says of the West Side public school.
Without the money to cover Catholic school, Roberson was left with one option — Hope Academy West, a for-profit charter school run by the Arby's of Education, White Hat Management. (Motto: Like Them Madrassahs They Got in Pakistan, Only With Shareholder Dividends!)
At first, Roberson was pleased with the crisp uniforms, tiny classes, attentive teachers, and absence of small-arms fire. Her granddaughter became student-council president.
But as most parents of White Hat students discover, quality is a fleeting thing. "I've watched that school plummet and just kept my mouth shut," Roberson says. "They didn't even have gym classes until this year."
Then her granddaughter started coming home in tears. She complained that teacher Catherine Tekien spent more time scolding kids than teaching. When the girl couldn't understand a math lesson, Tekien would simply reply, "Why don't you and your mama teach the math class then?" Roberson says. And when her daughter contacted the teacher, hoping to clear the air, Tekien responded by refusing to teach the entire class until she received formal apologies.
Tekien admits "I'm a first-year teacher," but intimates the trials of White Hat aren't restricted to suffering students. "Just today, I had a student call me a fucking bitch. When I threatened to write him up, he told me it didn't matter. I teach a bunch of liars."
No, Catherine, you're teaching on the New Frontier of Education, Ohio-style.