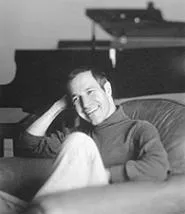 Jim Brickman, the total package.
The summer is traditionally the season of chart champions, sweaty festivals, and nostalgia acts exploiting our memories of being seventeen and stupid. Instrumental artists like Cleveland native Jim Brickman usually spend these months recording a Christmas album or responding to fan mail from secretaries in Jefferson City, Missouri.
Not this summer. Brickman is on the road with his bubblebath-ready adult contemporary hits, dipping his fingers into the piano keys at charity events, private parties, concert halls, shows with Olivia Newton-John, and amphitheaters. (Brickman's July 10 performance at the Blossom Music Center will be recorded for a possible live album.)
A few weeks ago in Orlando, Florida, Brickman did a guest spot on the Children's Miracle Network telethon. He performed with Donnie Osmond and left smitten with his talents. "The guy is a great singer," Brickman says of Osmond. "A sweet guy — he's a great guy. He may even do a couple of guest appearance things on my tour."
Brickman lives in a part of the music world where politeness and reliability matter. Artists like Brickman visit Regis and Kathie Lee; they drive themselves to radio stations at 6 a.m. and chat with callers; they answer their e-mails.
They rhapsodize about Donnie Osmond.
Brickman is very good at this side of the business, and it has paid off for the former jingle writer. He may not have the name recognition of a Yanni or a John Tesh, but his last four records, including the most recent Destiny, have all gone gold. A former student at both Case Western's business school and the Cleveland Institute of Music, Brickman has succeeded fabulously at being . . . Jim Brickman.
"A lot of people scratch their head about my career," Brickman says. "A lot of people do, but in a positive way. It's like, "How did he do that? How does it work?'"
One way is to occasionally adorn your predominantly instrumental records with the likes of Herb Alpert, Kenny Loggins, and Michael W. Smith. On Destiny, Carly Simon sings the reassuring melody to Brickman's arrangement of "Hush Li'l Baby." A vocal here and there is a nice way to break up an album — and entice radio programmers who would otherwise shun instrumental artists with a tidy single.
"You get with them," Brickman says of his guest performers, "and you realize what a great sensibility they have and what great musicians a lot of them are. When you start doing that musician thing with each other, and there's such a camaraderie, it's really a wonderful thing because it takes them out of being sort of icons and more being musicians. And I think they appreciate that when they're working with someone like me, because it's about the music. It's not about hype or bullshit."
The title of his first record, 1994's No Words, would suggest that singers and lyrics are forbidden apples, but Brickman has come around to the idea of using them. "It wasn't something I ever intended on doing," he says. "I love writing songs, and I think from old jingle-writing days, I was always used to being in the studio with singers and writing words. The only reason that I didn't write songs with words in the beginning of my career is that I'm not a singer, really. It wasn't an option for me.
"I thought, "You can't really start your career being an artist who writes songs for other people. You have to establish your career as who you are first.' It was important for me to do that, to let everyone know the guy plays the piano, that's his career, that's what he does, and then open up to the collaborations and the guest stars, which is a very cool career to have because it's so chameleon-like."
Brickman doesn't think he's violating any instrumental artist code by enlisting guest vocals. He admits that he considers the marketplace when he puts together a record. "My attitude is, I want people to hear my piano music, and I like writing songs with words, too," he says. "So if I have a song on the radio that becomes popular, and people buy the album because they want that song and they get exposed to my piano music, that's the goal: people finding out about my music and enjoying my music. If that's the way they have to find it, who cares?
"Integrity is one of those things that's only valuable to you, I believe, in your mind. I would much rather have a lot of people buying my albums than try to stand up for something that I believe in that nobody can find because it's not commercial enough or something. Why do that? I want people to hear my music."Even if you keep your radio dial locked on the Buzzard, you've heard a Jim Brickman composition. He was a prolific jingle writer when he lived in Cleveland; Brickman says the jingles he's written number in the hundreds: Northfield Park, the Ohio Lottery, Stop-N-Shop, Shwebel, Heinen's, "every mall, every bank, every grocery store," he says.
"When you sit down and write a song for a jingle," he adds, "you're writing something that you want people to connect with, whether it's emotional or whether it's up-tempo and fun. And I got pretty good at it, obviously. I did it for a long time."
After ten years in the trade, Brickman thought commercial composing would be his life. At age 28, he moved to Los Angeles to find more lucrative work, with a movie studio, for instance. A six-song demo he recorded led to a multi-year deal with Windham Hill, effectively ending his days of pleasing clients who sell bread and no-fee checking. "The thing about what I do now, there's no right or wrong answer. It's not like you know when it's done. You have to just trust what comes to you, and how it comes out is what you intended."
Brickman is trusting something else: his voice. He doesn't sing on his records, but he does loosen his vocal chords when he performs. His is an "okay voice," in his estimation: "There's not a lot of style to it. It's sort of smoky and sort of whispery." Fans encourage him to sing more, but he knows their judgment is clouded. "I've sort of decided that when you're the composer of the song and you sing it the way that you wrote it, people get it; people get a really great take on it and why it is what it is. I think they enjoy that," Brickman says. "A lot of people say, "Why don't you sing more?' but it's not probably going to happen."
One reason Brickman can muster the courage to sing onstage is that he's comfortable up there. The live Jim Brickman is not some snarling, self-obsessed composer, pounding the piano as if it cheated him out of money. "I adopted this stage persona of basically just talking and being me," Brickman says. "Just kind of like, "Hey, what's going on?' rather than try to be Mr. Huge Personality or try to be serious. I just kind of talk to people as if I was over at the house for dinner and they asked me to play a few tunes."
That does not mean you should ask Brickman to play a few tunes if you invite him over for cocktails, which is like "telling a comedian, "Say something funny. Tell a joke.' Well, you know, I kind of need you to be in your seat."Brickman's friendly and handsome face has been featured prominently on all five album covers. This is not a coincidence. He admits being a nice-looking man helps sell records. Indeed, it's hard to imagine Yanni moving as many units as he does if he didn't look like the male character from a romance novel (the one where the harried businesswoman discovers the depths of her passion on a trip to the Mediterranean).
It's part of the business, Brickman says, especially for an instrumental artist. "I think it's important," he says. "I don't know how to say that in a way that doesn't sound really arrogant. I don't mean it that way at all. I think it's like the whole package. You have to be someone who is what the music is like. If I get onstage and all of a sudden I'm a jerk, or if I don't answer fan mail and I don't answer e-mail, there's an expectation people have of you. I mean, I understand it. If I was a kid and wrote a letter to somebody, and I didn't get anything back, I would be mad, so it's part of the whole thing."
Brickman knew he needed to keep his image manicured when he signed to Windham Hill. He remembers the label telling him, ""You have to be all of these things. You have to be photogenic. You can't be too heavy.' It's a terrible thing to say, because I hate to believe that. On the positive side of that, I think there are a lot of people who find my music on the radio and buy it who have no idea if I'm sixty years old or twenty years old or what I look like, or don't care; they buy my music because of the music.
"But," he continues, "the way that the stuff is sold and marketed sells personality, image, and music. It doesn't just sell music. If you look at the album covers, you don't put in a centerfold fold-out unless you think you're selling an image. It's a terrible thing, but it's the way our media society operates, for the most part."
Brickman is not so image-conscious he obsesses over it. He does, though, keep an eye on his waist and hair lines. Says the pianist: "When I look in the mirror, I think, "Gee, am I going to be gray on the next album cover? How am I going to age through the years on the album covers? Should we color it?' I wouldn't say it's not something you have to think about when you're standing onstage in front of people. Am I going to fit in those pants? What should I wear?"