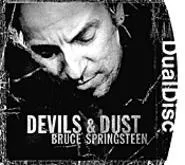 Every decade or so, Bruce Springsteen needs to walk a different path -- one that doesn't lead to the Promised Land through electric guitars and fist-pumping anthems. He sends the E Street Band on vacation, picks up an acoustic guitar, and becomes a folksinger, with tales to tell of assorted misfits, losers, and sinners.
Nebraska peered deep into the black soul of a serial killer; The Ghost of Tom Joad was a Steinbeckian chronicle of little men futilely taking on the big, bad Man. Devils & Dust is more optimistic than those stark, dark works (there are a few upbeat numbers with an anonymous backing band, led by producer Brendan O'Brien), but it's still populated by troubled characters looking for a way out of their messy worlds.
And as with its acoustic predecessors, the flawed but solid Devils & Dust defines its characters by sex, sin, redemption, and most prominently, death. The opening title tune is set in Iraq, where fingers anxiously rest on triggers in "field(s) of blood and stone"; the closing "Matamoros Banks" is narrated by a drowned Mexican, who tried to cross the watery border. In between are battered boxers ("The Hitter"), weary prostitutes ("Reno"), ghetto kids ("Black Cowboys"), and apprehensive fathers ("Long Time Comin'"). These damaged souls are all looking for the Promised Land, but they're not running toward it. They're limping.