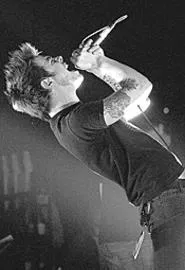 A Static Lullaby's Joe Brown, enjoying a Taste of Chaos at CSU's Wolstein Center March 10.
Velocity Productions
will film the fourth volume of its
Hiphopbattle.com
series Saturday, March 19, at the Grog Shop (2785 Euclid Heights Boulevard, Cleveland Heights).
Hiphopbattle.com: 5X4 City vs. City
will feature MCs from Cleveland, Detroit, Pittsburgh, Buffalo, and Cincinnati squaring off, pitting town against town in a rhyme contest that's more than just heated jokes about each other's mommas.
"The rappers are professional," says director-producer David Velo Stewart. "They're not hotheaded. They're not going to fight. They have rhyme fights. It's not your normal battle, two guys talking about each other's hair and sneakers. Being quick-witted and funny gets you to the next round."
The series launched in 2002 when Stewart filmed Hiphopbattle.com: Cleveland vs. Detroit at the Grog's old location on Coventry. The film, which premiered at the Rock Hall and aired on pay-per-view, is available through Amazon.com and local Exchange stores.
Previous Hiphopbattle.com competitions have featured D-12's Proof and been judged by Source Editor-in-Chief Kim Osario. This contest's Cleveland team will feature the last three winners of the Hi-Fi Club's annual Spitboxing championship, Iron Solomon (2005), Superman (2004), and Drastic (2003). Former Cleveland-based funk-rock band Finless Brown will return to town from San Francisco, playing a live set; Finless rapper Paulie Rhyme will host the event. Twenty rappers will square off in three rounds, but the contest is structured in a way that can upset its basic bracket format.
"If all a team's members lose, but one rapper does well, that sets up what we call a 'massacre,'" says Stewart. "He has to battle the entire other team, but if he wins, one person can take the entire contest. It's as dramatic as watching Gladiator or The Bad News Bears, or any other underdog. We're trying to do something different in hip-hop."
· Cleveland screamo hopefuls Between Home and Serenity have signed to Rust Records, the local Universal imprint run by former Sinomatic frontman Ken Cooper. The band is working on its second album, tentatively titled Power Weapons in the Complex. The disc is slated for a late spring release. The band plays a Rust showcase with Cherry Monroe and others Friday, March 18, at the Beachland Ballroom (15711 Waterloo Road).
· Cleveland artist-to-the-rock-stars Derek Hess will sponsor another installment of his Strhess Fest tour this year. So far, hardcore favorites Bleeding Through, Zao, and Martyr AD have signed on. And Martyr AD kills.
· Following the Wednesday, March 9 Slipknot show at CSU's Wolstein Center, members of the masked Iowa metal crew made an appearance at Peabody's. Supporting act Lamb of God took the stage for two songs, including "Ruin."
· Chris's Warped Records (13383 Madison Avenue, Lakewood) will host a free in-store punk show by Blacklisted, My Revenge, and Names for Graves Tuesday, March 22, at 6 p.m.
· Akron's Houseguest has reissued an expanded version of Talking Time, its 2004 debut, produced by the Black Keys' Patrick Carney. In addition to the set of breezy indie rock, the new edition will include two songs featuring former Party of Helicopters guitarist Jamie Stillman on drums. And Stillman kills.