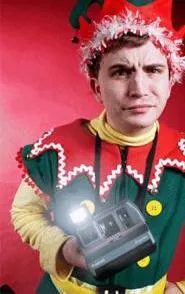 Andrew Tarr is Crumpet the elf in Cleveland Public Theatres Santaland Diaries.
Greater Tuna --
Say what you will about the decline of America, but there's still no better country in the world for poking fun at rural hicks. More than 20 years ago, the trio of Jaston Williams, Joe Sears, and Ed Howard decided to make a buck off rube-roasting with
Greater Tuna
, a slapped-together montage of scenes involving various lip-movers and bottom-feeders from the tiny fictional backwater of Tuna, Texas. Beck Center is reviving this show once again, with the same two-person cast that presented it some six seasons ago. And while the actors perform with energy and goofy diligence, it's apparent that the comedic half-life of this material is getting a bit short. Structured limply around Thurston Wheelis and Arles Struvie, two yahoos who yell into the microphones at the local radio station, the show cuts away to introduce the various short-bus denizens of Tuna. A large part of the entertainment value of
Tuna
is in the constant costume changes and cross-dressing, as Kevin Joseph Kelly and Nicholas Koesters switch in and out of clothes backstage at breakneck speed. But as diverting as that can be, some aspects of the piece don't seem to be aging gracefully.
Through December 17 at Beck Center, 17801 Detroit Ave., Lakewood, 216-521-2541.
-- Christine Howey
Nite Club Confidential -- The 1950s had some musical high points that didn't involve Elvis and Jerry Lee, and those are captured to some degree in this mildly pleasant show at Kalliope Stage. A couple dozen lounge tunes are draped on a rickety storyline, which follows Sinatra wannabe Buck (a game but ultimately uncharismatic Steve Parmenter) as he tries to weasel his way into showbiz stardom. Schmoozing with fading chanteuse Kay Goodman (Trudi Posey in a Norma Desmondish turn) and crooning with his buddies Mitch, Sal, and Dorothy, Buck flits from one nightclub to another, searching for the big break. The show is dominated by the original songs of its creators, Dennis Deal and Albert Evans, with a few Johnny Mercer classics sprinkled throughout. And some of those original tunes work nicely, such as "The Long Goodbye," sung with rueful sadness by Kay. In a mostly workmanlike cast, Liz O'Donnell is particularly sharp and funny as Dorothy, a young singer on the rise, and Charles Statham's Mitch ignites a couple laughs with physical humor. Director Paul F. Gurgol has sport with the faux-noir tone of the work, but a dull Sal (Mark Ludden) and a weak premise make this highball less than fully intoxicating. Through December 9 at the Kalliope Stage, 2134 Lee Rd., Cleveland Hts., 216-321-0870. -- Howey
Pack of Lies -- There are falsehoods aplenty in this play by Hugh Whitemore. Based on a real spy case in 1960s Britain, it traces the story of Barbara and Bob Jackson, simple London suburbanites who are suddenly thrust into a cold-war espionage dust-up. The intrigue involves their best friends and neighbors of five years, Helen and Peter Kroger, who, unbeknown to the Jacksons, are KGB agents. In the first act, the playwright fashions a credible friendship between the Jacksons and the Krogers, who claim to be from Canada. Helen Kroger, boisterous and effusive, is the flip side of placidly passive Barbara, but it's easy to see how the two could forge a bond of trust and confidentiality. But that connection is ripped asunder when Stewart, a Brit intelligence officer, arrives to set up a stakeout in the Jacksons' house, where he and his minions can spy on the spies across the street. By intercutting dialogue scenes with mini-soliloquies from various characters, Whitemore creates a fascinating portrait of a quiet, predictable life gone horribly wrong. Director Greg Cesear brings beautifully modulated performances out of his talented cast. This subtle play goes beyond its international-spy-thriller trappings to ask a profound question: Is real friendship based on truth or appearances? And are we better off not knowing? Presented by Cesear's Forum through December 9 at Kennedy's Down Under, 1518 Euclid Ave., 216-241-6000. -- Howey
The Santaland Diaries -- When David Sedaris wrote this humorous, slightly acidic commentary for public radio, he never could have envisioned that it would become a Christmas staple. But his mini-memoir of his days as an Elf named Crumpet in Macy's giant Santaland complex has become as ubiquitous during the holidays as fruitcake jokes. Fortunately, the lines in this piece have plenty of snap, as delivered by Andrew Tarr, a young man with no shortage of elfin qualities himself. From lamenting his life in a hideous green velvet tunic to getting frothed up about the hot but fickle stud elf Snowball, Tarr plays Crumpet with a dry, self-deprecating wit that fits the material nicely. In this, his second season in this role at CPT, Tarr could probably stand to loosen up a bit and play off the audience more. And director Mindy Childress Herman could clean up a few of the transitions, since some of the brief vignettes tend to blur into each other. But generally, this is a can't-miss satire of Christmas crazies, with just enough heart to make you wish there really were a Santa and a battalion of elves. Through December 23 at Cleveland Public Theatre, 6415 Detroit Ave., 216-631-2727. -- Howey