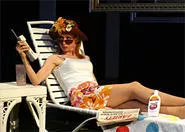 Tracee Patterson as Emma in Song and Dance at the Beck Center.
Hay Fever
-- This is the first of Noel Coward's oh-so-droll drawing-room larks set in the 1920s English countryside. The quartet of characters at the heart of the work is the Blisses: ex-actress diva Judith, her self-absorbed novelist hubby David, and their two grown children, Simon and Sorel, who are each eccentric in their own ways. Using a basic, sitcom-deep set-up -- each of the Blisses has invited an opposite-sex guest to their manor for the weekend -- Coward uses lilting dialogue and bon mots to deliver the fun. Although proceedings begin disappointingly, with Sara M. Bruner and Jeffrey C. Hawkins (as Sorel and Simon, respectively) vocally overprojecting their lines, things look up when Kathleen Pirkl Tague enters as the irrepressible Judith, easily commanding the stage while putting down her progeny. Soon, the onslaught of guests begins: Simon invites conniving Myra Arundel (Laura Perrotta), who engages with horny David (Aled Davies), while shy chorine Jackie Coryton (Laura Welsh) is being observed by David for a book he's writing. Meanwhile, Judith summons pugilist Sandy Tyrell (Lynn Robert Berg), and Sorel invites diplomat Richard Greatham. Coward establishes all these two-dimensional guests so they can be used as props for Bliss family amusements, which include quickly switched pairings and flash romances. Finding humor in these mildly outrageous happenstances is fairly easy, but managing to make it all work without the support of interesting characters makes
Hay Fever
a daunting theatrical undertaking. This uneven production, directed by Charles Fee, attests to the difficulty. Still, there are many chuckles to be had as the absurd confrontations build upon one another. And thanks to Tague, the manic proceedings eventually come to a fitting resolution.
Through April 21, presented by the Great Lakes Theater Festival at the Ohio Theatre, 1519 Euclid Ave., 216-241-6000.
-- Christine Howey
Legends -- Written by James Kirkwood some 20 years ago, this misbegotten vehicle about two fading, feuding actresses is intended to be inhabited by two grande dames from the performance world, such as the original stars, Carol Channing and Mary Martin. Instead, we are given Joan Collins and Linda Evans -- the brow-lifted, tucked, and painted crypt-keepers who once scratched each other's eyes out on the '80s prime-time soap Dynasty. They're now reunited in a play so dreadful, Blake Carrington would have happily paid a Moldavian hit squad to massacre anyone responsible. The trouble is that Alexis and Krystle, er, Joan and Linda can't shoot their performances in 15- or 30-second chunks or ask for re-takes. And since neither actress has the faintest clue how to develop a character, let alone build and sustain a scene, the extended minutes the two are onstage together begin to feel like some exquisite torture devised by Blackwater mercenaries at Guantanamo. Sadly, each is also decked out in age-inappropriate wigs, which are meant to recall their glory days, but just come off as pathetic. In fairness, it's not all their fault, since Kirkwood's script is almost unfailingly moronic and predictable. If you've already purchased tickets as part of a subscription plan, here's the deal: Settle back and watch the young producer (Joe Farrell) go crazy after being fed hash-laced brownies, amuse yourself with Tonye Patano's Nell Carter impression as the sassy maid, and take notice of Will Holman's high-energy striptease. But try to block out the stars. Consider it an act of mercy for everyone involved. Through April 1 at the Palace Theatre, 1519 Euclid Ave., 216-241-6000. -- Howey
Song and Dance -- When it comes to high-concept theater, it's hard to beat a show that's exclusively sung (no dance, no dialogue) in the first act, then exclusively danced (no singing or speaking) in the second. And if that doesn't set your teeth sufficiently on edge, its coyly self-explanatory title, Song and Dance, just might. But the good news is that, against these odds, the show as staged at the Beck Center actually works, creating an emotional texture out of thin air and some extraordinary performances. The first half is essentially a one-hour opera sung by one woman, Emma, who has just landed in New York, thanks to a plane ticket paid for by her musician boyfriend from Queens. Innocent and unsuspecting, she sings her inner thoughts as well as her side of conversations, as we watch her carom from one failed relationship to another, postulating most romance as just another "song and dance." In this demanding role, Tracee Patterson begins slowly, but eventually forges some deeply involving moments. After intermission, the dance half features members of the Verb Ballets company. As Joe, another old boyfriend of Emma's, muscular Mark Tomasic is the lead dancer, accompanied by eight female and two male hoofers. The dance numbers simmer with sexuality and personal confrontation, creating an accessible presentation to those who would normally steer clear of anything smacking of toe shoes and tutus. There is certainly a gender truth at the heart of this bipolar song-dance approach, since in most relationships women prefer to use words, while men are more physical and immediate. Thanks to the rich sounds from the orchestra, conducted by Larry Goodpaster, and an evocatively simple set design by Trad A. Burns, most of the gaps in the piece are effectively smoothed over in Beck's supremely professional production. Through April 7 at the Beck Center, 17801 Detroit Ave., Lakewood, 216-521-2540. -- Howey
Thoroughly Modern Millie -- Based on the not-so-classic movie of the same name, this airheaded musical, directed and choreographed by Marc Robin, brings a whole new definition to the term "broad acting." While there's nothing inherently wrong with jumping on every gag with the size-48 brogans of a circus clown, you need a cast that can sustain that manic level of overreaching and still make the evening palatable. And that's where the Carousel crew falls a bit short. As for the story line, it's pure Broadway schmaltz: Millie, a rube from Kansas, shows up in the big city in the flapper decade of the 1920s, with her eye fixed on meeting and marrying a sugar daddy. She winds up at a rooming house owned by a suspiciously friendly Asian woman, Mrs. Meers, who, it turns out, shuttles the girls in the front door, finds out which ones have no family or friends, and then sells the grown-up orphans into Shanghai slavery as prostitutes. While ducking Mrs. Meers, Millie gets a job at an insurance company and sets her talons for the pompous boss, Trevor Graydon. But he falls instead for Millie's pal, Dorothy Brown. That's just the beginning of the confusion in this froth that involves a supposedly penniless loser, Jimmy Smith, who is really rich, and Mrs. Meers' two sons, who have their own agendas. Through April 28 at Carousel Dinner Theatre, 1275 E. Waterloo Rd., Akron, 800-362-4100. -- Howey