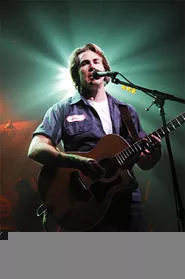 Pump Boy Pat McRoberts sings a touching ballad about octane ratings in Pump Boys and Dinettes.
The Dead Guy --
There are many reasons why this show, by Cleveland playwright Eric Coble, is DOA. For starters, it's a supposed satire of TV reality shows, but seems blissfully ignorant of this tired genre's techniques. The premise -- that a dim young redneck named Eldon (a game Sean Derry) would agree to spend $1 million in one week, on condition that he would be killed on the seventh day -- totally misses the fact that most reality shows are competitions (aside from the D-list celebrity peepfests starring Osbournes, Gottis, and Hogans). So there is no suspense, except for the first and last scenes. Also, the playwright seems unaware that TV shows are driven by interesting visuals; the bulk of the play (and thus the TV show) is spent following Eldon as he doles out his fortune in boringly predictable ways (Disney World! Pickup trucks!) while moping about his impending fate. Coble's trite writing and repetitive rehashing of the theme (we should live every day, yadda yadda) euthanize any hope, while stolid, amateurish performances (Ruben Ryan as the cameraman, Marcia Darby as Eldon's mom) provide the depressing coup de grâce. Glacial pacing by director Chad Stutz, though bad, is ultimately the least of the problems.
Through October 21 at The Bang and the Clatter Theatre Company, 140 East Market Street, Akron, 330-606-5317.
-- Christine Howey
Pump Boys and Dinettes -- Pump Boys is about some rumpled gas-station grease monkeys and the darlin' waitresses next door, and it's challenging to pull off: Its songs are only serviceable, and the jokes are old. If it's going to work, it needs down-home simplicity. But director Sean Cercone and lighting designer Paul Black are too fond of the haze machine, which fills the stage area with a light mist and makes visible the colored beams from swiveling and pivoting spotlights. The southern rednecks and rubes who sing the show's blues/country/rock/ gospel tunes are attacked by shafts of hot pink and throbbing purple. Playing the lead Boy is Pat McRoberts; he hits the notes, as do most of his compatriots, but the meanings of some songs disappear in the ever-present mist. Pianist and singer Steven Ray Watkins turns in a diggin' version of "Serve Yourself," even though he comes up dreadfully short in two other featured songs that require him to be amusing. And as for the Cupp sisters, hot Rhetta (Kate Margaret) is only lukewarm, and pixie-ish Prudie (Sarah Nischwitz) finds herself groping for the right melodies. If only this production had the straightforward honesty of director Cercone's program notes, in which he recalls the bluegrass music his dad played and shared with him -- now that could be a great show, no swiveling spotlights required. Through October 27 at the Carousel Dinner Theatre, 1275 East Waterloo Road, Akron, 800-362-4100 -- Howey
Reflections (Peggy Sings Lieber and Stoller) -- A show about Peggy Lee, the sultry singer behind "Fever" and other hummable hits, Reflections attains some musical high points. But pedestrian writing leaves the real Peggy Lee largely inaccessible. Based on an album called Mirrors, the show presents moody, downbeat songs -- the authors' attempt to link the dark and brooding music to the bumpy road Peggy traveled. It's set up as a memory play: Peggy is in her dressing room before a concert, when she's flooded with recollections of her youth. That sends us back to the North Dakota farm where Peggy was raised. Plagued by an abusive stepmother (Erin Bunting) and an emotionally distant father (Don Irven), Peggy blows out of town after graduating high school and makes her way to Hollywood. Laura Theodore, who plays Peggy, is spot-on in appearance and in vocal mannerisms. And she hits a few of the songs out of the park. But she can't overcome a script that keeps the famous singer safely behind shatterproof glass. This Peggy is virtually without fault; the play refuses to humanize her. The script also is weighed down by clichéd dialogue and creaky comedy, and in the end, Reflections manages to paint a less interesting image of Peggy Lee than does Peg, the sassy kennel-bound Lhasa Apso voiced by Peggy in Disney's animated Lady and the Tramp. And that's not saying much. Through October 7 at the Beck Center, 17801 Detroit Avenue, Lakewood, 216-521-2540 -- Howey
To Kill a Mockingbird -- Harper Lee's Pulitzer-winning novel receives a well-acted adaptation at the Lakeland Theatre. The hero is Atticus Finch, a Depression-era lawyer who would never buckle to the majority will. He's not much of a hero to his children and their little friend Dill -- not at first, anyway. Young Jean "Scout" Finch and her older brother Jem are mystified by Dad, since he disdains guns and doesn't like football. Plus, the town busybodies whisper that Atticus is a nigger-lover, since he's defending Tom Robinson (sympathetic Roberto Elliott Hooper), a black man accused of beating and raping a young white woman, Mayella Ewell. Director Martin Friedman has cast this show exceptionally, with Mark Cipra creating a credible, understated Atticus. Caitlin Sandham is both abhorrent and pitiable as Mayella. Cody Swanson as Jem is strong and easy to understand, although Lizzie Wood's Scout and Lincoln Sandham's Dill have some volume and enunciation problems. There are a few fuzzy beats and pacing difficulties in the first act, but the tension is stretched thin once the courtroom drama begins. And for this discussion-provoking production, Lakeland has scheduled several family-friendly matinee performances. All the better to keep the Finches alive and well. Through September 30 at the Lakeland Theatre, Lakeland Community College, Routes 90 and 306, Kirtland, 440-525-7034 -- Howey