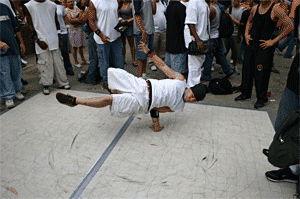 Any other day, the cops would be all over somebody tagging Ohio City. But today, the spray-painters get a free pass at the fifth annual City Xpressionz Aerosol and Urban Art Festival, a celebration of old-school b-boy culture that includes break-dancing and graffiti competitions. "It's time to call attention to this and see it as art, not vandalism," says Cleveland Public Art rep Tiffany Graham.
Amateur graffiti artists have an opportunity to show off their skills on canvases set up throughout Market Square Park. The large-scale demonstration pieces, however, are strictly for the pros, all of whom are homegrown this year (guest artists were recruited in previous years). Besto, Seven, and Q Nice keep it all fly with nine hours of continuous music, while Ill Style Rockers founder DreLive judges the b-boy and b-girl breakdancing battles. "There's going to be a lot of power on that dance floor," says Graham. "Head spins, flips, and footwork."
Sat., Aug. 26, 10 a.m.-7 p.m.