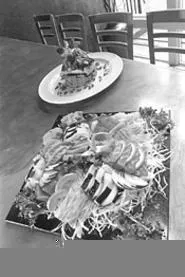 Artfully prepared sushi is still the restaurant's major hook.
It's been more than two years since our last supper at
Sushi Rock
, that hip little hideaway in the Warehouse District where we discovered sushi that went down swimmingly and trendy, upscale entrées that seemed odd, overwrought, and irrelevant to most of the raw-fish-and-martini-guzzling clientele. The place has been through at least two chefs since our last visit, though, and is still afloat -- even in this tough economy. What the hell, we figured: Let's give it another look and see what -- if anything -- has changed.
So it was that a sunny afternoon found us parallel parking in front of the restaurant's tall oak-and-glass doors. JS and I had scarcely set our stilettos on the sidewalk when we bumped into an old friend, a downtown attorney on his way to the Rock for midday refueling.
"So what do you think of this place?" we asked nonchalantly. "I come here at least once a week," he replied, with the sort of smug understatement for which attorneys are universally adored.
We pressed on. "Okay, but how's the food?" A thoughtful pause ensued. "I really don't know. All I ever get is sushi."
So at least one thing hasn't changed, we noted: Artfully prepared and handsomely presented sushi is still the restaurant's major hook. Two years ago, that fact caused us to wonder why management even bothered with a non-sushi menu, cranking out ambitious but ultimately unsuccessful dishes such as fragile wild-mushroom strudel bludgeoned by a heavy "portobello-essence cream and basil-pesto oil," say, or the incomparably strange beef tenderloin, encased in a crunchy crust of sugar. After all, if you do great sushi and people want nothing more than the chance to eat that great sushi, why not stop right there?
Obviously, management didn't share our way of thinking, then or now: At both lunch and dinner, a conventional menu is still offered cheek-by-jowl with the sushi selections. In the face of this split personality, JS and I decided to go both ways, with her ordering the salmon "osso buco" off the top half of the lunch menu and me checking out the sushi and sashimi bento-box combo from the menu's lower half.
Executive chef Daniel Cassano, a North Olmsted native who earned his culinary arts degree at Rhode Island's prestigious Johnson & Wales, immediately charmed us with the sly wink behind his faux osso buco. While most diners know the term in reference to the classic Italian dish of braised veal shanks served over risotto, the literal meaning of osso buco is simply "hollow bone," an allusion to the shank's core of savory marrow. The translation is key to comprehending the Sushi Rock riff on the classic: a vertical construction with a fried risotto cake for its foundation and, in place of the holey bone, a filet of grilled salmon, wrapped around a trembling "marrow" of buttery scallop. A few spears of gently roasted asparagus and a bit of cream sauce, flecked with sweet corn kernels and flavored with truffle oil, completed this playful revision. Now, if only the risotto had been less gummy and the salmon a bit less dry, it would have been a delicious, as well as clever, dish. (And don't bother asking for a bit of bread to capture any last drops of the truffled cream. We did, but we wished we hadn't, after our server eventually produced a hunk of dry, grilled ciabatta bread, sans butter, in response to our request: "Sorry it took so long," he apologized, "but we don't serve much bread, so it took me a while to find it . . .")
In this case, though, the real lunchtime champ was the compartmentalized bento box, with its impressive portions and impeccably fresh tastes. Nine thick slices of velvety tuna, salmon, and yellowtail sashimi occupied one section of the lacquered tray; three big pads of tuna, salmon, and yellowtail nigiri sushi took up another; and in a third section, six pieces of inside-out California roll, filled with crabstick and avocado, rested against a carefully formed pyramid of sticky rice. The box's remaining contents were properly complementary: a crisp, moist wakame salad; a mesclun salad with a heady housemade ginger-orange dressing, and a pillowy little dumpling -- all garnished with an intricately carved hemisphere of sweet orange and little hillocks of wasabi and pickled ginger.
While the current dinner menu's size (seven apps, two salads, and eight entrées) is about the same as the 2001 version, prices have crept up slightly; for instance, an entrée built around a semi-boneless chicken breast that previously went for $20 is now $21. However, Cassano seems to have the kitchen's previous penchant for excess firmly in check. To wit, rather than filling that chicken breast with lobster-spinach stuffing and coating it with "lobster essence" cream sauce, à la 2001, he serves the current version simply over tomato-basil risotto in its natural juices.
During a stormy evening visit, two new companions and I continued our menu explorations, ordering both a bonanza of sushi -- the Sushi Rock "big roll," stuffed with shrimp, crabstick, salmon, spicy tuna, asparagus, and masago; the similarly massive Sushi Rock Tempura Roll, dipped in batter and deep-fried to a dainty crunch; an Alaskan roll, with salmon and avocado; and a kampayo roll, with caramel-like strands of squash -- as well as the evening's special entrée of pan-seared sea bass. (We know it's not PC, but sometimes we simply can't help but violate our self-imposed moratorium against consuming this yummy but endangered species.)
The neatly assembled sushi was predictably beyond complaint, garnished with sparkling roe and carefully arranged on a slab of black granite. But the sea bass -- accompanied by whimsical fiddlehead ferns, thinly sliced sweet potatoes Anna, and a tangle of alfalfa sprouts -- turned out to be an unexpected delight. Dryish osso buco aside, Cassano and his kitchen can clearly rock 'n' roll. The pearly filet of sea bass seemed to dwell in a state of grace, somewhere between liquid and solid, so vaporously sheer it was hard to coax onto a fork. The earthy, emerald-green fern heads, naturally coiled into tight spirals, had a delicate crispness that brought to mind the freshest of haricots vert. The buttery baked sweet-potato slices willingly held their shape, but were plush and almost candy-like on the tongue. And if $27 seemed like a lot for the à la carte portion -- served without benefit of salad or bread -- the dish's luxuriant richness (due, in good measure, to a thorough drizzling with orange- and lemon-infused olive oils) was so great that even a single additional bite would have been excessive.
To wash down the sushi, the sea bass, and other menu items such as filet mignon, almond-crusted grouper, and mahi-mahi, the bar provides the de rigueur list of jazzy martinis (including a creamy Godiva liqueur- and Stoli Vanilla-laced chocolate version, just right for dessert) and a solid selection of mostly West Coast wines, including a thoughtfully chosen collection of seafood-friendly whites. Even better, wine prices have come down since our last visit. For instance, a bottle of Bonny Doon Pacific Rim Riesling that went for $24 in 2001 is now pegged at $20; a bottle of Ravenswood Zin priced at $27 now goes for $22. The current wine list also includes vintage dates and places of origin -- an improvement over the dateless-and-placeless 2001 list.
As we sat there oohing and ahhing over the sushi and sea bass, other changes in Sushi Rock began to filter into our awareness. Maybe it's the crummy weather or a side effect of the somber times, but for whatever reason, the restaurant's 'tude -- once slightly edgy and self-consciously Big Apple'd -- seems to have slipped into a comfortably Midwestern groove. At least, during a Saturday night's 8-to-10 p.m. time slot, the abundant cleavage and "meat market" mentality we remembered from earlier visits seemed in short supply; instead, the clientele (young and beautiful, and middle-aged and paunchy alike) were more likely to be conservatively dudded-up in jeans and black sweaters, or plaid sports shirts and khakis. And although a DJ was still on hand to spin the tunes, gone was the thumping electronica of yesteryear, replaced -- no kidding -- by moldy oldies from Neil Diamond, Frankie Valli, and Billy Joel! "It's like '70s night at a beer-and-a-bump joint," an incredulous companion rightly exclaimed.
Of course, the secret to survival is adaptability. And obviously, Sushi Rock aims to survive.