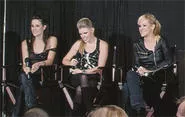 A trunkful of Grammys says the Chicks are past their slump.
Shut Up & Sing
(Genius)
It's a shame that one of 2006's best documentaries is being released without extras; it would have been nice, for instance, to hear feisty Natalie Maines talk with directors Barbara Kopple and Cecilia Peck about
her
reaction to the film, in which the Dixie Chicks come off less like First Amendment martyrs than scapegoats. Nonetheless,
Shut Up & Sing
can stand by its lonesome: This peek at how Maines, Emily Robison, and Martie Maguire went from beloved country stars to Dixie Sluts in March 2003 -- when Maines told a U.K. crowd, "Just so you know, we're ashamed the President of the United States is from Texas" -- is gripping, sharp-eyed, and even a little heartbreaking; Maines considers busting up the band, lest the sisters carry on amid dwindling sales and death threats. In the end, their story has the happiest of fuck-you endings: five Grammys for the album
Taking the Long Way Home
, the making of which is immortalized here.
-- Robert Wilonsky
Lunacy (Zeitgeist)
Jan Svankmajer is the king of stop-motion surrealism -- which, in celebrity terms, is about like being a wacky car salesman. But Svankmajer's five-decade career has influenced everyone from Terry Gilliam to whoever made those Tool videos. Lunacy's story is more linear than most, which turns out to be a fault. A young man comes under the care of a Marquis de Sade stand-in, and hijinks of a decidedly unwacky nature ensue. There's a Black Mass, a chicken that's slaughtered and cooked without leaving the plate, and a wall made of pulsing raw meat. But really, this thing drags. Svankmajer newbies would be better off with his earlier movies, like Alice or Faust, or exploring his short films on YouTube. -- Jordan Harper
Family Ties: The Complete First Season (Paramount)
Gary David Goldberg's NBC series, which debuted in 1982 and played like some battle between the ghost of John Kennedy and the spirit of Ronald Reagan, has held up considerably well. The writing's still sharp; the observations about family life, political commitments, and teen angst still relevant. Early on in its long run, Family Ties was dealing with frothy fare and doing a damned good job, thanks to the stewardship of Goldberg and a breakout star named Michael J. Fox, who brought humor and humanity to what could have been liberal writers' caricature of a conservative. Few shows from the 1980s are worth pursuing on DVD, but this is one of them. -- Wilonsky
49th Parallel (Criterion)
Disparaged throughout their careers as flamboyant artistes, the British team of director Michael Powell and screenwriter Emeric Pressburger couldn't have made a straight World War II propaganda piece if Winston Churchill himself had been the gaffer. The proof's in this release of their 1941 thriller, a look-out-America allegory of isolationist peril in which a stranded U-boat crew mounts a seven-man invasion of Canada. With its urgent speechifying, it would be an American Legion Hall classic if not for the devious structure (which places our identification with the enemy) and the strikingly odd characters (including Laurence Olivier's French-Canuck trapper, his goofiest performance ever). The best extra is the 46-minute propaganda short "The Volunteer," with Ralph Richardson relaying the wartime exploits of his inept dresser -- perhaps the most unhurried, digressive plea ever made to grab a rifle for God and country. -- Jim Ridley