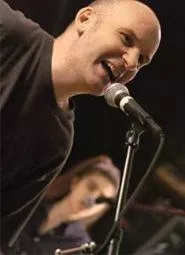 The Evens' Ian MacKaye, October 8 at Parish Hall.
Chimaira has signed new deals with two major underground labels. Ferret Music will handle the band's U.S. distribution, while German metalworks Nuclear Blast (Meshuggah, Dimmu Borgir) will distribute overseas.
Though best known for hardcore, Ferret has found success with heavy metal bands as well, helping push In Flames' and Killswitch Engage's sales over 100,000. The deals come just four months after Chimaira split with Roadrunner Records, home to Nickelback and Slipknot.
"Ferret really does a great job," says singer Mark Hunter. "We know that they have a vision, and they're fans of the band. We were small fish in a big pond on Roadrunner. With Ferret, we're immediately one of the bigger bands, and we'll be much more of a priority."
Hunter says both deals are for one album, with options for two more. The band is in Florida, recording its next album, tentatively titled Resurrection and slated for spring 2007 release. Hunter says the disc is "less one-dimensional" than 2005's self-titled LP. That album received rave reviews from Revolver and The New York Times, but sales stalled at 70,000, following a promotional push that the band considered weak. The Impossibility of Reason, Chimaira's 2003 album, sold more than 100,000 copies.
Ferret owner Carl Seversen has followed the players since their days in Ascension, and he thinks the band has untapped potential.
"Metal continues to grow and thrive, and Chimaira are one of the standout artists of the genre," he says. "They're young, they're excited about their new material, and they're working with a new team around them. Sky's the limit for the guys."
· Top-drawing alt-rock band 2 Skinny Dorks has changed its name to simply Skinny. "The name was a silly college spin-off that stuck," says singer-guitarist Jake Blazer. "The band started six years ago, and we never meant to do so well. I would rather have an androgynous name that wouldn't distract from the music we are creating."
· The Black Diamonds' hiatus continues to be a spectacular failure. The group has posted two new rough instrumental demos at MySpace.com/Blkdmds. The atmospheric, Zeppelinesque cuts are untitled, but one has cowbell.
· The Summit, Akron's adult-alternative radio station (WAPS-FM 91.3), has upgraded the quality of its online audio stream. Now Tori Amos, K.T. Tunstall, and the Who sound that much better side-by-side. Listen at www.913thesummit.com.
· Starting Wednesday, October 18, Slim & Chubby's (12492 Prospect Road, Strongsville) will host its second annual Strongsville Idol karaoke contest. The eight-week competition will feature weekly cash prizes, and Fox 8's Tony Rizzo will host.
· Blues troubadour Patrick Sweany has signed with California's Mongrel Music booking agency, which has a roster of alt-roots acts ranging from Chuck Prophet to Alejandro Escovedo. The Black Keys' Dan Auerbach and Pat Carney have signed on to co-produce Sweany's next album later this fall, recording in the duo's Audio Eagle basement studio.