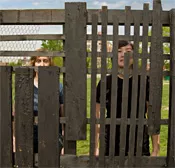 New York trio
Renminbi
was on the money when it chose a name for itself. Really. The moniker reflects the name for currency in the People's Republic of China, where guitarist Lisa Liu's ancestors were born. And it commemorates her finally meeting her paternal grandmother for the first time during a trip to Asia in the early 2000s. "It was the first time we'd met. And even though we didn't know one another, our bond was so deep," says Liu. "I felt a reconnecting of identity, like I was made whole from the visit to China." Along with a rotating cast of drummers, Liu and keyboardist SMV are on a tour that brings them to Cleveland's West Side tonight to push their first full-length CD,
The Phoenix
. The disc features six tunes that contain call-and-response vocal tracks. "We've found that the tension and sense of conflict created by these vocal volleys reflects the tension and conflict so often found in our music," says SMV. "It also allows the listener in on private conversations."To complement the songs, the CD also includes five instrumental originals. "The music has got to be good. Sometimes, the music will say everything you need to say," says Liu. "Lyrics are just another instrument that doesn't have to be there."Despite the absence of a bass guitar in the arrangements, the group has been compared to post-punkers like Sonic Youth, Yo La Tengo, and Mogwai. To SMV, those bands paved the way for electrified high-wire acts like Renminbi. "You have to study the masters. What they did, they did so well. But there's a fine line. You don't want to get stuck in what they were doing," says SMV. "You want to find your own voice." Renminbi goes on stage 9 tonight at Tower 2012, 9521 Madison Avenue. Admission is $5. Visit
www.myspace.com/toweroftreason
.
Tue., June 24, 9 p.m., 2008