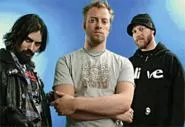 CKY will play the Super Bowl halftime show -- not the one in Detroit, but the midgame break at Peabody's, the downtown rock club that's hosted many an appearance by professional-skating/Viva La Bam/Jackass personalities.
Skate rock once had a distinct sound rooted in West Coast punk; it's now applicable to any music associated with skating. Unlike the Bam Margera-endorsed HIM, CKY has direct connections: Drummer Jess Margera is Bam's brother, and the group rose to prominence by supplying the soundtrack to Bam's early Camp Kill Yourself videos.
When you're associated with a crew best known for jumping off buildings and taking shots to their sac, nobody's going to take you seriously -- except hordes of fans, who will take time out of their day to rain hell upon unimpressed critics. A review by Rolling Stone tastemaker Jenny Eliscu gave CKY's latest album, An Answer Can Be Found, a rating of one of a possible five stars. Soon, Eliscu found herself in the center of a firestorm stoked by true believers (the CKY Alliance, they call themselves) and the band itself. Frontman Deron Miller had humbly assessed the disc as "the best fucking record of the year," and the band is, in fact, chronically underrated. CKY is grungelike in composition, if not sound: a little metal, a little rock, a little punk -- and a lot of attitude.