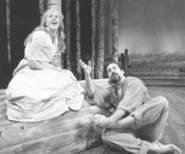 Feets of strength: Trigorin's seduction of Nina marks a Play House highlight.
The intermission of the Cleveland Play House's production of Anton Chekhov's
The Seagull
finds theater patrons so relieved that their encounter is not the usual cross between the morgue and the wax museum that they're even willing to skip the usual obligatory scotch and soda needed to get through a "classic."
For the first half, director Edward Payson Call manages to unearth the playwright from his enshrined tomb. He has brought to life the great Russian's waltz between tragedy and irony, sorrow and yuks.
The production starts with the tang of good pickled herring. We see overinflated self-pity transmogrified into giddy egotism, as the depressive Masha floats about set designer Ariel Goldberger's ethereal forest like the collective ghosts of all Greek tragedies' female martyrs. When asked by her oafish boyfriend why she always wears black, she pushes ennui into an anthem of absurdity, replying, "I am in mourning for my life. I am unhappy." So overly serious, with her heavy brows, she reminds us of Groucho Marx mocking the classics.
Call has skillfully plundered the theatrical landscape to illuminate the playwright's usually buried odd, prankish touch: A slapped mosquito during an attempted seduction is worthy of vintage Laurel and Hardy. Elizabeth Hess's vainglorious actress, Irina Arkandina, is played as an exotic bird of paradise in scarlet plumage, perpetually primping and falling into hysterics when not the center of attention. Turning her son into a weakling, Irina trills manipulative wiles with the assurance of an opera diva.
It has been many a season since the Drury stage has known such elegance as the seduction scene between the jaded writer Trigorin (Jason Culp) and the innocent Nina (Julie Lund), played picturesquely on an upside-down rowboat. With Trigorin taking off his shoes and stockings to reveal pale feet, the scene has a visual sensuousness that brings to mind both Renoirs, father and son: It has the glowing textures of the father's landscapes and the rueful sensuality of the son's films.
After intermission, the last act starts to shatter, due to some false notes. The director has been successful in underplaying the pathos and making the comedy sparkle. Yet, when we come to the emotional heart of the play, the big Hamlet scene between imperious mother and wounded son, the tone veers fatally toward slapstick. Moments that call for tenderness and communication are rendered as shtick. At this point, the evening turns to ice. It becomes apparent that the play's fulcrum, the son Konstantin, as interpreted by Max T. Moore, veers closer to Seinfeld slacker than doomed artist.
If the audience floats through intermission, it exits in outrage, for the director has taken an unforgivable liberty with one of theater's most memorable endings. The offstage suicide that ends the play is thrust on stage; the chilling irony of watching a mother play cards is replaced with a fevered tableau of the renowned actress cradling her son like the Pietà. What started as a splendid depiction of self-involved egoists trapped in their own selfish worlds is reduced at the end, through ill-advised tampering, to moth-eaten melodrama.
---
If the Play House's Seagull ultimately goes off course and crashes to earth because of its betrayal of Chekhov in an overly literal conclusion, Ensemble Theatre's Shakespeare's R & J soars because of its thrilling ambiguity. By some alchemy, playwright Joe Calarco renders the world's most overfamiliar tragedy into a dangerous, Edward Albee-like homoerotic parable of adolescent sexuality spinning out of control.
In this variation, Shakespeare's play is acted out by four prep-school boys as a mysterious initiation. We are never told who these boys are or why they have this compulsion to act out all the parts.
Except for a brief prologue -- a montage of school lessons and chapel chants -- to establish a prep-school ambiance, the work is entirely Shakespeare: a blending of Romeo and Juliet, the sonnets, and a few passages from A Midsummer Night's Dream. Yet, what we experience is anything but another cozy evening with the bard. Instead, there is a psychological menace. Are these budding thespians confused adolescents, trying to express their forbidden sexuality through the sanctioned heterosexuality of the world's most famous lovers, or merely fraternity boys on a spree? The evening's greatest virtue is that we never ascertain this; its mystery is never defiled.
The cast of four (Jess Kamps, Elliott Klein, Tim Keo, and Jay Kim) range in age from high school senior to just past 30. Thanks to acting ability and costume designer Alison Hernan's evocation of schoolboy prep, they are all uncanny in recalling the raging hormones of adolescence.
Bethany Hamilton Sandvik's nuanced, taut direction creates a world full of danger and sexual panic out of a few flats and a crimson bolt of cloth. Added to Larry Nehring's superb fight choreography, an electrifying charge is produced, making the audience feel in the midst of a caffeine buzz.
Ultimately eliciting the primeval chills of Lord of the Flies, this work gives an overexposed classic an unforgettable visceral kick.