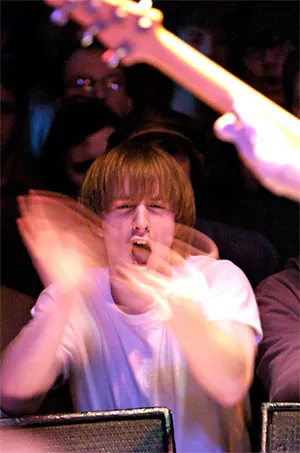 Explosions in the Sky fan shows some love at the Beachland.
Cleveland's Cheap Tragedies have signed with Mad at the World Records, which will release their full-length debut. The New York City indie label's roster includes throwback hardcore bands like Urban Waste and Battletorn. The company previously released the self-titled CD/DVD package by 9 Shocks Terror, one of Tragedies frontman Tony Erba's many groups (including the defunct Amps II Eleven, Scene readers' favorite rock band of 2005).
"It'll be a killer record," says label head Dan Skirba, a New York-New Jersey zine publisher and promoter who's worked with the band. "Erba's usually got his finger on the pulse of something interesting and doesn't rehash his old ideas with his current bands. They can pull off sounding aggro without sacrificing some killer hooks in the process."
Bassist Max Monter also plays in Jacknife Powerbombs and 7 Seconds tribute band 7 More Seconds. Other members have played in Damn Near Killed Him, Committed, Good Clean Fun, and Mi Octopi.
The album is in progress and due late this summer. On an earlier demo and EP, the Cheap Tragedies sound like an electrified industrial spring wound so tight, it's about to snap. Revealing a mature perspective rare in hardcore punk, the band plays songs like the anti-religion screed "(My Boss Ain't No) Jewish Carpenter" and the heartfelt ode to Cleveland "Going Going Gone (Vanishing Americana)." Erba says the new album won't sound like anything heard in the mainstream scene.
Says the singer, "Lyrically, I discuss topics such as cryptozoology, dead professional wrestlers, my unfortunate inability to commit suicide, the death of Cleveland, the state of the blue-collar worker in America, and my usual laments about women who can't fathom my awesomeness."
For the one-disc deal, Mad at the World plans to initially release the record on 12-inch vinyl worldwide, via indie distributors such as Revolver, Ebullition, and Stickfigure. A CD will follow. Digital versions will be available via iTunes and Amazon.
The Cheap Tragedies play Lakewood's Mahall's Twenty Lanes (13200 Madison Avenue) on Friday, April 18, and open for Boulder on Saturday, April 19, at Now That's Class (11213 Detroit Avenue).
• Cleveland's Black Amps have permanently changed their name to Pale Hollow, the title of mainman Michael Allen's solo CD that spawned much of the Amps' material. The atmospheric rock group opens for the Fleshtones on Friday, April 11, at the Beachland Tavern (15711 Waterloo Road).
• Pere Ubu/Rocket From the Tombs drummer Steve Mehlman is interviewed on the Modern Drummer blog. Check it out at www.moderndrummer.com. The lively read features quotes such as "I often refer to myself as a Cro-Magnon drummer . . . But I can mix it up."
• Former WMMS program director John Gorman will discuss his book, The Buzzard: Inside the Glory Days of WMMS and Cleveland Rock Radio, at the Rock Hall (1100 Rock and Roll Boulevard) at 7 p.m. Wednesday, April 16. Admission is free; RSVP via edu@rockhall.org or 216-515-8426.
• User Sets Mode+ has set a CD-release party for Saturday, May 31, at the Beachland, even though the record will be available in mid-April. Visit www.myspace.com/usersetsmode for the Racermason alums' rocking full-length debut. Former Racermason/Infinite Number of Sounds drummer Ron Tucker has relocated to New York City and just released a record with his spacey new indie band, City Breathing, on Roses & Hello Recordings. Take a listen at www.myspace.com/citybreathing.