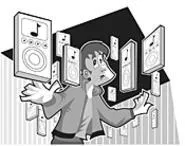 Wind 'em up, put 'em down, start 'em off, and watch the iPods go at the Ingenuity Festival of Art and Technology.
9/1-9/4
This week's inaugural Ingenuity Festival of Art and Technology marks Cleveland's bid for hipness. And with more than 1,000 artists performing and exhibiting at the four-day event (which takes place at more than 20 venues), the city will be on the cusp of coolness over Labor Day weekend. Concerts, stage productions, and art exhibits fill the fest. But it's New Yorker Phil Kline's Symphony for 21 iPods (at ArtMetro Gallery, 530 Euclid Avenue) that has us singing out loud.
Kline programmed 96 sound clips (ranging from a few seconds to a couple minutes) into nearly two dozen MP3 players. He'll suspend the devices and then hit the shuffle buttons to let the tracks play at random. "You'll always be hearing the pieces in a different order," he says. "It would probably take 10 or 20 years to hear the exact same texture again."
Of course, with Kline being an N.Y.C. artist and all, this isn't just about iPods hanging from the ceiling, playing at the same time. "It has a message," he laughs. "You are what you hear." Kline's work is on view Friday through Sunday during the Ingenuity Festival. One-day passes cost $10; weekend passes are $25. For a schedule, visit www.ingenuitycleveland.com. -- Michael Gallucci
Gimme a Break
Dancing troupe brings back the headspin.
FRI 9/2
Neftali "Ali" Muñoz looks back at the time when everyone thought he was nuts to form 216 Beatriders. Even he admits there weren't many break-dancing troupes around in 1998. "Now it seems like every TV show, every commercial has a break-dancer in it," says Muñoz, whose seven-dancer ensemble busts some moves this weekend as part of the Street Beats performance series. "Now that these younger cats are coming up, they're innovating new moves that get more acrobatic." When he isn't opening local shows for Ja Rule, Raekwon, and the Black Eyed Peas, Muñoz teaches b-boy classes every Thursday at his East 74th Street studio. For five bucks, students learn glides, hand spins, and aerial twists. "It's a good way to let loose negative energy, instead of taking your energy out into the streets and doing negative things," says Muñoz. 216 Beatriders performs from 7 to 9 p.m. Friday on East Fourth Street, between Prospect and Euclid avenues. It's free; visit www.cleveland.com/sparx. -- Cris Glaser
Eat to the Beat
Music and margaritas make Tasty side dishes.
9/2-9/5
More than 30 local restaurants and food vendors lead this weekend's Taste of Cleveland. There's also a Mayors' Dessert Cup Challenge (where local politicos prepare cakes and pies), a Sports Zone (featuring miniature golf and other games), and a Margarita Lounge (you can look for us there, when we're not stalking Q104's Rebecca Wilde at her station's Charity Beer Slide). LeAnn Rimes and Michael McDonald (you'd think the dude would be ashamed to show his face, after the ribbing he gets in The 40-Year-Old Virgin) bring the noise from 11 a.m. to 11 p.m. Friday, noon to 11 p.m. Saturday and Sunday, and noon to 8 p.m. Monday at Tower City Amphitheater, 351 Canal Road. Tickets are $5; kids under 12 get in free. Call 440-247-4386 for more info. -- Michael Gallucci
Fun in the Sun
SAT 9/3
Say goodbye to super-hot weather and extra-long days at Saturday's Farewell to Summer Bonfire Beach Party at Edgewater State Park. "It's one last beach bash," says Cleveland Lakefront State Park naturalist Carol Ward. "Marshmallow-roasting included." Storytelling, games, sand castles, a treasure hunt, and live music round out the action. It all happens from 7 to 10 p.m. at Edgewater, 8701 Lake Shore Boulevard. Admission is free. Call 216-881-8141 for more info. -- Lucy McKernan