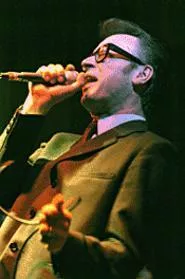 Kaiser George rings in the holidays with Los Straitjackets at the Beachland December 1.
A handful of classic Cleveland punk bands will reunite for the first time in more than 20 years on Saturday, December 10, at the Beachland Ballroom (15711 Waterloo Road). The
Guns
,
the
Offbeats
,
the
Plague
,
Zero Defex
,
and
the
Agitated
will headline a multimedia celebration of the city's underground scene from the late 1970s through the early 1990s.
"It was a time when the punk phenomenon was still fresh, and there were bands everywhere," says organizer Jim Lanza, who started attending shows in 1981. "Not just punk bands, but new wave, experimental, power pop, college rock, and so on."
Titled Cleveland's Screaming, the show grew from a photography exhibit of the same name that Lanza organized. Running through the end of December at Bela Dubby Gallery (13321 Madison Avenue, Lakewood), the exhibit collects images of legendary local groups, including the Dead Boys, Pere Ubu, and Death of Samantha. The show features work from Cleveland photographers Janet Macoska, Anastasia Pantsios, Steve Wainstead, and Lanza, in addition to New York City photographer Theresa Kereakes, who lived with deceased Dead Boys frontman Stiv Bators.
Hoping to persuade one band to reform and play at the exhibit's opening, Lanza posted a call on ClePunk.com, the online haven for phlegm-hacking survivors of the time. He got a strong response from bands and fans alike.
"It was really the second wave of great Cleveland underground music," says Frank Mauceri, former Dissidents drummer, now owner of Smog Veil Records, which has issued retrospectives from the Offbeats and the Agitated. "But, it still continued the tradition of sarcastic, smartass greatness, just adding a much more aggressive, faster, and louder sound."
Before the concert, the Beachland will show archival video footage of the Dead Boys, the Pagans, 2 Bobs, Starvation Army, and others. Earlier in the day, at 1 p.m., the Bela Dubby Gallery will hold an opening reception featuring an acoustic performance by ex-Death of Samantha/Knifedance guitarist St. Andrew and a book signing by Brad Warner, a onetime punk who is now a noted student of Zen.
"There may be a few more of these shows, if I can track down some people," says Lanza.
· Cleveland thrash troupe Soulless is tracking its third LP with Ben Schigel (Chimaira, Ringworm) at Spider Studios, aiming for an early 2006 release. The band has split with Japan's WorldChaos and is currently without a label. "It seems like we took it up a notch in speed and technical riffing," says bassist Dave "Big Metal" Johnson. "It's gonna be a rager."
· Standout blues singer Mary Bridget Davies (of her eponymous group) will be taking on the performance parts for the lead role in Love, Janis, the Hanna Theatre production of the Janis Joplin bio-concert. She'll begin December 11.
· Internet video channel Rock Me TV will film a fund-raising club show on Saturday, December 10, at Koozma (1220 Old River Road, the Flats). The show will be broadcast live over www.rockmetv.com and will feature Sappy Bell, Planet Kill Switch, and Bleeding a Memory. Doors open at 2 p.m., and proceeds go to the Cleveland Housing Network's Adopt-a-Family program.
· Chimaira singer Mark Hunter contributes vocals to "13 Years" by Buffalo rockers Stemm, from the new Songs for the Incurable Heart. Stemm is managed by Chimaira guitarist Rob Arnold.