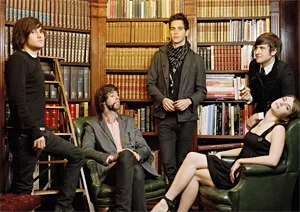 Cobra Starship bones up on some fine literature before its Grog Shop stop.
This emo supergroup started as a lark in 2006, back when the blogosphere had Snakes on a Plane fever. Gabe Saporta, frontman for New Jersey rockers Midtown, was recruited to pen a song for the movie. But the flick turned out to be an overhyped washout that couldn't even muster enough energy to reach cult status. Saporta's song, "Bring It," however, was a slithering blast of turbocharged funk. Saporta then asked pals like the Gym Class Heroes' Travis McCoy and the Academy Is . . .'s William Beckett to help record Cobra Starship's debut album, While the City Sleeps, We Rule the Streets.
Since then, Starship has become a real band, with members of the Ivy League and other B-list indie groups filling in for the big names. Its latest album, Viva La Cobra!, piles on disco romps, keytar solos, and a glossy sheen provided by Fall Out Boy's Patrick Stump, who produced and co-wrote all of the songs with Saporta. Tracks like "Kiss My Sass," "Damn You Look Good and I'm Drunk," and "My Moves Are White" keep the party moving till the breakadawn — which hopefully will be the case when Cobra Starship docks at the Grog Shop this week.