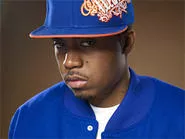 Nas: Pissed or stoned? We can't tell.
Ever since Nas released
Hip Hop Is Dead
last year, everyone with a keyboard and fingers has parsed the phrase until it's as limp as restaurant parsley: Was the title literal? Rhetorical? A little of both? Neither?
Maybe, in true Zen warrior fashion, the answer to the question is whatever you want it to be. But there's no Phil Jackson-ing around this fact: Hip-hop might (or might not) be dead, but great hip-hop beefs can almost certainly R.I.P.
Before Jay-Z signed him to Def Jam, proclaiming unity at every opportunity, Nas and his boss faced off in what historians may mark as the last significant battle royal in hip-hop's history. In the early 21st century, the two engaged in a verbal rivalry so vicious that Nas' rottweiler of a tune "Ether" actually became a verb, as in He ether-ized you. Then again, lines like "You a fan, a phony, a fake, a pussy, a Stan/I still whip your ass, you thirty-six in a karate class" just might get you into Webster's, too. (Not officially, anyway . . . at least not yet.)
As tons of commentators have noted, something that made this beef worth following -- even made it encouraging, perhaps -- was that it never reached beyond wax (unlike hip-hop's most tragic rivalry: Tupac and Notorious B.I.G.). No one ended up dead, and only pride was wounded. Others rightly pointed out that Jay-Z and Nas were heirs to a long, proud hip-hop tradition, one that dates back to the mid '80s and the infamous battle for "the bridge" between Marley Marl and KRS-On. But it goes even further back than that -- to the grand old game known as the dozens.
That beefy tradition, however, has vanished. If you want the proof, go where everyone goes to look for truth these days: Wikipedia. Check out the entry on hip-hop rivalries (http://en.wikipedia.org/wiki/Hip-hop_rivalries). It lists a lot of beefs, but few of them have any real beef. What -- you forgot about the Three 6 Mafia/T-Rock steel-cage death match? You mean to tell me you didn't even know there was a Three 6 Mafia/T-Rock steel-cage death match?
The plethora of underfed grudges listed on Wikipedia merely reflects one key factor that's wiping out classic hip-hop rivalries: the music's increasing balkanization. Sure, those who cite declining record sales in 2006 as proof that hip-hop has gone regional may be overstating their case. But numbers don't lie: The days of omnipresent megastars like Nas and Jay-Z may be coming to a close. And as the music becomes more regional, so do the beefs.
Of course, hip-hip history buffs are right now muttering, "Wait, comparatively few people knew about the 'bridge war' between Boogie Down Productions and the Juice Crew way back in 1985! And LL Cool J's running battle with Kool Moe Dee is still relatively small by today's standards!"
And you're right. Skirmishes from the music's early days have assumed importance only in retrospect. But you can't attach the same retrospective weight to Trey Songz and the Game squaring off in 2000-whenever, nor will you ever be able to.
So, are there great regional beefs now, and will there be in the future? Sure. Will most of us care? Next question.
There's an even more fundamental reason to close the book on titanic MC duels, however. When looking at a few of the names that remain safely above hip-hop's regional fray -- those would include 50 Cent and G-Unit, the Game and Young Jeezy, for starters -- a common theme quickly emerges. When it comes to mic skills, they're all mediocre at best, and only a foaming-at-the-mouth fan or a kid who started listening to hip-hop after Jay-Z retired would argue otherwise.
This lack of skill takes all the fun out of even a nationally broadcasted beef. Ninety percent of the diss tracks these days center around: a) the alleged homosexuality of the other MC; b) the alleged hoe-itude of the other MC's significant other; c) a and then b; or d) b and then a. By the way, no metaphors, similes, or other figures of speech need apply.
Sure, the aforementioned subjects have always been on the table. Nas certainly indulged during "Ether," and Jay-Z definitely responded in kind. (Look it up: http://www.azlyrics.com/lyrics/jayz/superugly.html). The difference is this: You're unlikely to get word craft on the order of "Nigga; you ain't live it, you witnessed it from your folks pad/You scribbled in your notepad/And created your life/I showed you your first Tec on tour with Large Professor/Then I heard your album bout your Tec on the dresser." (That's from Jay-Z's "Takeover," the 2001 track usually credited with kicking off this imbroglio.)
Other than the sick fascination with watching two lunkheads bloody each other in the street, it's hard to care about big-name showdowns where both participants are using two-by-fours instead of scalpels. And when a rapper who's both skillful and popular does become embroiled in a battle, they rarely draw a worthy opponent. (Eminem versus the hapless Benzino, anyone? Didn't think so.)
A very wise man once said: If you want to judge the health of a culture, judge it by the quality of its beefs. Well, the wise man was actually me. But that doesn't mean it isn't true. And it doesn't mean that our current, beefless hip-hop is anything worth celebrating, either.