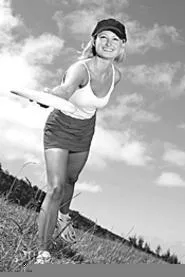 Sims Park Disc Golf is just like real golf . . . except for the Frisbees.
7/7-7/11
Scott Nathanson had a vision -- and it involved Frisbees and chain-link fence. The course director for Sims Park Disc Golf was introduced to the sport a couple of years ago. "The next thing I know," he recalls, "I was standing in front of city council, trying to get the park turned into a disc-golf course." The game is a relatively simple take on its stodgy forebear, featuring 18 "holes" that are made up of chain-link baskets and numerous water hazards. The goal is to land the Frisbee in the basket. As with traditional golf, scores are kept in accordance with par settings. "It's blowing up," says Nathanson. Get tossin' at 6 p.m. Thursday (with a free women's night) and 5 p.m. Monday (with a $5 scramble) at Sims Park, 23131 Lake Shore Boulevard. Call 216-481-8995 for more info. -- Chris Miller
Puck It
7/9-7/10
Boys and girls pick up their sticks this weekend for the start of the Cleveland Summer Hockey Classic season. Eight games will be played through August, after which the very best will knock around the puck for top honors and bragging rights. The league is for kids 14 and under, and is divided into three age categories -- Squirts, Pee Wees, and Bantams -- so that six-year-old players won't be facing off against older pucksters. This weekend's games are at the Barons Arena (5310 Hauserman Road in Parma); future games take place at Warrensville Heights' Metroplex Ice Arena (18909 South Miles Parkway). The Summer Hockey Classic starts at 7 p.m. Saturday and 6 p.m. Sunday. Admission is free. Call 440-327-6539 for more information. -- Lucy McKernan
Nautical Nonsense
Miniature golf course strikes a maritime note.
7/7-7/13
Oliver Hazard Perry may have defeated the British during the Battle of Lake Erie, but the legendary naval commander would still be in the crossfire at the War of 18 Holes, a putt-putt course built inside a limestone cave that Perry discovered back in the day.
The underground maze of turns, curves, and water hazards is accented with anchors, cannons, and plaques (which detail the battle of 1813). "It's challenging enough for avid putters," says marketing director Mike Steidl. "Yet it's conquerable enough to keep most novices happy."
And focused. By the end of the course, golfers will have putted around three ponds and through a waterfall. "Of course, everyone loves the surprise on the water hole," says Steidl. "But if I told you the secret of the water hole, it wouldn't be a secret, now would it?" Fight the War of 18 Holes from 10 a.m. to 8 p.m. Sunday through Thursday and 10 a.m. to 10 p.m. Friday and Saturday at Perry's Cave Family Fun Center, 979 Catawba Avenue in Put-in-Bay. Admission is $7, $3.50 for kids; call 419-285-2283. -- Cris Glaser