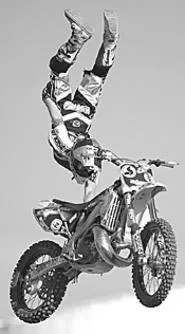 Breaking bones and records at the Gravity Games.
9/16-9/19
Nate Adams thrives on competition. The 20-year-old freestyle motocross rider from Arizona says it's the awards and championships that fuel his game. "I like that feeling of butterflies and getting nervous," he says. "I still get all that." Adams competes at this week's Gravity Games, which gathers most of extreme sports' best boarders and bikers for a series of ramp-filled contests. "There's a lot of kids coming out of nowhere and taking everyone by surprise," says Adams, who snagged a gold medal at last year's Gravity Games. "A lot of us have a lot of drive. Not that the guys who have been on top for a while don't, but we haven't experienced what all the veterans have. We want a taste of that. We're extra-hungry." The games start at 2 p.m. Thursday and Friday and 11 a.m. Saturday and Sunday at North Coast Harbor (on the corner of Erieside Avenue and East 9th Street). All days culminate in live music performances. Tickets are $12, available by calling 216-241-5555. -- Michael Gallucci
Sadistic River
SAT 9/18
The Cuyahoga River has long been a subject of derision -- from its fiery, polluted past to its winding, crooked shape. But at Saturday's Head of the Cuyahoga Race, rowers will be praising the circuitous body of water. "This is a very challenging course for crews," says spokeswoman Kelly Blazek. "This is truly one of the twistiest, curviest rivers in North America. [Rowers] like it." The 2.7-mile race pits more than a thousand local and national rowers against each other. And don't scoff at the notion of a regatta on the Cuyahoga; it's one of the region's largest. Sniffs Blazek: "It's much easier to pass boats when you're on a lake." The race starts at 8 a.m. on the Cuyahoga River in the Flats. You can watch for free from the Nautica Boardwalk and the Center Street Swing Bridge, as well as the bridges at Columbus and Carter roads; call 216-736-7799. -- Chris Miller
Aim for the Head!
SAT 9/18
As Rip Torn says in Dodgeball: A True Underdog Story: "If you can dodge traffic, you can dodge a ball." That pep talk should come in handy at Saturday's Dodgeball Tournament. "There are people who don't want to relive those days in gym class, when they were the last players picked and the first ones out," says organizer Chris Andrikanich. "But there are many more who want to prove they can survive." Bruisin' happens from noon to 4 p.m. at Harding Middle School, 16600 Hilliard Road in Lakewood. It's free to watch, $25 to play. For more information, call 216-406-0955. -- Cris Glaser