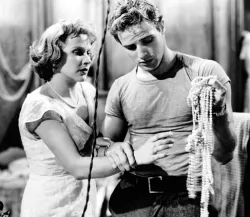 TOP PICK
TCM Greatest Classic Films Collection
(Warner Bros.)
Just in time for Valentine's Day, two new DVD sets spotlight timeless "Romantic Dramas" and "Romantic Comedies." Each collection includes four movies, like Philadelphia Story and A Streetcar Named Desire. A third volume - "Best Picture Winners," featuring Casablanca - preps you for the Oscars later this month.
VIDEOGAME
Chrono Trigger
(Square Enix)
RPGs can put you to sleep faster than an episode of Two and a Half Men. But this stirring and engaging game for the Nintendo DS features a wide-open environment that rarely strays into conventional play. This update of the old-school classic includes time travel, evil monsters and plenty of worlds for you to get lost in the next several months.
CD
Derek Trucks Band: Already Free
(Columbia)
This guitar whiz wasn't even 20 when he joined the Allman Brothers a decade ago. On his sixth solo album, he runs through rock, blues, jazz and R&B with a virtuosity that sparks a sagging scene. Trucks covers an old Southern soul tune and a song written by Bob Dylan. His own compositions fit right in.
DVD
The Complete Powerpuff Girls
Anniversary Collector's Set
(Cartoon Network/Warner)
Hot on the heels of their recent TV special, Blossom, Bubbles and Buttercup mark their 10th anniversary with a gargantuan six-disc set that includes all 78 episodes from the award-winning animated series. Extras include an informative documentary, commentary by creator Craig McCracken and a Christmas movie about a naughty little princess.
VIDEOGAME
Sonic Unleashed
(Sega)
The world's coolest hedgehog returns in an adventure (for the Xbox 360, PlayStation 3 and Wii) that blends old-school action with next-gen thrills. Doctor Eggman is up to his usual conquer-the-world tricks, but new Sonic Boosts and "unleashed" powers give the series a much-needed jolt. Best: Sonic's nighttime Jekyll-like transformation into a fanged and furry beast.