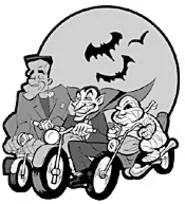 Saturday's Ghost Ride should be a hell of a good time.
SAT 10/30
The third-annual Ghost Ride happens on Saturday, and its organizers are confident it will rock most righteously. "The first two, we're counting as successes," says organizer Jim Sheehan. "Nobody got hurt, nobody got lost, nobody got arrested." The 10-mile night ride features costumed motorcyclists hitting the Flats before retiring to Ohio City Cycles for a Halloween party -- which includes live music by the Ornery and the Cranky & Badly Coiffed Jug Band, beer, cider, chili, and pumpkin-carving and costume contests. The ride starts at 7 p.m. Saturday at Ohio City Cycles (1823 Columbus Road) and ends back at the store for partying at 9 p.m. Admission is $13. Call 216-830-2667 for more information. -- Lucy McKernan
Into the Woods
A seasonal jaunt doubles as a cultural lesson.
10/29-10/30
In the Enchanted Forest, "woodland wizard" Stephanie Bettac is a walking encyclopedia of Halloween traditions. Clad in capes and pointy hats, she and four other naturalists lead groups on a walk into the forest and marsh, which are lined with candles and jack-o'-lanterns.
During the half-hour hike, volunteers act out mini-plays about Germans, who put away their knives on Halloween for fear they'll stab the spirits. In England, cats are hidden from feline-snatching elves. And Italians leave their doors open all day for ghosts, who come to eat the bean cakes made especially for them. (If they're not eaten, the legend goes, the house will be haunted for the next year.) Folks will also learn how black cats, owls, bats, skeletons, and ghosts became part of the celebration, and why "some cultures used to celebrate [by] leaving a feast out for their dead ancestors," says Bettac. "[The forest] is a non-scary alternative to haunted houses." Hikes happen 6 to 8 p.m. Friday and Saturday at the Nature Center at Shaker Lakes, 2600 South Park Boulevard. Tickets are $6, and reservations are required by calling 216-321-5935. -- Cris Glaser
Running Scared
SUN 10/31
Usually, you run from ghosts and goblins. At Sunday's Skeleton 5K Run, it's the ghouls who'll be doing the running. In this race, costumed competitors take off from Amherst's Marion L. Steele High School, head west into the town's tony Sunrise Drive neighborhood to the halfway mark, and turn around for the sprint back to the school. Before the big race, preschoolers compete in a quarter-mile run, followed by a one-mile race for 6- to 12-year-olds. Afterward, the top three contestants earn cash prizes and medals. It starts at 8:45 a.m. at Marion L. Steele High School, 450 Washington Street in Amherst. It's free for spectators and preschool runners, $7 for 6- to 12-year-olds, and $15 for adult competitors; call 216-623-9933. -- Cris Glaser