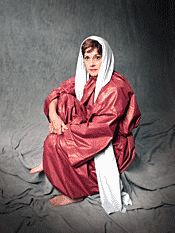 Stand-up comedian Kathie Dice suspects that her Methodist upbringing helped shape her decidedly non-Catholic take on the Virgin Mother's immaculate conception in her one-woman show,
I'm Just Me . . . Mary
. "One Christmas Eve, I was at service, and the inspiration hit me: 'What do you mean, I'm pregnant? Don't you have to be in the same room together?'" quips Dice. "'I'll be the gossip around the watering hole! I'll end up on
The Jeremiah Springer
Show with all that tent trash from Sodom and Gomorrah!'"
Mary
, says Dice, allows her to riff on religion in a "nonpreachy way." "You find all kinds of humor in the Bible," she says. "Even bath time is a nightmare. 'Jesus, you have to get in the water to get clean.' He thought it was so cute to lie on top of it."
The Hinckley resident also finds material in everyday oddities — like her mother-in-law's wish to have her body shipped to a science center after she died. "How do you do that? By UPS? Fed-Ex?" asks Dice. "I don't know why weird things happen to me. But I keep asking myself, how am I going to translate that to the stage?"
Thu., Jan. 5, 7 p.m.