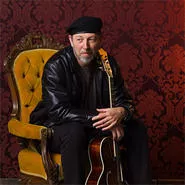 Richard Thompson: Obscurity suits him well.
If critical acclaim were money, Richard Thompson could be vacationing in Bali with Mick Jagger. Though commercial success has eluded him for 40 years, only a few of his peers have remained as vital. The British guitarist's supple fretwork -- never flashy and always in service of the song -- is esteemed on a level with Clapton.
Given this history, it's foolish to expect a late-career reassessment. But if anything could make Americans take notice, it's a catchy, topical ditty such as Thompson's new track, "Dad's Going to Kill Me," from the forthcoming album Sweet Warrior (due in May).
The chorus, with its title line and the repeated sentiment, "Nobody loves me here," suggests family dysfunction, yet this isn't Laguna Beach. From the roadblocks to the dead soldier in the desert to the vultures pecking out the soldier's eyes, it's apparent "Dad" is short for Baghdad. "It's somebody else's mess I didn't choose," sings the grunt protagonist. "At least we're winning on the Fox evening news."
Thompson, a 20-year resident of Los Angeles, says he took aim at the war because it posed a relatively easy solution (try telling that to the Joint Chiefs of Staff).
"It's hard to write a snappy song about global warming," he explains. "The targets and solutions are elusive, whereas you just need to get a few congressmen fired up to change U.S. policy in a radical way."
Thompson's predilection for social commentary can be seen elsewhere: 1999's Mock Tudor used the concept of a walk from London's core to its suburban outskirts to skewer class attitudes, which certainly fits the folk tradition from which he frequently draws.
"Political protesting has always been there, because folk's basically the music of the underclass," he says. "In the '50s, it really started to cross over into popular music, which completely transformed popular music."
Thompson got his start in '67, when he helped form Fairport Convention, a group that blended the harmony-rich West Coast rock of the Byrds with the traditional music of the British Isles -- introducing an electric folk-rock that can be felt in artists ranging from Nick Drake to Jimmy Page to Belle & Sebastian.
He's continued to explore the intersection of folk, blues, rock, and other styles ever since. In 2003 he released a live album, 1000 Years of Popular Music, that features everything from medieval folk to Gilbert and Sullivan to the Beatles to Britney's "Oops, I Did It Again."
After leaving Fairport Convention in '71, Thompson performed with his then-wife, Linda Thompson, for a decade. When the tumultuous marriage ended, Thompson embarked on an up-and-down solo career. While the commercial returns were spotty, Thompson's songwriting continued to evolve, with a growing emphasis on the kind of dark ballads he's since become known for. Songs such as "1952 Vincent Black Lightning" display this troubadour-like gift for observation, drama, and rustic guitar.
"I thought I was writing in a very 20th-century way: very cinematically and not having a lot of preamble or postscript. Basically, three terse verses that throw you into the middle of the action and don't really explain much about anything, which I think of as real 20th-century," Thompson says. "When people pointed it out, I said, 'You're right. I'm writing 16th-century ballads, and I hadn't really noticed.'"
Mock Tudor was Thompson's last record for a major (Capitol) -- and he appreciates the freedom offered by an independent label. Whether that ever translates into sales may be beside the point: It's already shaped his career and possibly explains the quality of his continued output, when most artists his age have fallen off.
"It can be kind of handy not being so exposed, because the expectations are lower. People aren't looking for that platinum album again," he admits. "Your career is less record-driven and more concert-driven."
Thompson then pauses a moment, his sardonic wit surfacing. "Lack of success is a great thing," he deadpans. "I recommend it to everyone."
So for his sake, please keep his identity and boundless talent to yourself and your closest friends; it's certainly worked well up to now.